Uplifting Spirits
The rise of the local microdistillery
August 16, 2017 at 3:45 PM
It's taken years to assess tolerances, but Pennsylvania is finally learning to hold its liquor. This past March, Cart/Horse Distillery (Edinboro) and Luminary Distillery (Summit Township) opened their doors, simultaneously becoming the first two legal distilleries on record in Erie County history. Encouraged by (and very much informed by) the success of the microbrewery boom, the microdistillery movement is quickly gaining steam. According to a study by the American Craft Spirits Association, craft distillers captured 2.2 percent of the market in 2015, up from 0.8 percent in 2010. Should craft distillers manage to replicate the triumphs of their brewer brethren (a very significant 12 percent market share), production should reach 25.6 million cases in 2020 — an increase of 522 percent over 2015.
The seeds of growth have been slower to germinate in Pennsylvania, partly due to deeply entrenched "blue laws" hearkening back to the state's Quaker roots. These laws are closely intertwined with the religious sentiments of early settlers (including state founder William Penn) and aimed to a) curb or eliminate alcohol use and b) prevent just about anything from happening on Sundays (for instance, the Philadelphia Athletics and Philadelphia Eagles had to press the government for permission to play their scheduled Sunday games in the 1930s). Vestiges of the blue laws exist in Sunday hunting restrictions (thou shalt not kill — unless you come across a fox, crow, or coyote) and car dealership closures. However, Pennsylvania has substantially loosened its restrictions on how, when, and where citizens can purchase or enjoy a drink in recent years (even on Sunday, as long as your homework is done).
Pennsylvania's Act 113 of 2011 cracked the door ajar for distiller-dreamers with the establishment of a new "limited distillery license" for those intending to produce less than 100,000 gallons of liquor per year. While Act 113 made the prospect of opening a microdistillery possible, following through has by no means been easy — a point Cart/Horse co-founder Jessica Lemmon is quick to remind people of. "I like to joke about writing a book…1,000 Ways How NOT to Start a Microdistillery."
"There are a lot of hurdles to clear," says Lemmon, beginning with the fact that it is illegal to practice distilling without a license — putting the proverbial cart before the horse, so to speak. To circumvent this not-so-minor inconvenience, Lemmon and husband John Fetzner attended the Artisan Craft Distilling Institute in Seattle to build on the skills they had acquired blending others' liquors. It resulted in an increased knowledge of the craft and an expanded professional network, but their education did not stop there. Over the next three years, the pair grappled with banks and bureaucracies for the capital and licensure to bring their vision to fruition. Banks prefer taking on calculated risks, and the nascent Pennsylvania microdistilling industry did not qualify. "Banks don't like hearing 'I won't have any income for 9-18 months.' So we downsized our grand scheme and financed it ourselves," explains Lemmon.
With the scaled-back plan now more viable, Lemmon set out to acquire the necessary clearances — a task made unnecessarily complicated by a lack of coordination between state and federal offices. "The [Pennsylvania] Liquor Control Board had no idea you needed licenses from the Health Board and Department of Agriculture… A lot of distilleries die on the table between the snags and delays." She adds that the government agencies were in no hurry to sort them out either, despite persistent heckling.
She and Fetzner checked in frequently with Joel Normand, who was also locked in a white-knuckle race with the paper-pushers to open his Luminary Distillery. "It was a very involved process," he recalls in something of an understatement. Nonetheless, it seems to be a challenge more and more entrepreneurs are taking on. In the past four years, the number of registered distilleries in Pennsylvania has nearly quadrupled — from eight in 2013 to approximately 30 today. Luminary and Cart/Horse have helped blaze a trail that many in Erie County may soon follow.
"This is just the tip of the iceberg," says Lemmon. "[John and I] have heard rumblings already."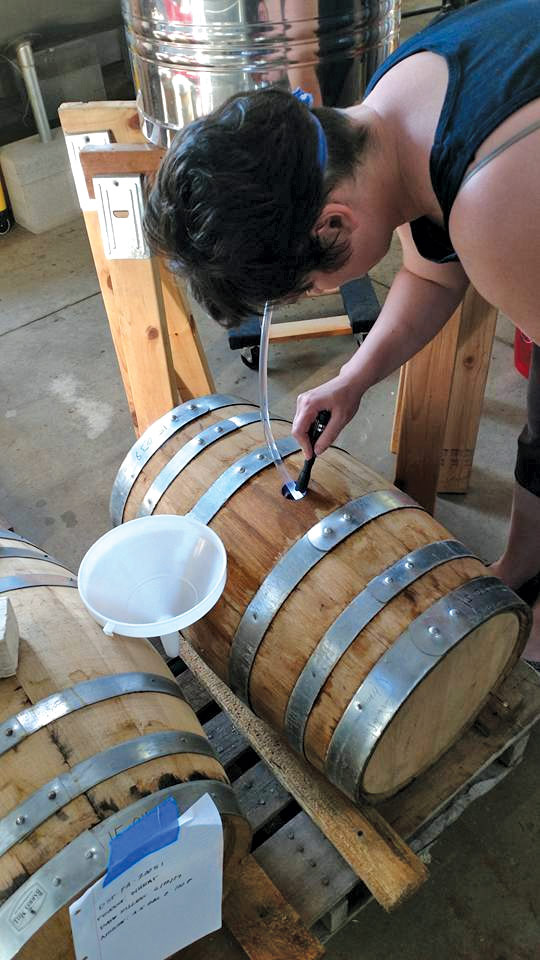 "The Lake Erie Spirit Trail" being laid now runs parallel to the Chautauqua-Lake Erie Wine Trail (now Lake Erie Wine Country) and Lake Erie Ale Trail that have preceded it. Mario Mazza, general manager and enologist at Mazza Wines, is the rare homesteader to have settled all three. His father, Robert, was one of the early pioneers of the wine trail in the 1970s with his Mazza Vineyards in North East and has expanded the company substantially in the intervening decades. One of the key developments along the way has been its Mazza Chautauqua Cellars just across the border in Westfield, N.Y. The facility became the home of the Mazzas' newest enterprise, Five & 20 Spirits and Brewing, upon its construction in 2012. It earned the distinction of New York state's first-ever combination winery-distillery-brewery.
Mario stresses that the evolution of the product line has been incremental. "We didn't say to ourselves 'hey let's produce all this stuff at once.'" Their distilling facility was initially located in Mayville, N.Y., a scenic getaway destination on Lake Chautauqua that did not garner much traffic outside of summer. It began in 2006 as an extension of the family's winemaking expertise, specializing in fruit-based spirits such as grappa and brandy. Seeking a more accessible location and more flexibility to pursue grain-based products, the Mazzas purchased 80 acres of farmland along Route 20, in the heart of Lake Erie Wine Country. Since beers are also built from grains, the Mazzas sprung for the additional equipment required for a fully-functioning brewery.
"Not many people are stupid enough to try all three," he jokes.
In reality, the diversification has proven a savvy move, and lent both perspective and opportunities that most never attain. The most intimidating aspect of it is managing three vastly different life cycles, which is why Mazza wisely appointed a dedicated distiller (Joe Nelson) and brewer (Jimmy Walsh), if only to stabilize his own space-time equilibrium. Beer is the most forgiving of the three in terms of tweaking and alterations; the turnaround time for the typical ale is 2-3 weeks (lagers take longer). Wine is more exacting — you have one shot to get it right and then must await next year's harvest. Liquor is the most mysterious of the bunch — it can be years before the product reaches maturity (e.g. whiskey).
"We keep building inventory, but can't sell it for two or three years. I am projecting sales for 2020-21 in my crystal ball."
For that reason, the family's preexisting reputation as winemakers and the increasing popularity of the brewery have been of tremendous aid as the spirit side sorts itself out. The crossover potential with products and their target markets has only benefited the cause. For example, a brewed beer can become the base of a bierschnapps, or a used whiskey barrel can be used to impart character in a rich stout. Mazza has noticed that the craft beer crowd in particular tends to be the most "flavor-curious." Due to the sheer variety and relative inexpensiveness of craft beer, these folk are preconditioned to sample much and sample often. When it comes to Five & 20's spirits, their attitude is "might as well while I'm here."
Thus the Lake Erie Ale Trail, which winds through and beyond Lake Erie Wine Country, has cleared the brush for the Spirit Trail. Like the Spirit Trail's predecessors, the path is being paved through collaboration — local farmers sourcing to local distillers, local distillers working with local brewers, and even would-be competitors selling one another's products (Act 166 of 2016 broadened the capabilities of the limited distillery license, including the ability to cross-market the products of Pennsylvania-licensed breweries, limited distilleries, and limited wineries). All told, the movement seeks to support local agriculture, bolster community, and uplift the region in whatever small way it can.
"It's another asset and attraction to rally behind. Everyone is doing their part to add value, instead of relying on a big corporation and all the externalities," says Mazza.
The more self-contained the region's distilling community can stay, the better. It's all about the blend in the spirit world, and our local distillers are striving to keep it in-house. Feeding into the corporate machinery would introduce off-flavors at first and eventually homogenize the whole batch. Therefore we must take care to not only remain flavor-curious, but flavor-conscious as well.
Since we're all both flavor-conscious and flavor-curious, it's time now to meet the distillers.
Luminary Distilling
Location: 8270 Peach St., Suite 300 (in the Fuhrman's Plaza)
Hours: Mondays and Wednesdays 4-9 p.m., Thursday 3-9 p.m., Friday 3-10 p.m., Saturday 1-10 p.m., Sunday 1-5 p.m.
Specialties: Luminary's flagship spirit is its Gem City Vodka, which is distilled multiple times and carbon-filtered for optimum smoothness. Its initial product line also included Apple Pie Moonshine and the painstakingly-crafted Limoncello (please don't ever let distiller Joel Normand hear you gripe about zesting lemons). Flat Cap Wheat Whiskey and Peach Moonshine joined the lineup this summer and gin may not be too far off.
The backstory: Normand grew up in Slippery Rock where he witnessed the success of North Country Brewing firsthand. North Country piqued the interest of the craft brewing community and transformed the sleepy college town into more of a destination. He had been brewing his own beer for over a decade, but had to reach out to experienced distillers for guidance concerning his new operation (remember that distilling without a license is a big no-no). With a little help from his friends, he settled on both his location and the recipe for the Gem City Vodka that has launched his enterprise.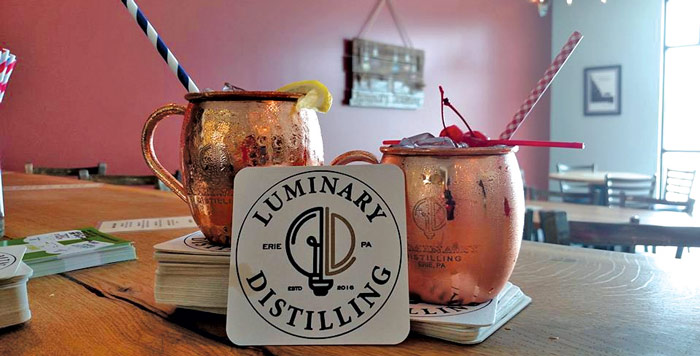 Go here if you're after: A damn good cocktail. Luminary favors drinkability over potency, with only its cask-strength Flat Cap Whiskey exceeding 40 percent alcohol-by-volume (ABV). As such, the cocktail menu is filled to the brim with highly quaffable and refreshing delights, including several intriguing variations of the Moscow mule. They all start with Gem City Vodka and the Brewerie at Union Station's ginger beer, making this the strongest mule team since Borax — but a lot gentler on the palate. Normand hopes this will be the first of many team-ups between local producers as momentum for the new movement builds.
Cart/Horse Distilling, LLC
Location: 12030 Edinboro Road (just past General McLane High School)
Hours: Tuesday and Friday 6:30-10 p.m., Saturday 1-11 p.m.
Specialties: Naturally, the main product line is themed after the Four Horsemen — White (sugar wash shine, something of a prenatal form of rum), Red (a spry young red wheat whiskey, barrel-aged one day), Black (handcrafted vodka), and Pale (small batch gin). Ghost of Creeker, a bierschnapps conjured from Millcreek Brewing Company's Creeker amber ale, completes the bottled offerings — for now (stay tuned for the root beer liqueur).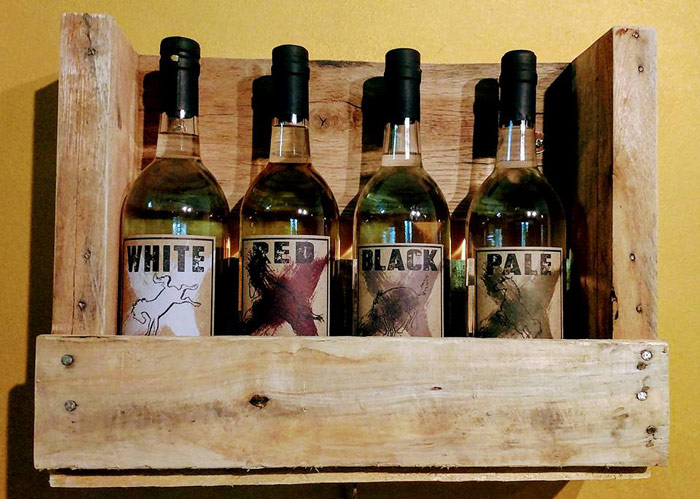 The backstory: Between John Fetzner's family farm and Jessica Lemmon's flavor curiosity (she loves resea
rching and experimenting with flavor profiles), a distillery seemed like destiny. Cart/Horse coming together wasn't automatic, however — it was more like churning a 19th-century fan mill (such as the relic the couple uses to separate its grain from the chaff) for four years straight. The struggle was real, but the results culled from those hardships are even realer. Fortune favors the bold ­— and those who have the translatable skills to shape those fortunes (Lemmon is an architect by trade; Fetzner works at Power Drives, Inc., a manufacturer of hoses/fittings/machinery. Convenient, eh?)
Go here if you're after: An intimate, DIY vibe and quality conversation over a killer gin and tonic (the Pale Horse is modeled after an Old Tom-style gin, softer and subtler than the London dry gins you're probably used to). The repurposed automotive garage is the culmination of the couple's work (and a few close friends), from the beautiful woodwork to the logos stenciled on the tables and hung behind the bar. The product itself is not just local, it's hyperlocal ­— as in much of the grain is sourced from literally just down the road.
Five & 20 Brewing and Spirits
Location: 8398 W. Main St. (Route 20), Westfield, N.Y.
Hours: Monday-Saturday 10 a.m.-8 p.m., Sunday 11 a.m.-6 p.m. (August only, see fiveand20.com for additional seasonally-adjusted hours)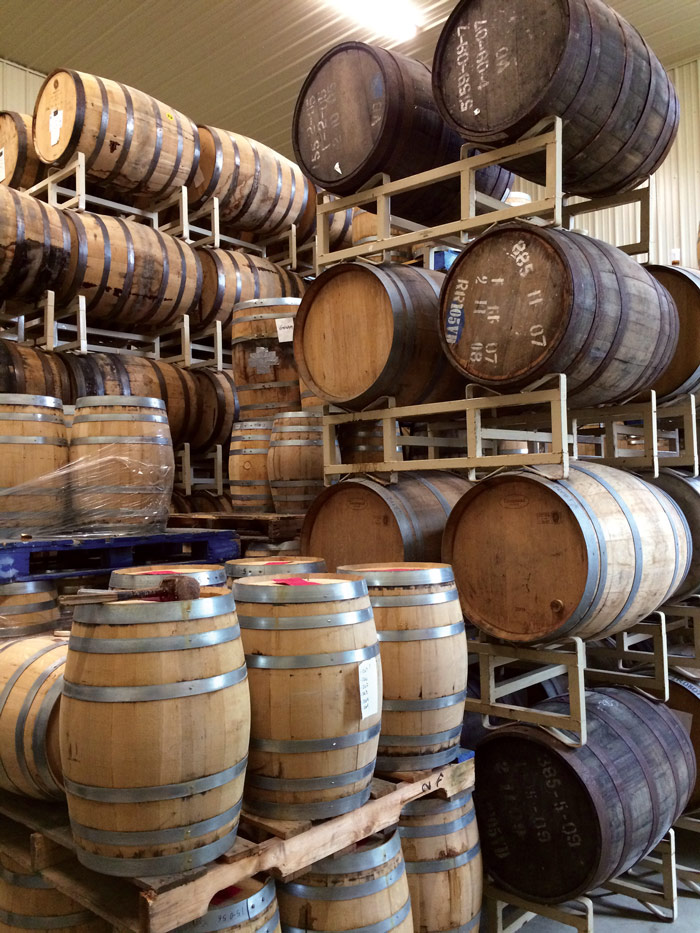 Mario Mazza became enchanted with the idea of distilling while studying oenology down under at the University of Adelaide in Australia, where a $15 million research winery had been recently built. His pops, Robert Mazza, ordered a still from Germany and that was that.
Specialties: Although Five & 20 hasn't been at it that long, it's been at it longer than the others, meaning this is the place to go for a little less clarity in your life (darker aged spirits). Both the Rye Whiskey and Bourbon have garnered a number of accolades statewide and nationally, deriving a deceptive complexity from distiller Joe Nelson's advanced blending techniques. They also make clear (unaged) corn and rye whiskeys, a limoncello (using grapes for fermentation), a bierschnapps (Afterburner), an apple brandy liqueur (Della Mela), and an applejack (apple cider fermented , distilled, and aged in whiskey barrels).
The backstory: Mario Mazza became enchanted with the idea of distilling while studying oenology down under at the University of Adelaide in Australia, where a $15 million research winery had been recently built. His pops, Robert Mazza, ordered a still from Germany and that was that. "Well, I guess we're doing it," said Mario at the time.
Go here if you're after: Variety (beer, wine, AND liquor) and the space to enjoy it. Five & 20 is commodious enough to please larger crowds, with a generously-sized tasting room and an expansive covered patio area. Bird Eatery, helmed by 1201 Kitchen founder and veteran restaurateur Dan Kern and chef Mike Karle and front of house manager JB Innes, offers a rotating menu of alluring eats and cocktails.
Matt Swanseger is only partially alluring as a Bird entree, but can be reached at mswanseger@eriereader.com nonetheless.