Veterans are the Focus of A Thankful Heart this Sunday
County Councilman and Erie Reader contributor Jay Breneman and his wife Jamie host an afternoon of gratitude for veterans.
February 17, 2016 at 3:12 PM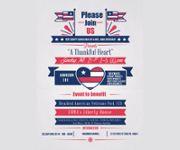 What better way to celebrate the month of love than to give back to those who have served our country? That is exactly what Erie County Councilman Jay Breneman and his wife Jamie are doing on Sunday, Feb. 21 at 2 p.m. at The Bourbon Barrel.
The event will raise money for organizations that help our veterans. Proceeds will benefit the Disabled American Veterans Post #73 and EUMA's Liberty House. 
The Disabled Veterans Post gives local veterans with a range of disabilities a network of support in the Erie area. Liberty House is a transitional housing program in Erie that helps homeless veterans. It is the only program of its kind in the area. According to its website, "Veterans stay at Liberty House for three to six months. During their residency, staff members provide them with the advocacy and support needed to help them regain their independence and move into stable and permanent housing. The structured program at Liberty House enables these men to develop the life skills necessary to deal positively with life issues to make homelessness rare, brief, and non-recurring. Liberty House is a drug, alcohol, and violence free residence."
This event will feature several area celebrity bartenders, including Venus Azevedo Laboda, whose Boots on Ground organization recently won the free office space for a year in Erie's Renaissance Centre. 
A $10 admission or a donation of items for Liberty House gives participants access to hors d'oeuvres, Chinese auctions, a 50/50, and a cash bar. Items that can be donated for Liberty House include: paper products, men's gloves and socks, linens and blankets (twin and queen sized), wash cloths, bath towels, and men's hygiene products.
February seems a bit less cold when giving back to those who have given so much.
For more information, to join the Host Committee, or to donate to the Chinese Auction, please contact Selena N. King at 580.8048 or kingeventmgmt@gmail.com.