Viral Videos Sweep Concerned Nation
Concerned citizens raise awareness of heat related fatalities with viral videos, but are they putting themselves at risk?
July 14, 2014 at 11:20 PM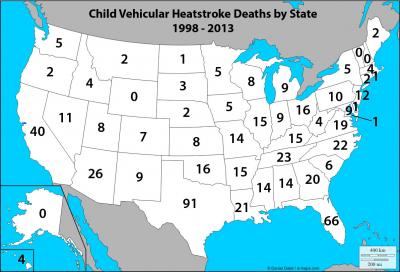 There's a disturbing trend on YouTube. I realize that seems cliche at this point in our digital lives, but it's a reality we must confront.
Given the annual media frenzy that focuses on the dangers posed to children - and sometimes family pets - left in cars on hot days, we should not be surprised that there has emerged a spate of YouTube videos featuring individuals, ranging from concerned citizens to law enforcement, demonstrating the detrimental effects of being locked in a car on a warm summer day.
Reflexive behavior such as this always follows media attention.
A North Carolina man has received more than 1.2 million views on YouTube after posting a video of himself sweating in the driver's seat of his closed car on a 90 degree day.
The week before a Texas police officer recorded himself for thirty minutes inside his patrol car before the effect of the heat on his breathing and sight forced him to abandon his experiment.
But are we going to far to prove a point that sane parents accept as fact? You can't leave kids or pets in the car...EVER...and especially not when the temperatures begin to rise.
Click on the map at the top of the page. Heat related child-fatalities are clearly a problem. Congratulations Pennsylvania for being near the bottom of the list. The epidemic in Texas and Florida seems inexplicable.
Nevertheless, we can assume that both of these men had the best of intentions in attempting to raise awareness about this devastating issue.
However, the voyeuristic tendencies of the YouTube audience and the general 21st Century  penchant for attention seeking on social media may end with the fatal imagery of a disoriented adult who rode out his experiment a few minutes too long. You can be sure that more videos of this type will follow.
One YouTuber commented on tbartley269's video that "this is an experiment I have to try."
The cynic in me wonders if it is the lure of awareness or the lure of attention that will motivate internet copycats.