Visual Experiences: "Origins" a Two-Woman Show
Currently hanging in the Schuster Gallery, Art Critic Luke Gehring reviews "Origins."
October 5, 2011 at 5:00 PM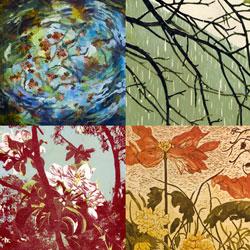 An amazingly fresh exhibition is now showing at the Schuster Gallery. The commonality between the two artists is that both grew up with a profound love of nature and art. However one spent her childhood in northeastern Pennsylvania and the other in Ibarki, Japan. Given that, one might expect that they would both complement each other, while offering two distinctly different experiences. And they do.
Hiromi Katayama has been interested in art since the age of 9 when she started visiting her mentor's art studio. She went on to get a BFA in Traditional Japanese Painting from Joshibi University of Art and Design, is now in the Master?s Program at Edinboro University of Pennsylvania, and was recently inducted into the Northwestern Pennsylvania Artists Association.
Her work is both traditional and distinctively her own. She is known for screen painting, a time-honored Japanese art form, but is also painting on canvas-- which is not. Her painted patterns seem to reflect artists such as the Tagasode painters, and yet some compositions suggest western influences such as Monet as well. Asian Art often has a quieting effect with a balance struck between positive and negative spaces, whereas Ms. Katayama's paintings tend to have an energetic overall pattern. It takes artistic maturity to understand that not everything has to be rendered, and she doesn?t hesitate to leave some things for the viewer?s eye and mind to complete.
Sarah Everett received her MA from Edinboro?s Print Department. Her work is a combination of wood and linoleum block prints. Both are reductive methods, meaning that the compositions are carved out of a block, which then is inked to produce the design on paper. Ms. Everett is now adding to the hand-crafted appeal of her prints by making her own paper. These prints could largely be called ?florals,? but whereas most floral painters tend to focus on decorative qualities, her issue is more of the human habitat and home.
But a major transition took place with a car accident, which affected all aspects of her life?including her art. Previously she tended to work large by print standards but has transitioned to a small format. Her art has not suffered, however, as her miniatures are as rich and complex as ever-- perhaps more so. ?Rest,? a jewel of a piece, is perhaps my favorite work in the exhibit, focusing on a tree with sky and light coming through. In size, it reminds me of bookplates, back when books had hand-pulled prints in them, and the color and texture is reminiscent of such book illustrators as Edmund Dulac.
The works in this show are inexpensive for the high quality that the buyer is receiving in return. And one of the things that pleases me most is that Ms. Everett is actually producing real prints, as apposed to ?Giclee? prints, which have become all too common today.
There is a big controversy over Giclee prints in the art community. Some say that it is just the embracing of a new technology, while others feel that it is no more a real work of art than cutting ?Whistler?s Mother? from an art book and putting it on the wall.
I am of the latter persuasion.
Also most juried shows, in my experience, do not admit ?non-hand-pulled (i.e. Giclee) prints.?
What?s the difference? To make a Giclee print the artist generally hands over an original painting to someone else to be photographed or scanned and then printed in large number. Then the artist signs them and puts on meaningless edition marks. The edition mark is the fraction that is by the artist?s name, which tells you how many prints in total there are and which print this is of that total. In the long run, the smaller the numbers, the more valuable the print because the plate used to make the hand-pulled print, changes slightly as it is used, and therefore the quality changes slightly as well.
But in a Giclee print the first print is identical to the last, so the number is pointless, except to fool the viewer.
Ms. Everett, on the other hand, is taking tools, cutting into the wood or linoleum; inking the plates, and putting them through the printing press (or whatever printing process she uses) herself. I didn?t see any edition that was larger than 18, and often the prints in the show were very low numbers in the edition.
This show would be worthwhile for people who want to begin collecting but don?t have much money to invest, though want something of quality. For others, this show should be a pleasant visual experience. 
This exhibition continues at Gannon?s Schuster Gallery, located at 619 Sassafras St., until November 5 with the artist?s reception from 7 to 9 p.m. October 21.