Visual Experiences: The Best of Hank O'Neal
?Don?t take photographs willy-nilly, you have to have a project.?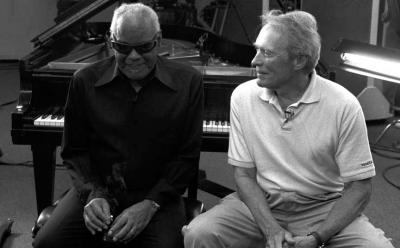 The Best of Hank O'Neal
There are a handful of living artists who count as names to conjure with. In the field of photography Hank O'Neal is one such name. I mean, what can you say for a guy who, at the age of 14 takes his Brownie Camera and riffs-off a photo of a kid in a space man costume that immediately evokes a fully grown Diane Arbus, or who in latter years is able to convince Jacqueline Kennedy Onassis, Clint Eastwood, and Meryl Streep to pose for him?
Mr. O'Neal earned his BFA from Syracuse University in 1962, and began working on his MFA before being recruited by the CIA in 1963 where he served until 1976. Resuming his photography career, he worked with Berenice Abbott for some 20 years, until her death. Ms. Abbott gave him a piece of advice that could prove just as useful to many young photographers today: "Don't take photographs willy-nilly, you have to have a project." 
His works run the gamut of projects; celebrity photos, protest pieces, still lifes, and documentation of graffiti—all of it first rate. Among them you will find such emblematic (notice how I avoided misappropriating the term "iconic") photos as the confrontational portrait of Hugh Hefner in a scarlet smoking jacket standing in front of the ornate gothic door of the Playboy Mansion. With so much here, only a few favorites can be touched on.
Perhaps my favorite, for reasons that I can't quite pinpoint is, "Harlequin, June 1974." Setting aside the fact that the image is of a street mime, and not a harlequin, it is a composition of rectangles. A line formed at top by the street curb makes one rectangle with trees, buildings and a crowd of people. A police barricade, which intersects with the mime, forms a rectangle of street in middle ground. The mime is parallel with the matt causing another rectangle isolating the policeman at left. The barricade with its shadow creates three more rectangles. The policeman is walking in the opposite direction of the mime, arms crossed behind him while the mime's arm is crossing in front of him. The mime is in a black leotard (balanced by the policeman's dark pants) showing his dancer's legs as a silhouette, contrasting his bare upper torso and an even more stark contrast of the white face make-up. 
I found the composition initially pleasing, and then I read the information posted next to it, Mr. O'Neal having placed each photo with anecdotes about the creation of each image. It turns out the crowd in the background was the assembling of a Gay Pride parade, and that this was one of 120 photos that was intended for a book, the proceeds to go for AIDS research. However this idea scandalized every publisher they tried, and it wasn't published until 2006. I find the subtlety of the message here more appealing than, say, a photo of drag queens mugging for the camera. On the other hand RuPaul has said in interview that, "you come into the world naked, and after that everything is drag." But I digress.
A very unsubtle photo, but just as interesting to talk about conceptually, is the arresting "Laura Foreman, June 20, 1981." Ms. Foreman had a performance called "Roomwork," which came to an end when its art was vandalized by the Jewish Defense League. Here there is a monumental painting of Hitler painted by Vitaly and Alexander Melamid, which has been slashed, with Laura Foreman standing before it, like any museum goer except that she is nude, apart from her shoes. This sets things in reverse, being that in a museum it is usually the art, not the viewers, which are nude. So is the photo suggesting she is viewing the damage and made vulnerable by it, or that she did the damage in the dance studio? This sets up another line of discussion. Though outrage over anything Nazi, much less Hitler, is completely understandable, who is the Jewish Defense League or anyone else, to infringe upon someone's lawful exercise of artistic free speech? The perpetrators may well have reacted without ever having seen it in proper context. For that matter, neither did I, but it seems unlikely that any show in Brooklyn, N.Y. in the 1980s or an ex-CIA working for the dance company, would have been pro-Nazi. Members of any group, caught up in righteous indignation, are capable of violence and vandalism for their cause and it isn't anti-Semitism to say so.
In "Allegra Kent in her Dressing Room, Fall, 1978" there is a twist on a classically glamorous dancer image. Here is the great dancer of George Balanchine's company at her makeup mirror, the makeup lights giving the sharp contrast of light and dark. The dancer is posed in such a way that her figure is both an arc and a diagonal going towards the mirror, which then is paralleled in the mirror image. The mirror is at such an angle to the sitter that it could almost be a window with another dancer looking through rather than a reflection. The reflection is the portrait, whereas the actual dancer is a study in graceful form. She wears a pretty costume, which incongruently seems to be held together with safety pins. 
This exhibition of incongruities; strong, classic, evocative, and arresting images continues through June 10, at the Bacon Gallery of the Erie Art Museum. The new entrance is on Fifth Street between State and French. Hours: Tuesday through Thursday, 11 a.m. to 5 p.m.; Friday 11 a.m. to 9 p.m.; Saturday 11 a.m. to 5 p.m.; and Sunday 1 to 5 p.m.
Luke Gehring can be contacted at luke@eriereader.com