Waiting for a Recall
Boom, Bust, and the future of GE Transportation.
November 25, 2015 at 2:00 PM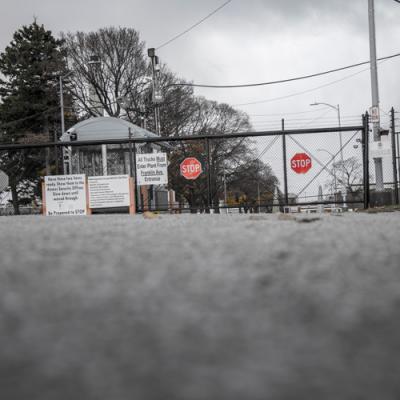 For 25 years, Bill Crawford has made his way each workday from his home in Meadville to the GE Transportation facilities in Lawrence Park. The work, the pay, the camaraderie: These are the things that bring him back every day. Job security, however, has been a daily concern.
"I was actually here a year and one day and I got laid off for over two years," Crawford remembers.
He went back to Meadville and took what he calls cash jobs, day labor that helped him stay afloat. It was familiar to him, the resilient necessity of having a backup plan.
"I thought it was like any other job I had in my life, I'd get laid off and I'd come back," he says. "But it was literally 25 months before they called me back."
By that time he'd found steady work at a sawmill. But when the call came, he answered.
"The money was twice what I was making on the sawmill," he says.
That experience is typical of what are known as "permanent layoffs," or PLOs, at GE Transportation. Members of UE Local 506 – United Electrical Radio and Machine Workers of America – are laid off indefinitely and placed on a five-year recall list. Both the layoffs and the recalls are based on seniority. Employees with the most service are the last to go and the first to be recalled, while those with the least seniority are the first let go and the last to be brought back.
But there's another class of layoffs known as "temporary layoffs," or TLOs. These occur when a laborer gets moved to a different job or classification because of company reorganization; like when, for example, 1,500 people get sent home on a PLO.
"I've been laid off out of every building here," Crawford admits. "There was one time that I went through five jobs in a year. I've gone from being a 20 code welder, to being a 17 code welder, to being a 14 code welder, which means that I could lose as much as five dollars an hour in pay and it's not always easy to adjust for that."
He's got two kids in college plus expenses of his own.
"This union is strong and we don't want to see anyone get laid off or lose their job," he says. "But the reality is that we're all trying to hang on to what we've got and that can get pretty cutthroat at times."
Especially when GE Transportation announces a major layoff.
Federal labor legislation known as the Worker Adjustment and Retraining Notification (WARN) Act requires companies with more than 100 employees to provide at least 60 days notice in advance of plant closings and mass layoffs. And while that provides employees with some time to prepare for their next moves, the stress they feel isn't mitigated by knowing what lies ahead.
"For 25 years that stress has always been there," Crawford says. "Now, I'm the chief steward of Building 7, so I represent 310 guys. The stress I had before was bad, but the stress I have worrying about those guys is worse."
The WARN Act requires companies with more than 100 employees to provide at least 60 days notice in advance of plant closings and mass layoffs. And while that provides employees with some time to prepare for their next moves, the stress they feel isn't mitigated by knowing what lies ahead.
Crawford's unit is expected to lose 212 people in this round of layoffs.
In 2009, the company downsized by nearly 1,500, a third of which came by way of retirements. But 800 jobs were eventually recalled.
"In 2012, they moved corporate headquarters out of the area. In 2013, they announced a transfer of work [to Fort Worth, Texas]," recalls Scott Slawson, president of UE Local 506 and a 10-year veteran in the GE facility. "In 2013, they also announced the layoffs and gave the WARN Act. Now here we are in 2015 and they issue the WARN Act again for 1,500 workers and that's just the union workers. That doesn't include the salaried employees and we haven't heard that announcement yet."
Many of the hourly employees expected to lose their jobs in January are people who have only been at GE since 2013, when the company laid off 379 union plant workers in addition to relocating some management to its new Fort Worth plant. There were also approximately 100 retirements at that time, which saved some positions from being placed on PLO. But many of those positions were not replaced.
"With a corporation this big none of us know what our future holds," Crawford says. "Ten years ago, I wouldn't have expected the Texas plant. Now that's another factor we have to consider."
And it's a big factor in the current round of layoffs. That's because GE Transportation pegged the Fort Worth plant to be home base for domestic locomotive production in the U.S.
The Erie facility was reclassified for international production and domestic overflow production. Fewer domestic and international orders for locomotives are the primary reason for the impending layoffs.
"On the domestic front there's about 400-500 locomotives for next year, which is low," says Slawson. "On the international front, orders are weak. There are simply not a lot of locomotives to be built."
That's the result of a number of factors, all of which are beyond the control of GE Transportation and its employees. Historically, as the country endures the presidential election, domestic macroeconomic fluctuations have residual macroeconomic effects on global markets. When the gross national product of developed nations gets stronger, it creates a more competitive international marketplace. Furthermore, GE Transportation produces very expensive products with long replacement cycles.
But perhaps the biggest factors looming over the future of GE Transportation and its Erie plant are the cost of fossil fuels and the unresolved status of the U.S. Export-Import (Ex-Im) Bank.
Oil is cheap right now, so it costs less to move freight by truck than it does by rail. Oil producers are also hanging on to their reserves until prices go up, which impacts rail companies responsible for transporting oil across North America. In addition to volatile oil markets, federal emphases on clean energy in the U.S. and an economic downturn in China, which historically purchased large quantities of U.S. coal, have had a significant impact on a coal industry that primarily uses rail freight to deliver coal domestically and distribute it to U.S. ports for foreign markets like China. That's led to job cuts across the railroad industry.
In August, Union Pacific announced it would permanently eliminate – not lay off – hundreds of management positions following an announcement by the Omaha Group that coal production was down by more than 26 percent in the first half of the year and not expected to rebound in 2015. On Oct. 1, Norfolk Southern suspended operations on a line that serviced the mining industry between Mullens and Princeton, W.Va., which cost 100 people their jobs. CSX closed a rail yard in Erwin, Tenn. in mid-October leaving 300 people unemployed. Five days later CSX laid off another 180 workers in Kentucky.
This considerable downturn in domestic rail traffic would have been bad for employees of GE here under the old production model. It's much worse now that local workers are waiting for domestic overflow from the Texas facility while they process international orders, which are also down. Both Canadian Pacific Railway and Canadian National Railway have collectively laid off nearly 2,000 people in the past year because of falling shipments of oil, grain, and coal, according to the Canadian press. It's a pattern that's replicated across the globe and it means fewer locomotives coming out of GE Transportation.
International orders are further softened by the U.S. Senate's failure to ratify the charter for the Ex-Im Bank, which helps American companies connect to international markets by financing foreign purchases of goods produced in the U.S. This allows governments and companies in the developing world to purchase expensive products from American firms without acquiring high risk loans from private lenders.
"With Ex-Im being shut down for the last several months there's potential orders for now and the future that the company can't even go bid on because there's no financing for the buyers," Slawson says.
The Bank's charter expired in June for the first time in its 81-year history as a result of mounting conservative opposition to what many on the Right call "corporate welfare." Critics of the Ex-Im Bank, including Sen. Pat Toomey (R-Pa), charge that companies like Boeing and General Electric shouldn't require federal assistance on the global market. Proponents of the bank argue that its suspension is going to cost tens of thousands of American jobs because of foreign consumers' inability to secure private funding in tumultuous economic times.
"When you're dealing with things like NAFTA and CAFTA – all of these free trade agreements have, over the years, eroded away at the American workforce. Things like Ex-Im help keep that in check, simply because it gives us the ability to finance goods that have to be made in the United States. It helps put us on an equal playing field," Slawson adds. "And I'd say that whenever you find something that the company and the union agree on this strongly, it can't be wrong."
While American companies and workers wait for the U.S. Senate to take action, the American workforce can only brace for dramatic losses.
Sen. Bob Casey (D-Pa) reiterated his support for the Ex-Im Bank when he joined local officials at the UE Local 506 labor hall in mid-November. U.S. Reps. Kelly and Thompson joined a minority of Republicans in voting for the Bank's renewal when it came to the House floor in October. As County Executive Kathy Dahlkemper pointed out in her ErieReader.com op-ed supporting GE's Erie facility, "only Sen. Toomey stands apart on this issue from the others representing Erie County."
While American companies and workers wait for the U.S. Senate to take action, the American workforce can only brace for dramatic losses.
There are approximately 3,100 UE Local 506 members currently working in the facility. So the layoffs after the holidays will represent nearly half of GE's union workforce.
"The reality of it is that this isn't just going to be 1,500 families and 1,500 union jobs on the unemployment line. The resounding impact of this is going to be much greater," Slawson fears. "In a very short period of time this could easily be 4,000 or 5,000 local families on the unemployment line simply because of the number of companies that supply GE and the amount of money that our union employees spend in this community."
Slawson says that Rapid Response at the Pa. Dept. of Labor estimates that a downsized GE Transportation in Erie could impact as many as 18,000 jobs statewide.
Long time laborers like Bill Crawford understand the dynamics of this.
"It's a business," Crawford recognizes. "Unfortunately, at a higher level, at a corporate level, as long as we're making them a profit we'll keep making locomotives. When we're not making them a profit, they'll lock those gates."
Both Slawson and Crawford are self-described realists and optimists. They understand the stakes, but remain hopeful that as the economy stabilizes and the crevasse of corporate politics in America narrows, production at GE Transportation will flow more generously. The company just won a highly competitive bid to produce 1,000 diesel locomotive "kits" that will be assembled at facilities in India. The Financial Times reports that GE Transportation will have a 74 percent stake in the plant to be built as a public private partnership between the Indian government and Indian Railways, perhaps pointing toward additional work for the Erie facility.
It could also mark the beginning of a 21st century transformation of the workflow at GE Transportation. As industry and labor adjust to capital realities that result from technological and structural changes worldwide, day-to-day operations at GE's Erie facility will continue to evolve. Let's hope the company, as well as the community, are willing and able to accept that change.
Jim Wertz can be reached at jWertz@ErieReader.com, and you can follow him on Twitter @jim_wertz.