We Were There
Two weeks, countless acts, one great music writer. Michael Bennett was there. Were you?
September 21, 2011 at 9:00 AM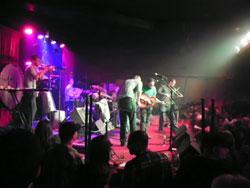 Erie Reader works ceaselessly to keep you informed of the shows and events you should put your full faith and effort into seeing, but we?d also like to present you the opportunity to kick yourself for missing a great show. Or perhaps spark your interest enough to catch a group the next time they play. Or, on occasion, commiserate with the writer about the failed journey into an abomination of a night where all you wanted was good music but nothing was delivered.

Sunday Sept. 11
The crooked i

A night of depraved (in)difference

Reverend Deadeye led off the festivities. He was a late addition to the bill and played a fine set on his third visit to Erie. His vocal style and stage presence are alone worth checking him out at every opportunity. Not to mention his music is great. But on this night his talent could not comprehend what was to follow.

Mala Sangre delivered a set so out of their minds, so impressive, so seasoned, so needed, so nearly unobtainable. From the first, the hard driving sound exploded over the audience. This is punk music, not some teen-dream derivative.

The Rivera brothers traded shouts into the microphone as their hands raged against the strings. Carlos, on guitar, was equally furious with his singing and flippant with his banter. The bass was brutal and all bottom under the control of Eliezer. But for all the intensity put forth by the brothers, it was matched in full by the drumming of Michael Lozano. His eyes were bulging and searching, his hands pounding his sticks, pounding his drums, driving them into submission.

True. Punk. Rock.

When Scott H. Birum left home for his East Coast tour, Texas was burning. Wildfires were blazing 20 miles from his home in Austin. Bathed in the red light of the stage, you could truly believe he was forged in the fires.

Birum sang of victory and freedom. His music was considerate of no one, seeking only to spread truth and consequences. He would float in and out of a gruff and growling character in his songs, yet was backed by pure heart. He sounded dangerous but also sounded right.

Cracks of modesty appeared in his set. You felt at home. You felt with him. You felt connected. You felt ashamed to know the truth.

?I want people to know that I?m genuine and I mean it. I?m not fake,? Birum said. ?Just because I kinda go into a little bit of a character here and there on a song doesn?t mean I?m some kind of cheesy-ass person. I want people to connect to me.?

The connection he seeks is a symptom of the road. For all the darkness and light and good versus evil in his music, he is attuned to the world in which he exists.

?I draw a big circle around my heart,? he said. ?That?s where [my songs] come from is right around the heart, and not a bunch of thinking or big fancy words. I try to keep it simple and easy for people to understand and connect with and keep it relevant to me. And not just get out there and be making up shit that I have no experience in at all.?

Birum is well versed in the tradition of the musicians who came before him. He can rattle of 15 influences and the knowledge he has gained from them without really trying. He is obsessed with playing his guitar. He sets aside time to relax or watch a movie and before he knows it, the guitar is in his hands and the final credits are rolling.

?I am my own music because I can?t help doing this,? Birum said with impassioned honesty. ?I have to do this. This is like an addiction for me or something like that. If I go too long without doing it I freak out.?

He is never long for not playing. Birum racks up 50,000 miles a year on the road.

?I really enjoy being on the road and travelling,? he said in a reflective moment. ?I feel like I have a blessed opportunity in life. Blessed with a good career making decent money, seeing the sites and everything.?

But he is true to the music he writes and couldn?t stay too positive too long.

?There?s lots of disadvantages too. I can?t have a real relationship with a woman because I?m on the road all the time. Sometimes I wanna just stay home, but I can?t. Because I want to keep that interest going everywhere. I?ve been to Europe 15 times in six years, most of those a month at a time.?

His mood lightens though, as he cracked a smile and said, ?I?ve got a lot of friends in Europe now. My French has gotten quite a bit better. It?s what I do. I wouldn?t trade it for anything.?

Scott H. Birum?s new album ?Bad Ingredients? drops October 11.

Wednesday, Sept. 14
The crooked i

Due to another musical endeavor, I missed My Three Scum and The Couchriders play their opening sets, a sad state of affairs indeed. But I was lucky enough to catch the full set of Gone Bad.

And by full set I mean the half-hour of Romper Room in the Devil?s bedroom that is a Gone Bad set.

The Brooklyn-based band was rowdy from the word go. Lead singer Coco flashed, flipped, and fell across all corners of the stage. Erie?s own ?Wretched? Gretchen rocked her bass to hometown friends and fans, while Emily G. providing the power punk guitar work. And, of course, Andy Rodgers held it down behind the drums. Because every group of women needs a man to keep time. (Jokes!)

Friday Sept. 16
Vermont Tavern
Cougars
The crooked i

I was running a bit ragged. I had a whole list of shows to see and interviews to do in a very small window of time. I dropped into the Vermont to catch Gabe Cellini and Abadon Faluz (a.k.a. Mike Edgerly) rock a couple of numbers. A mellow, yet energetic set for the dinner crowd. I also heard that Manslaughter Mourning made an appearance later in the evening.

I made my way up to Cougars where Birdsong was playing. Except they weren?t. Well they played, but were on a set break when I arrived. Shame too because they have a great sound. And to hear father and daughter Schrum harmonize together over a Grateful Dead tune is a pleasant way to spend an evening. Disappointing to miss, but all reports from the field were of satisfied listeners.

I was on a mission.

I have been listening to O?death since their first single dropped in 2006, and I was set on hearing as much of them as I could. The fact that I sat through a nearly hour-long sound check is more a testament to my devotion as a connoisseur of music than any fan-boy stigma you could throw at me.

How to describe the sound of O?death? Americana-DIY-alt-country with a dash of punk attitude. There is no way to deny the influence of early southern folk music on the band, but it was just a starting point.

?We take from what?s in us,? said vocalist and guitarist Greg Jamie. ?That era of music is what we initially wanted to bring this different kind of energy to. It?s not like we are translating that into our sound, we have been doing whatever we do and it has become our sound.?

The set was intense. The house was packed; bodies were mashed against the stage trying to feel the depth of the music. The fervent mix of banjo and fiddle over insane driving drums induced everyone to dance. Even the slower numbers kept the audience at a slow boil, waiting for the next rush in order to leap in to the air and expel the stored up energy.

The band ended their set with a fantastic version of ?Down to Rest,? then left the stage. The assembled masses were not having it. Immediately the chants of ?one more song? rose from every mouth on the floor. As the band took the stage again, bassist Jesse Newman held up four fingers, which got the crowd screaming ?four more songs.? At some point, in the hysteria, the chat changed again? from ?four more songs? to ?save our souls.? I looked to my friend Allyson to make sure I was hearing it correctly. She and I shared a knowing smile and went back to chanting.

I don?t know if my soul was saved, but it feels better having been at this show.

Saturday Sept. 17
Vermont Tavern
The crooked i

Sirsy is a two-person band in the same vein as the White Stripes or the Black Keys, which is where the similarities stop. The originals sounded like covers and the covers sounded like karaoke.

The whole thing reminded me of a painting on a hotel room wall. There is a wall, let?s put a painting there. This is a bar, we should have music.

Sure it?s a painting on the wall, but is it art?

Lunch $ played the first set at The crooked i. The trio played a mix of covers and originals. At times they sounded great, especially Chris Workman playing his father?s handmade instruments. At other times they sounded lost in the big room. Make no mistake, they are a great band as I can personally attest to, but on this night a few songs felt flat. I learned they were dealing with a faulty amp, which may have contributed to the confused sound on stage.

But I am curious to know if every band that comes out of Conneaut is required to play a cover of ?Sympathy for the Devil??

The night also saw the debut of Broke Boland. Make sure to pick up the next issue of Erie Reader to get the whole story on the band. Let it be known that everyone in attendance was impressed. This may be the best thing to happen to the artists formerly known as The Dirty Pickles.

The night ended with an enlightening set from the Jargonauts. To say the band is experimental is an understatement. Especially for this set.

The band was sans guitar for the night (?Yochim is a family man?). So they grabbed some guitar samples and hit the stage with two drummers, two bass players, a lyrical madman, and an electronic wizard.

The sound was amazing. The feeling from the stage outweighed the sound. It was an enthralling experience.


Michael Bennett believes in SYLS. Support Your Local Scene. He can be reached at mbennett@eriereader.com