We Were There
He was there. There were bands from Italy, bands who owned the city for a night, and band who said farewell. See where Michael Bennett checked in this week.
October 5, 2011 at 11:00 AM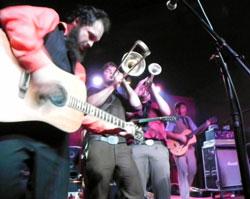 Erie Reader works ceaselessly to keep you informed of the shows and events you should put your full faith and effort into seeing, but we?d also like to present you the opportunity to kick yourself for missing a great show. Or perhaps spark your interest enough to catch a group the next time they play. Or, on occasion, commiserate with the writer about the failed journey into an abomination of a night where all you wanted was good music but nothing was delivered.

Thursday, Sept. 22
The crooked i
The crowd was a different mix. Not the typical Thursday night crowd. But this was not a typical Thursday night. After an opening set from Is What It Is (because when won?t they play?) two bands from Italy took the stage and rocked the house. Seriously.
Tribraco led off with looping guitars and an impressively different sound from your typical instrumental band. Even with all of the divergent sounds, pops, and hisses, the band was locked together in musical delight as they ripped through an impressive set.
It?s always interesting to me to watch where the musicians stand when watching great bands. Tonight was no different. The local artistry stood just to the side of the stage, not so much to be entertained but to critique or learn. More likely to critique.
But there was nothing to criticize on this night. When Tubax took over I felt like my feet fell off the floor. It was a driving intensity. Just to watch as three musicians grabbed the crowd and held them in a dancing frenzy of perfectly situated noise.
If this is the future of European music, I?m in.
Friday, Sept. 23
The crooked i
Waiting for the show to begin ?Til Tuesday?s ?Voices Carry? played through the nearly empty bar. Nothing gets me in the mood for a good show like a song about domestic violence.
It?s a shame more people don?t give proper due to opening acts. Matt Texter is the perfect example. His gravely, soul-soaked voice was once again on display, and as always, the man didn?t disappoint. His songs feel natural and timeless. His delivery is just as straight forward. And anytime someone covers Little Walter tunes, I?m in.
I had heard a couple of random tracks from Lionize. I had opportunity to hear them sound check. Before their set I wasn?t too high on them. Then they began to play in earnest. I was shocked. I felt I had been deceived. Their live performance was a gem. Reggae twinged jam-rock that borrows from every influence and condenses their sound into a blaring good time.
Right up front I will tell you that the performance by Larry And His Flask was one of the best I have seen in Erie ever. Ever. And don?t just think I?m simply stating this from a professional standpoint. The last half-hour of the set I was besieged by friends and strangers alike saying the exact same thing. It was a moment. And if you weren?t there you will just never know.
How this band from the wilds of Oregon came into Erie and owned the whole city is beyond me. But they did. Completely. I have never seen an audience so fully give themselves over to an act like I did on this night. The rollicking bass, the fevered pitch, the constant movement, the instrumental changes and mixtures? How can I put into words what it was like to watch the collective mind of the audience be blown? I guess just like that. We were all owned by the band. And happy to serve.
?I?ve always thought that overall as a show music is about fun--there are so many different facets of it,? said drummer Jamin Marshall. ?We?re our own thing but what we like to do is dance and go crazy. We like to show people you can go out and do that, you don?t have to be so uptight. You can go out just for that night and be free.?
That is an understatement. If and when Larry And His Flask make it through town again or anywhere near it, drop everything you are doing and go. You will experience everything but disappointment.
This was a fantastic night of music. Soundman extraordinaire Tavon Markov was a star in his own right.
Friday, Sept. 30
The BayBreeze Lounge
Vermont Tavern
The crooked i
Mellow sophistication. That is what the BayBreeze is. The actualization of a jazz club, save for the smoky fog of anything repressive. It was a great night to find the Bill Burke Trio stirring up the relaxed crowd.
If you have never experienced the percussive, looped magic of the Trio I must ask you if you even enjoy music?
While watching Burke?s hands move along his 8-string guitar as his feet work the loop station you can?t help but be moved by the music. And to have that kind of talent backed up by equal talent makes for something amazing.
Burke is so generous with his musical time that drummer Norrbie Gavin and percussionist Joel Polacci were given time to solo and show that they belonged on stage. It is fun to watch the faces of the other members of the band as Polacci?s hands search for that rare sound to impress his mates. Or Gavin?s demurred stance behind the kit that belies the furtive movements of the sticks in his hands as he rides the cymbals like no one else.
Birdsong is a good-time band. Mixing covers from all eras of rock ?n? roll music with a growing arsenal of original material makes them a band to watch. Kristin Schrum?s vocals are tuned to everything from covering The Dead to Jane?s Addiction. Backed by two guitars and ample percussion, the band is on the move.
And they provided a great opening act for Shotgun Jubilee, who also set crowds shaking.
The final show of Hello Kitty Death Squad was an event. Not many bands get the opportunity to bring their audience together for one last time and rock the house. The odd combination of samples and sax, unrestrained guitar and ample bass, full, in-your-face lyrics and ecstatic drums make the band a true original. And the sound held the audience to task.
They shared a bill with Johnny James And The Absolutes (another fine showing, as always) and the Jargonauts. Without sounding too ridiculous, the Jargonauts set made me ashamed to pretend I think I know anything about music.
For those of you who think I slurp at the trough of The crooked i too often, beg forgive. I am of the ethos that originality and perspective beat out familiarity and contempt. I want to see the best shows this town has to offer, and if no one else is stepping up to the plate then there is no other choice.
Michael Bennett believes in SYLS. Support Your Local Scene. He can be reached at mbennett@eriereader.com.