We Were There
Michael Bennett was there. Were you?
November 16, 2011 at 11:00 AM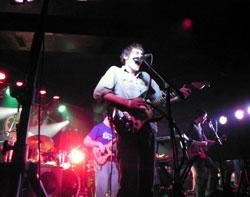 Erie Reader works ceaselessly to keep you informed of the shows and events you should put your full faith and effort into seeing, but we'd also like to present you the opportunity to kick yourself for missing a great show. Or perhaps spark your interest enough to catch a group the next time they play. Or, on occasion, commiserate with the writer about the failed journey into an abomination of a night where all you wanted was good music, but nothing was delivered.

Friday, Nov. 4 - Basement Transmissions, The crooked i
Gotta give it up to 2189 and Basement Transmissions for getting these once-a-month hip-hop shows moving. Erie has so much potential to have a thriving arts scene but continually cuts itself off at the knees for some reason. Shallow wealth at the top who only back the same staid stuff over and over and an apathetic populace who'd rather skip to the "whine and complain" stage than go out and see a show first are my two picks for why.
But there is great opportunity to support local hip-hop acts and see regional acts that are actually really good. This isn't like amateur night at a fake 8-mile mock-up. These guys take their music seriously, and you should too.
The great highlight of the night was hearing Kool Taj from the stage, about to go into his new single "homeless," which he has some personal experience with, ponder with the crowd: "This is America, the richest country in the world, and there are still poor and homeless."
It's not all beats and breaks… there is thought involved.
If I had no prior knowledge, and you told me a group of folkie-sounding old heads called The Horse Flies were coming down from Ithaca to play The i, I would have dismissed any thought of a shakin' good time to instead find a good seat and listen to old people pluck away their last breathes. But I was there, and judging by the unfortunate crowd size, you weren't.
It was a phenomenal experience. The band was moving, and the crowd that was there was not disappointed. I am now a huge fan of Richie Sterns. The man's ability to play banjo is matched by his ability to not make it sound like a banjo. One of the best parts of the night was the sonic indulgence of The Horse Flies. They don't just pick and pluck, they groove on a wavelength that grabs at your very dancing soul and makes you want to move.
Saturday, Nov. 5 - The crooked i
I can never find enough ink to spill with the goodness that is Is What It Is. And the set they played for drummer Kenny "Stix" Thompson's birthday bash was one of the finest.
Unfortunately, they were they opening act.
Followed by Broccoli Samurai and Jimkata the show never got that good again. Don't get me wrong. These are really good bands. And all the hype from people who had seen them previously may have gotten my expectations up, but they didn't kill it.
Both bands, full of sound, great light shows, driving beats but no delivery. Everyone was bouncing from side to side just ready to explode, but rather than blowing the roof off the mutha, it just fizzled like the wick on Acme dynamite as the Roadrunner goes by.
Friday Nov. 11 - The Docksider
Yes you read that correctly. I went to the Docksider. I know I'll sound like a whiney little girl for this, but it was difficult for me to go there. It used to be my bar. When I was in high school I snuck into the original Docksider to hear music. And as I returned again and again to this fair city it is where I made my drinking home.
I can honestly tell you that 80 percent of the good friends I have now I met at the Docksider.
Of course it hadn't been the shinning beacon on the hill in some time and needed to be sold. But I was still salty. And seeing the transformation from dark and dingy to bright and clean was a bit traumatic for me. Also the fact that they booked cover bands and played dance music all the time didn't help draw me back in.
But I went. And it's nice. Very nice. The remodeling has not only been an aesthetic improvement but also a functional one. There is more space to chill and congregate. The music sounds better in certain parts than it ever did before. The flow is better too.
At one point I found myself at the base of the stairs, and as I was ready to make my ascent I turned briefly to look at the stage, and I was transfixed. From the back-bar corner I could see the band.
I was caught in a moment all my own.
For years I had stood in that corner to talk or order drinks and been blocked by the cooler. The coolest cooler in town by the way. A cooler that should be in some museum in Erie. It holds a history that could not be repeated if given a million chances. There are stickers on that cooler that outline some people's entire local music history. To not have it be there is akin to looking for the Old Man on the Mountain in New Hampshire and seeing him gone.
The reason I was drawn into The Docksider was for the Jazz FM Anniversary party. The show kicked off with Is What It Is. Who seriously will play the opening of a trunk. Then a great collection of Erie's jazz talent to the stage for various jams and the like. It was great.
Then a funny thing happened. A jazz station invited a blues band to play. Now don't get crazy, Ron Yarosz and The Vehicle killed it. Especially with two revolving line-ups that gave equal time to Rodger Montgomery and Erie Brewer.
But it was a blues band on a jazz stage. I understand you have to book bands to pull a crowd, but is this foreshadowing? Will Jazz FM start to play the blues too? And if they do, what will Al Lubiejewski do? These are the questions I asked myself during the set.
Saturday, Nov. 12
The crooked i - The whole night just rocked. Stagecoach Robbery played a great rockin' set. Just a fantastic vibe coming from the stage. Blues-jam-Anthem Rock with soul. They were the perfect opening act for Aqueous.
If you haven't had the opportunity to see this Buffalo band on any of their trips to our fair city, what are you waiting for? A personal invitation? Consider this your invite.
They killed it. They always do, but they grow by leaps and bounds each time I see them. They have a way of controlling the audience with their sound. Forcing the bodies to undulate with each riff and percussive beat.
They can even be forgiven for covering Madness' "Our House," and getting that trite stuck in my head, where it will remain for the next week. At least when it pops up, I can think about how great the Aqueous show was.
This will be the final installment of We Were There. But fear not. Newness shall be revealed in the next issue of Erie Reader. We will not stop delivering the most insightful look into the Erie scene, not even when the snows come and the 60-degree November days are all but a memory.
Michael Bennett believes in SYLS. Support Your Local Scene. He can be reached at mbennett@eriereader.com.