Wednesday Sellout
Young Culture show at PACA blows DIY attendance average out of the water
September 26, 2018 at 9:30 AM
By: Hannah McDonald
Climbing the stairs to PACA's packed second floor space on Sept. 19, one could feel the temperature rising. By 9:30 p.m., the last tickets for the Young Culture, Mallory Run, and Real Fake Doors show had been snagged by Erie punk fans, making for one of the first sold-out DIY shows to take place on a Wednesday in Erie in some time.
Opening the night was up-and-coming Erie pop-punk band Real Fake Doors, consisting of vocalist Jesse Pershun, rhythm guitarist Sean Stevenson, drummer Christopher Manly, bassist Zack Smith and lead guitarist Mark Gorski.
"I'm extremely happy with the turnout," Pershun said. "(I'm) excited to see where Erie goes with this, how far we as a band can go, and how we can help out our music community."
From Albany, New York, Young Culture amped up the crowd, playing hits such as"Drift," their newest song. The pop-punk group were appearing for the first time in weeks after having kicked off a tour with Kayak Jones, said lead singer Alex Magnan. The band has been rapidly gaining traction in the tri-state area and recently announced their signing to Equal Vision Records (Pierce The Veil, Say Anything, and Portugal. The Man).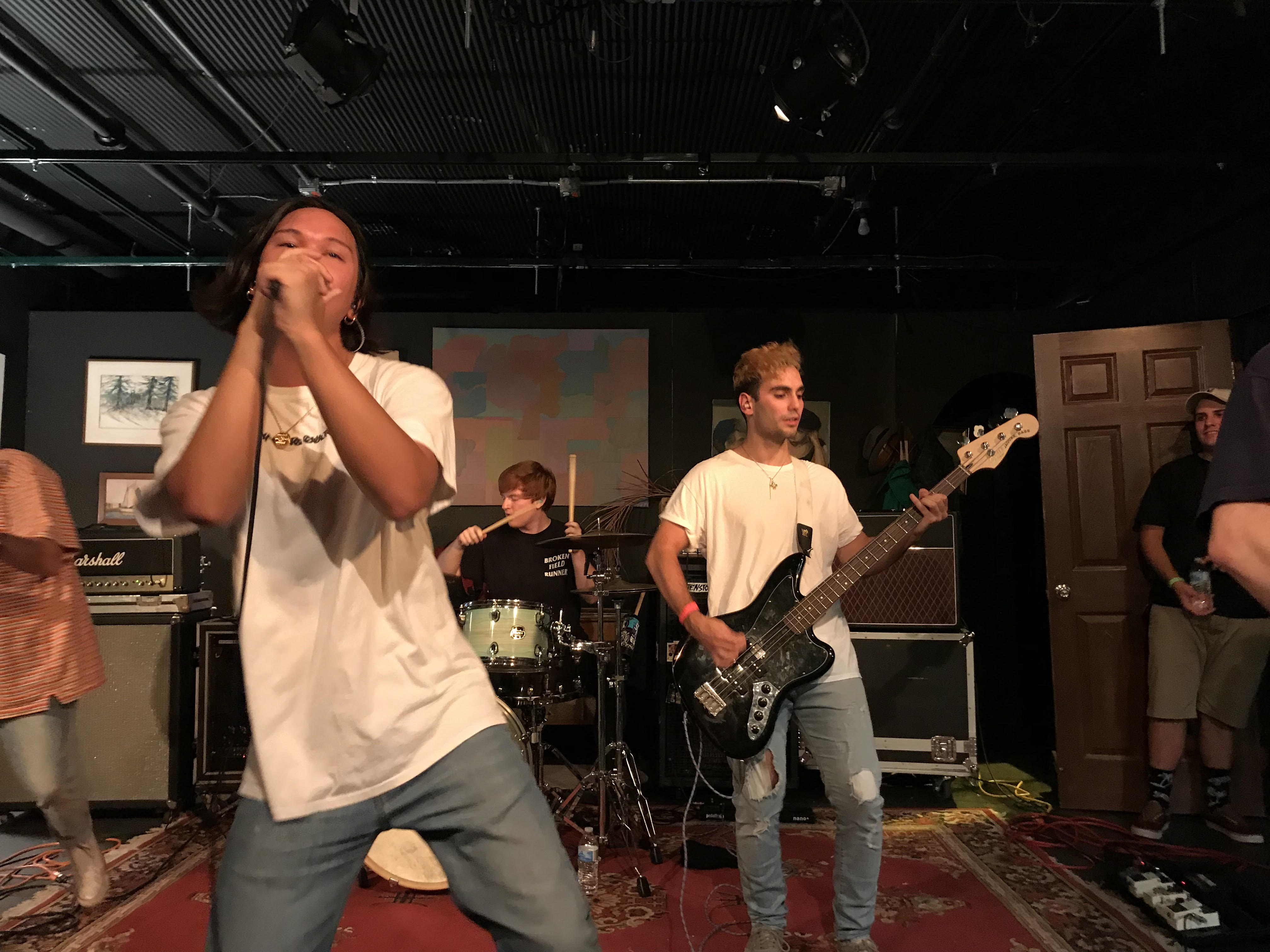 Albany-based band Young Culture held the middle spot in lineup for PACA show.
Mallory Run closed out the night, beginning with "For Now," and rounding out the evening with "Bedrot," the smash hit from their self-titled album released in 2016. Lead singer Dan McClunes's passionate vocals filled the black-box theater space as the packed crowd swirled, moving in waves with the music. Elvis Maryshine, owner of The Andromeda Agency and promoter and organizer of the show, left her post at the venue door to hold the crowd back and keep bodies from lapping up full force onto the performance space.
"I have always been determined to prove (to) people that it's not the day of the week, it's the amount of promotion," Maryshine said following the Young Culture show. Selling 76 pre-sale tickets, she knew that the event was going to be big for the scene, "but when it actually happened I was absolutely delighted," Maryshine continued. "It's been quite a while since I can remember that happening for any smaller DIY show here, and in my experience, it doesn't happen often."
In total, 105 tickets were sold for the show, including pre-sale and at-the-door purchases.
The next show hosted by The Andromeda Agency to be held at PACA is Oct. 17. Headlining is Abandoned by Bears, from Malmö Sweden, We Were Sharks, a six-piece pop punk band from Ontario, and Youth Fountain (formerly Bedroom Talk) from Vancouver. They will be supported by Erie emo band Hargrove and Erie punk rock band Archway.
Hannah McDonald can be reached at hmcdonald@eriereader.com