Weird Al, Super Bowl Star
A petition urging the NFL to have Weird Al Yankovic perform at Super Bowl XLIX has over 100,000 backers online, and that's a good thing. 
August 9, 2014 at 11:36 AM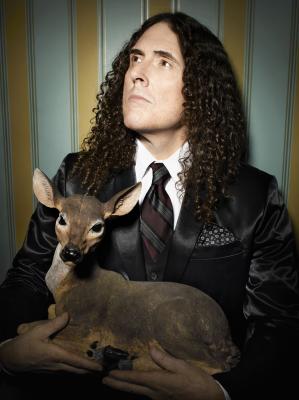 Typically, the No. 1 spot on the Billboard 200 list is reserved for old classic rock favorites, Queen Bees, and random boy bands, but on Aug. 2, the highest-selling album in the country was owned by a 54-year-old, polka-loving parody artist. Weird Al Yankovic joined the ranks of massively popular artists like Beyonce and Bruno Mars with his latest album Mandatory Fun, which earned a 4/5 rating from the Erie Reader.
However, one Yankovic fan in Seattle named Ed Ball decided that maybe a No. 1 album wasn't enough, so he decided to start a Change.org petition requesting that Weird Al Yankovic headline the Super Bowl XLIX Halftime Show. As of Saturday morning, over 113,000 people agree that Yankovic should follow in the footsteps of performers like, well, Beyonce and Bruno Mars. Ball, who actually started the petition after a night of drinking, is quite serious about the prospect of having the famous musical satirist take the stage. 
"Think about the Super Bowls of past years, when you had no vested interest in either team, especially during a game that was a blowout or boring," Ball said in a message on the petition page. "What did you remember the most? I'm betting it was typically the humorous commercials, or some kick a** halftime performance. Why not combine the two?"
I agree, and I wouldn't be surprised if fellow Reader writer Jim Wertz did as well. This isn't the first time that a supposed "gimmick" band has gained some traction to play in Super Bowl XLIX, as GWAR had over 50,000 backers on Change.org (RIP Dave Brockie), but Yankovic has got the best shot, given the massive success of Mandatory Fun. In addition to new parodies like "Tacky" and the Reader Managing Editor Ben Speggen-approved "Word Crimes," Yankovic has decades worth of material, meaning you could end up with a Michael Jackson special or an Amish spectacular. I'm fully hoping for the latter, but I'll take any form of Yankovic at Super Bowl XLIX. If you agree, head to Change.org and sign for a chance at a better Super Bowl Performance. At the very least, it won't be the Black-Eyed Peas. After you're done siging, let Uncle Al freshen you up on your grammar.