West BayWalks
A pandemic pivot becomes tradition
August 6, 2021 at 4:06 PM
My family and I have always enjoyed meandering walks through our West Bayfront neighborhood: admiring the old houses around us, enjoying the view from the bluffs, finding something new to notice every day. When the pandemic hit, the only thing we could do to get out of the house was to take walks, so it felt natural and normal to keep exploring our neighborhood. Meanwhile, the neighborhood organization Our West Bayfront, who is responsible for a number of community events in the area north of West 12th Street and west of Sassafras to the Bayfront Parkway, had to shift models to adjust to the pandemic and they, too, turned to walking. Anna Frantz, director of Our West Bayfront explains, "West BayWalks began last year as a COVID-19 alternative to West BayFit, a weekly summer recreation series we were running with Gannon University and the Department of Health. One of our volunteers, Kaitlyn Falk, came up with the idea of offering the weekly themed walks to get people moving and connected even when we couldn't all gather together at the park. The walks are also a great way to encourage people to learn new things about the West Bayfront neighborhoods, or see the area from a different perspective. The reason they are back again this year is because people enjoyed them so much."
These walks are mapped out with details on specific landmarks, each relating to a theme and written by either a West Bayfront resident or an expert on the theme. In 2020 these varied from Liz Allen's Soul Stroll, a route winding between places of worship in the neighborhood; historian Johnny Johnson's African American History route, sharing the stories of New Jerusalem and beyond; and a Mural Walk curated by Erie Arts and Culture's Patrick Fisher.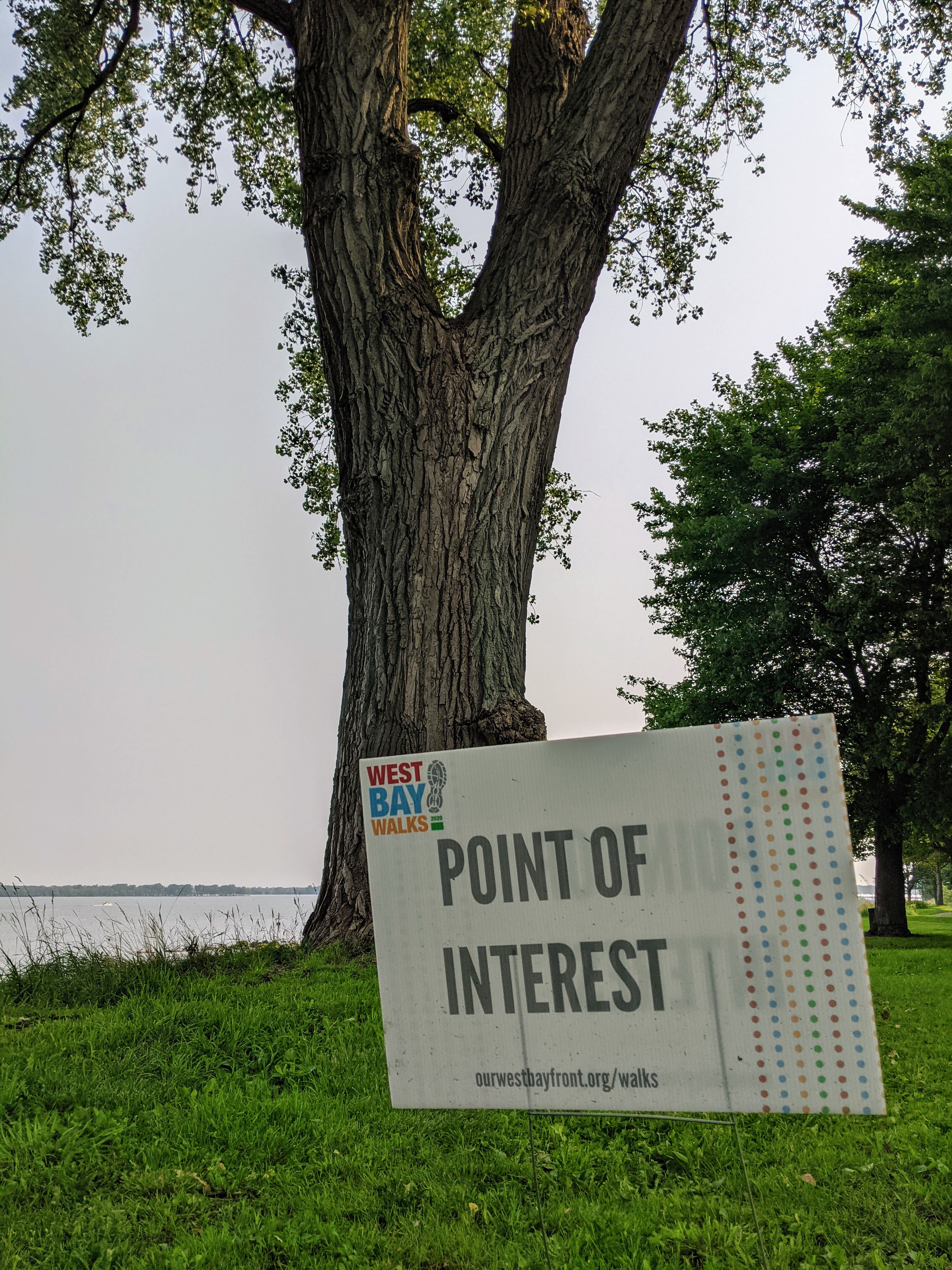 A point of interest on the "Landscape Around Us" West Baywalk: the old Cottonwood trees that line the bluff at Bayview Park near Front Street.
The walks this year are still self-guided and are released one at a time, each Wednesday through Aug. 15 during the West BayFit events at Bayview Park (West Second and Cherry streets). You can stop down to the park to pick up a map of the route with a description of the points of interest, or check online each week as they're released. All routes start from Bayview Park. This year the themes range from the memoirs of a self-proclaimed Bay-Rat, an in depth look at the landscape, a highlight of the small businesses of the West Bayfront, a fun scavenger hunt, a children's walk, and a lesson in historic architecture styles, using "off the beaten path" historic homes as examples. There is truly something for everyone and always something new to learn.
For example, I'd always heard the term "Bay-Rat'' used here and there, but I never really understood what exactly it meant. Professor David Frew of the Jefferson Educational Society is a proud former Bay-Rat and has written extensively on the subject. He describes his childhood growing up mid-century on the 900 block of West Fourth Street and what it meant to be a Bay-Rat: "The kids were just gone all day. We were out of the house right after breakfast, foraging for whatever we ate during the day, and home by the time the streetlights turned on. We were always down in the water: swimming, or climbing sandpiles when sand and gravel people were down on the docks." He describes his childhood as a simpler time, while also pointing out major environmental changes that have massively improved life on the bay. "Back then, there were coal piles with tons of toxic runoff, huge smokestacks, and we were swimming in that water every day. It's surprising that any of us are still alive!" Included in his walk are remnants of the Bay-Rat days like Bay-Rat Stadium, "the neighborhood softball field, which was located on the north side of Third Street and Raspberry. Several legendary local athletes played here." Frew also included some places of older historic significance that laid the groundwork for the character of the neighborhood when he was a child, like James Modica's Basement Speakeasy on West Ninth Street, whose heyday was during Prohibition but was an epicenter for neighborhood clashes through the years.
It is interesting that Frew notes the changing environmental landscape of the West Bayfront, as the BayWalk that was released right after his was "The Landscape Around Us" which was coordinated by Andrew Sipple, an AmeriCorps VISTA with the Feeding Minds STEM Program, a local outreach initiative that focuses on bringing quality STEM education to city youth, along with Dr. Steven Ropski from Gannon University. The route of this walk calls attention to the connections between the natural landscape and the built environment of our city. In as many walks as I have taken in the city, I had never realized, as this walk points out, the connection between the planning of the cityscape and the function of the landscape: "Between West Fourth and West Third streets, you will notice that there is a grassy strip between the street and the sidewalk on one side of the street, but on the other side, the entire area is covered in concrete. The grassy patch helps to capture and filter stormwater, while the area that is entirely concrete directs dirty water toward the bay through the storm drains." Sipple and Ropski also explained the many ways the landscape has changed throughout history, even at a point in time when Presque Isle didn't exist as a peninsula. While most historic walks tend to focus on the buildings around us, this BayWalk takes participants back to an era when there were no buildings at all, describing the true history of the land and how it's changed over time.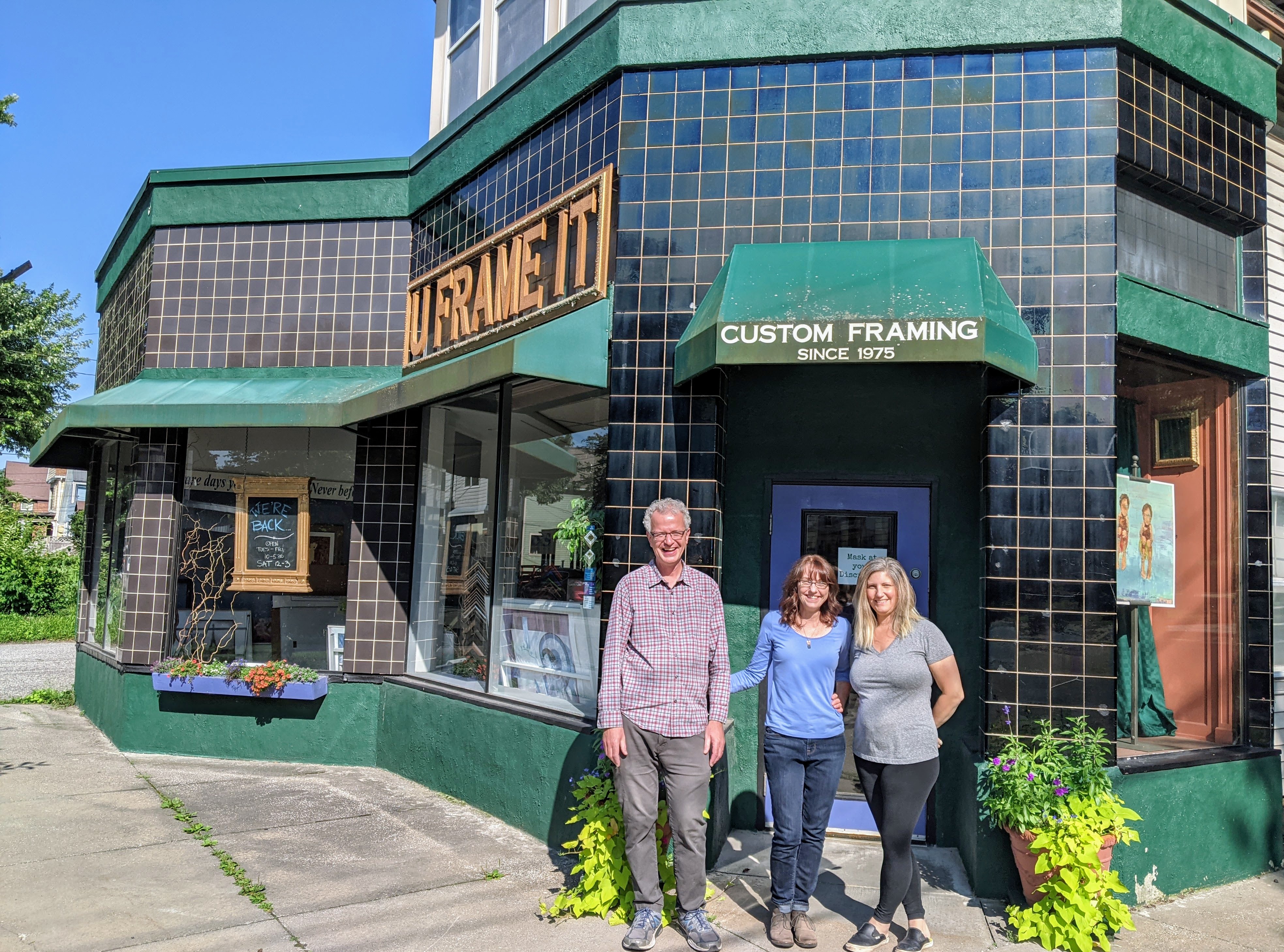 (from left) Co-Owners Matt Lebowitz and Phyllis Mashyna with long-time employee Linda Trohoske at U Frame It, a long-standing business in the West Bayfront who are a Point of Interest on the "Only in the OWB" Baywalk featuring the small businesses of the neighbhorhood.
And what cityscape would be complete without a smattering of local small businesses? The West Bayfront is home to many fledgling and veteran small businesses alike and the "Only in the OWB'' BayWalk brings attention to many of them. Included are restaurants like the long established Three B Saloon and Virgil's Plate, as well as newer spots like Loco Taco, in addition to home decor veterans like Pam Prinzi's custom window treatments and U Frame It, which has been in business since 1975 and occupies a beautifully restored vintage storefront. Owner Phyllis Mashyna reflects on their location in the West Bayfront: "It's a really great little corner. It's a busy corner here on Eighth and Liberty. My parents started the business in 1975 and I'm really glad they picked this spot." Some of the businesses listed on the "Only in the OWB" map are offering limited-time discounts to those patrons taking the BayWalk, so be sure to check out the map for more information while supporting our local small businesses.
The upcoming weeks will feature a fun scavenger hunt, with clues leading you on the walk based on your own knowledge of West Bayfront Landmarks, as well as a Children's Walk produced by Jake Johnson of the Department of Health that incorporates pages from the Dr. Seuss book, Oh, the Places You'll Go! at different points throughout the walk.
The series this summer will wrap up on Aug. 15 with the walk "Home Again in OWB'' which was researched and mapped out by volunteers from Preservation Erie, including myself, historian Melinda Meyer, and architect Dave Brennan. This walk focuses on guiding participants in identifying the different architectural styles of historic homes. Throughout the walk (which focuses on homes outside of the well-known architectural thoroughfare of Millionaire's Row), the group identifies different details that can then teach you to "read" a building to determine its architectural style. Meyer came up with this idea in walks she's led in the past and thought the idea would translate well to an architectural walk around the West Bayfront: "All buildings offer clues that can help you to determine their architectural style, as well as when and why they were built: details like rooflines, windows, doors, porch columns, building materials, and any other special features. You can find excellent examples of homes built in the Italianate, Greek Revival, Queen Anne, and Tudor styles, among others." We tried to pull together a grouping of homes that you may not have noticed before, that are off of main streets, or are rental units, but that still stand as a great representative of a certain historic architectural style.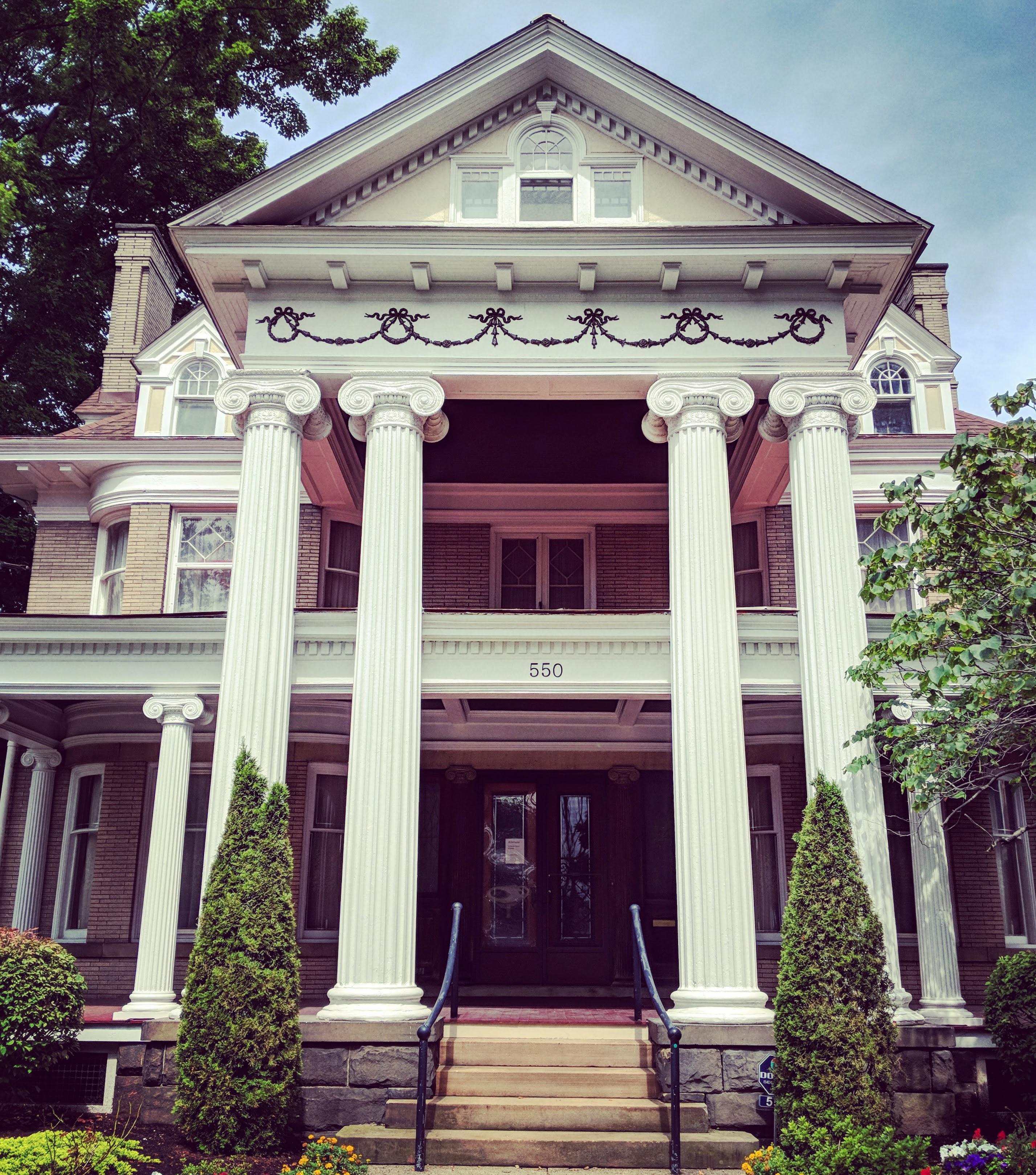 One of the examples from the "Home Again OWB" which highlights homes "off the beaten path" to help walk-takers learn how to "read" building elements and try to determine the architectural style. Pictured here on 10th and Cherry is a great example of Greek Revival architecture.
Most people would probably love nothing more than to put the past year and a half behind them and never think about it again. But in examining that time more closely, we can come away with a number of traditions and behaviors that can and should live on: spending more time outdoors, getting to know our landscape, supporting our local small businesses, and appreciating the beautiful old architecture of our town are good takeaways and the BayWalks of 2021 celebrate them. Frantz and Our West Bayfront certainly hope these walks stick around for good: "This program is completely dependent on the efforts of volunteers and our partnership with Gannon and Erie County Department of Health to put this together, so we would love to hear from anyone who has an idea for a great walk in the neighborhood and is interested in helping to map one out! Or if you are interested in helping with the logistics of getting the walks organized each week, we'd love to have you sign up as a volunteer to help with that too."
For more information, to access the BayWalk maps that have already been published, or to sign up to volunteer, visit: ourwestbayfront.org or head down to Bayview Park on Wednesday evenings from 6 to 8 p.m. and pick up a map while enjoying all the (now) in person events of West BayFit. And please remember Our West Bayfront during Erie Gives Day on Aug. 10.
Erin Phillips runs the Instagram @olderieonfoot, an in-depth look at local architecture "by foot, stroller, papoose, bike, and occasionally minivan."