What History Will Erie Elect to Make?
City faces stark choices in upcoming mayoral primary
February 15, 2017 at 3:45 PM
All eyes have been affixed on 1600 Pennsylvania Avenue. They likely will continue to be.
Reasons abound why we focus our attention on national politics and the presidency in particular. Reasons also abound why we're perhaps more focused now than ever before, and if those reasons were to be summed up in two words, they'd most likely be: Donald Trump.
But is 1600 Pennsylvania Avenue where history is being made? David Brooks would argue no.
The New York Times columnist's "Where History is Being Made" introduced The Fallows Question.
The Fallows Question, Brooks explains in his NYT Feb. 7 op-ed, is: "If you could move to the place on earth where history is most importantly being made right now, where would you go?"
Brooks confesses that it's a question he often tosses out at dinner parties, but he explains that he recently decided to send it to the Fallows themselves. While Washington might make the most sense, because, as Brooks says, "Washington will either preserve the world order or destroy it," the Fallows only agreed with that in part. They told him that "the most important place to be now might be places like Erie, Pa.; Fresno, Calif.; and Columbus, Ohio."
Why? "If you want to 'observe' history," the Fallows told Brooks, "go to Washington. If you want to 'participate,' go elsewhere."
This mention of Erie isn't the first time our region's been in national ink.
The NYT front-page feature, "How Erie Went Red: The Economy Sank, and Trump Rose" keys in on where Erie County will head because of its majority decision to back Trump. So does Yahoo! News's "Clinging to hope in a fading factory town." NPR's Marketplace did an entire series on Erie, and pledged to return.
But the national spotlight had already been on Erie. In August of 2016, James and Deborah Fallows began featuring Erie in their City Makers: American Futures project for The Atlantic, where the husband-wife team focus on "the people, organizations, and ideas reshaping the country."
In the opening piece of their coverage on Erie, James Fallows draws a parallel between America on the whole and Erie, noting the stark contrast between the national tone and the local, perhaps more hopeful one – of those taking action to better their communities rather than waiting for help to come from the national level. "Being active, rather than passive, is one working definition of today's American Idea."
Erie is on the precipice of making history because of its current positive momentum. We've been in the national spotlight, and many – rightfully so – are taking delight in that. But the stories focus less on the-where-we-are-now and more on the where-are-they-headed.
Regarding that action and destiny, all eyes in Erie will be focused on 626 State Street.
In January of 2018, Erie's next mayor will be tasked with showing the region's residents what that action does or does not look like. But before then, Erieites will take to the polls in November of 2017 to elect our next leader. And perhaps more importantly than that, voters will choose between whose general election dance card gets punched at May 16, 2017's primary election.
As it stands, 10 people are seeking that opportunity. But before we begin to discuss any of the candidates, let's focus on the important dates that dot the path to City Hall.
The first day to circulate and file nomination petitions is Feb. 14. The last day to do so is March 7. Candidates need 100 signatures of the same party and within the voting district. Those collecting enough move on to the next round, and candidates are already advertising events to welcome the opportunity for voters to put pen to paper.
For voters, April 17 matters. It's the last day to register before the primary. May 9 also matters because it's the last day to apply for a civilian absentee ballot, and May 12 marks the last day for the County Board of Elections to receive those absentee ballots.
And Tuesday, May 16, 2017 is the municipal primary, which then launches the march towards Nov. 7's municipal general election.
Why does the primary matter so much? Bluntly put: The path to victory in the general election is more difficult for any Republican candidate simply because of the numbers of registered voters.
Erie's blue mayoral line runs long because of the disproportionate swing of registered Democrats outnumbering Republicans more than two to one, making a path to City Hall more challenging for a Republican than a Democrat. By its current voting laws, Pennsylvania limits voters to their registered party during primary elections. And Pennsylvania still remains one of 10 states to feature straight-party voting, an option that allows a Democrat or Republican to push only one button in the booth and cast votes for all candidates of their registered party for any open seats.
But if Donald Trump's victory proves anything, it reminds us that improbable are impossible are not synonymous.
For the Democratic Party, candidates include: community organizer and Edinboro University of Pennsylvania Professor Lisa Austin; Erie County Councilman Jay Breneman; Erie Playhouse Executive Director Almitra Clerkin; former Erie Bureau of Police Chief Steve Franklin; former City Councilwoman Rubye Jenkins-Husband; current Erie City Councilman Bob E. Merski; and retired PNC Bank Vice President and former Erie City Councilman Joe Schember.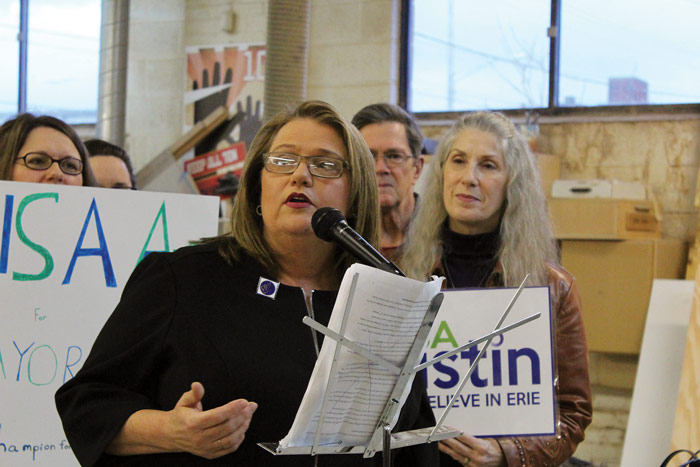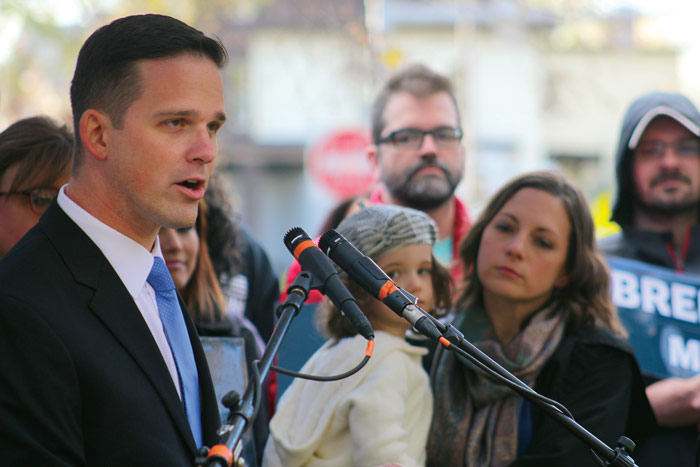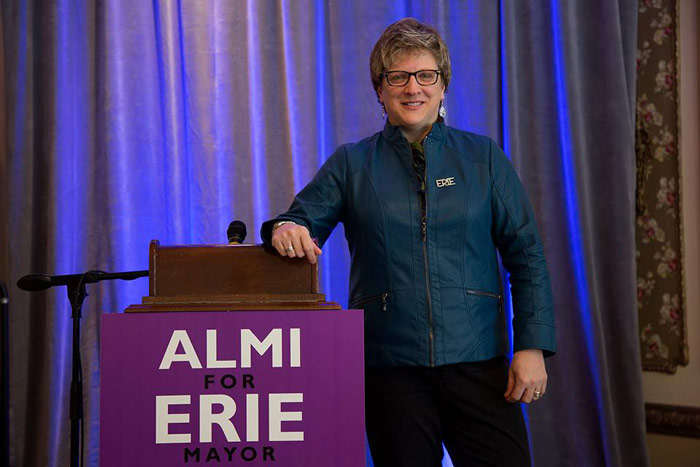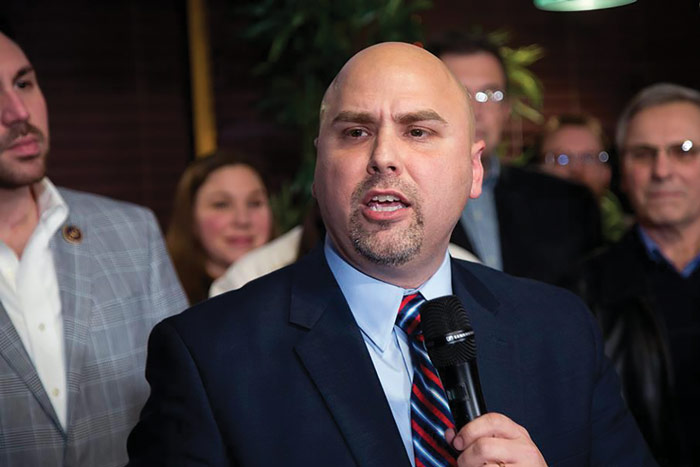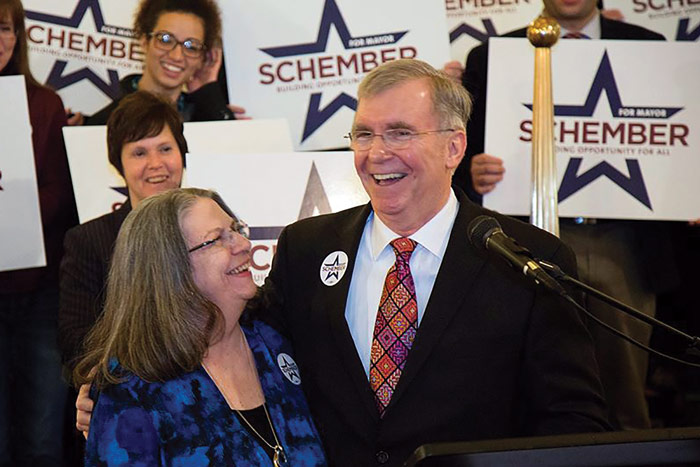 On the Republican side, two candidates have officially announced their bids – local businessman Jon Whaley and retired security guard Al Zimmer. To take us to 10, a third Republican, Attorney John Persinger, has scheduled his formal announcement for Feb. 16.
There may yet be more to come; the rumor mill continues churning.
Erie finds itself in this situation for several reasons.
Erie Mayor Joe Sinnott is completing his third and final four-year term as mayor. Sinnott, who ran unopposed for both his second and third reelection bids, took office in January 2006 after defeating incumbent Democratic Mayor Rick Filippi, in the 2005 primary election.
Term limits were proposed by Mayor Joyce Savocchio, who succeeded Erie's six-term mayor Lou Tullio in 1990. Savocchio left and Sinnott will leave office because of those limits. Filippi served only one term in between the two.
The line from Tullio to Sinnott runs blue. Charles Williamson, who served as mayor from 1962 to 1965, was Erie's most recent Republican mayor. Before Williamson, the last Republican mayor in Erie, Clairence K. Pulling, held office from 1950 to 1952.
Brooks isn't the first to suggest that history is being made at the local level in places like Erie. If states were the laboratories of democracy in the 20th century, as Chief Justice Louis Brandeis opined, cities – according a bevy of urban scholars and observers ranging from Brookings Institution's Bruce Katz to The Atlantic's Fallows – have become the labs of the 21st century. A cold, hard truth exists that Trump isn't coming to save Erie, just like Barack Obama before him hadn't.
Changes on the national level can, undoubtedly, affect lives on the local level, but most often those changes are slow and small. To pivot a community's trajectory quickly, local leaders must pilot the course. And the terrain ahead for Erie's course is rocky.
Erie's Public Schools remain in crisis. And there's brain drain – a crisis Tullio addressed in a speech to Erie decades ago. And population decline spurred by continued suburban sprawl. And there's an eroding tax-base and fear that taxes will continue to increase. And there's blight. And …
But there's also potential and hope. The comprehensive plan, Erie Refocused, addresses serious concerns – but it needs to be implemented. The downtown has a master plan, and there's new potential for Emerge 2040 to be impactful under new leadership as the countywide comprehensive plan is seeking a new executive director.
Although the general trend for population growth is declining, Erie's becoming known as a welcoming place for refugees. Are we doing enough to harness the energy and spirit these immigrants bring? Should we become a sanctuary city?
There are plans for growth. A community college. An innovation district. Businesses planning to locate downtown. Neighborhoods looking to collaborate. And …
The list goes on.
Mayor Joe Sinnott's legacy is too young to record. History needs time to breathe, to be studied, and to be judged; but most likely history will remember his fiscally sound approach to the office. He brought the city back from the brink of Act 47 and has kept a balanced budget ever since. His initiatives haven't been flashy, but that's because that's not his style and approach. And disagree with that style and approach as some may, he was successfully re-elected twice and twice faced zero opposition on the ballot. Sinnott's approach in his second and third terms didn't deviate from his first. We knew what we would get and we voted for it. And if we didn't vote for it, we did little to offer alternatives.
"Not every city that 'works' in America does so due to a strong or visionary mayor," James Fallows told me. "Some city-governance systems are designed to minimize a mayor's personal influence. Some others, although structured on a 'strong-mayor' model, have incumbents who in practice have left the initiative to other people, organizations, or business groups. We've written extensively about the economic and educational innovations underway in the 'Golden Triangle' of northern Mississippi, where the main players have been people other than the mayors."
"But in many cities," he continued, "you can trace a direct line between a mayor who has a vision for his city, plus the political skills to bring others along in the same direction, and long-term improvement for the town. Even better is when a city has a sequence of such leaders, as places as different as Greenville, S.C., Duluth Minn., Riverside, Calif., and Burlington, VT demonstrate."
Given the current dialogue in Erie, it's safe to assume that our next mayor will be a departure from the current course – as Sinnott was from the mayor before him.
"Some cities can muddle ahead despite weak mayors, and some others have too many problems for city government to solve," James told me. "But a strong mayor, with a long-term idea of where the city can move, is usually a significant plus."
Erie isn't in the spotlight because of where it is but because of the interest in where it will be. Remaining the same isn't an option, as we know that the only constant is change. We needn't worry about status quo; we need to worry about slipping into oblivion.
"Most people can't up and move in search of history," Brooks concludes that op-ed. "They're tied down by work, family, and spiritual commitments. But you only go around once in life, so if you can swing it, you might as well be where the action is."
Those of us in Erie don't have to pick up and move. We're already here, where the action is. What history we elect to make is yet to be seen, but it's all the more reason to ensure that we elect the best of us to lead the way. Otherwise, we may pick up and leave Erie for elsewhere, somewhere where people are taking action and the David Brooks and James Fallows of the world are observing.
Ben Speggen can be reached at bSpeggen@ErieReader.com and you can follow him on Twitter @BenSpeggen.