What in the Wanda?
WandaVision an uncanny watch
February 19, 2021 at 12:00 PM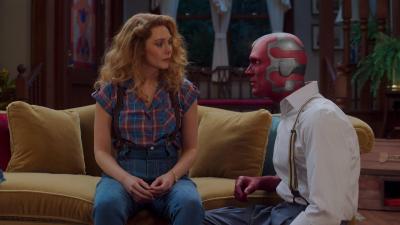 As of this writing, Disney+ has released five episodes (out of nine) of its new Marvel Comics Universe (MCU) series,  WandaVision … and so far, reaction has been mixed. (Proceed with caution if you are not all caught up: there be spoilers ahead!)
Picking up after the events of 2019's  Avengers: Endgame — does anyone else feel like that was 20 years ago, rather than just two? — we meet up with Elizabeth Olsen's Wanda Maximoff, aka the Scarlet Witch, and  — rather perplexingly — her android partner, Paul Bettany's Vision, who Thanos killed at the end of  Avengers: Infinity War.
Rather more perplexingly, they have taken up residence in Westview, N.J., in some kind of black-and-white  Leave it to Beaver-esque sitcom, complete with laugh track, first based in the 1950s, then '60s, and right on up through the decades, picking up color, changing costumes, and mimicking the classic family-friendly fare of the day. 
The first three episodes exist almost entirely within this bubble, a world-building slow burn that is obviously leading to something, but which left some fans and critics unimpressed. It's true, the plot meanders a bit, with just touches of intrigue — a toy helicopter in color? A voice on the radio calling to Wanda? A new neighbor who mentions Ultron and then (cut to next scene) has disappeared? The show takes its time, and these moments provide just barely enough to keep things interesting.
The fourth episode is the turning point, however, introducing a slew of concerned characters, as they grapple with the situation inside The Hex (so called for the hexagonal shape of the "city limits"). Yes, it seems Wanda's loss — the word "grief" is mentioned numerous times — has compelled her to create this simu-world, bringing her lover back from the dead (somehow) and holding the residents of Westview hostage  with her mind powers. 
By the end of episode five, things are starting to come a little unhemmed, Wanda is starting to lose control of her perfect sitcom world, and this viewer — who walked away from episodes one and two kind of "meh" — cannot wait to see where it all goes next week. 
 WandaVision so far is fantastically weird, wonderfully uncanny, and I predict, worth sticking around for. — Cara Suppa
Streaming now on Disney+ // Created by Jac Schaeffer // Starring: Elizabeth Olsen, Paul Bettany, Teyonah Parris, Randall Park, Kat Dennings, Kathryn Hahn, Debra Jo Rupp and Josh Stamberg // New episodes on Fridays