What to Expect From the New BayHawks
New coach Longstaff preaches player development 
August 16, 2017 at 1:45 PM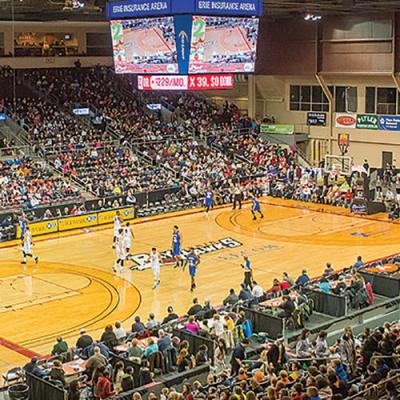 By December of last year, it seemed that BayHawks basketball was nearing its end in Erie. The team was set to depart to Florida and the future was anything but certain.
Luckily, the new year has continued to bring new opportunities for basketball in the city. The BayHawks are back, now affiliated with the NBA's Atlanta Hawks. Although this will be the tenth season that Erie is home to the BayHawks, it's the first season for the renamed NBA G League (formerly the D-League, rebranded due to a Gatorade sponsorship).
The most recent of these exciting developments comes in the form of a new head coach, Josh Longstaff. Longstaff is making his first coaching appearance in the G League after spending the last few years as an assistant coach with the New York Knicks. The 34-year-old's coaching style with the Knicks was centered on player development and building relationships with young players, including his protégé, 7-foot-3 inch Latvian power forward Kristaps Porzingis.
"I'm very passionate about player development. Whether I'm an assistant coach or a head coach…it all starts with player development. With how much the Hawks value this, I think it's a good place for me to grow as a coach," said Longstaff.
With a seemingly perfect approach in a league that, after all, used to be called the Developmental League, Longstaff is bringing an exciting new style to the BayHawks.
He explained a few core values that he and general manager Malik Rose want to instill in the new BayHawks. First on this list was, of course, improving each player as much as possible.
"Every day is a new day. We want our guys to walk away from that day knowing they got better," said Longstaff.
The next thing on his priority list: to play "Hawks Basketball." This includes implementing a fast-paced offensive game, something fans will appreciate. Along with that comes his strong belief in competing every single defensive possession.
"The third thing is we're going to play unselfish. We're going to give up a good shot for a great shot. And the beauty of the Hawks is, they can do all that within a system. A system where we can hold our players accountable all while they know we have their best interest in place."
With a new affiliation and a new league, a new head coach is the next piece of the puzzle.  Rose believes the BayHawks are set to give basketball fans something to celebrate in Erie.
"We get to take another step towards building a winning franchise and a winning culture for the great city of Erie and the great fans of Erie," he said.
The BayHawks 2017-18 home opener will be Friday, November 10th at Erie Insurance Arena.
Kristen S. Swann can be reached at kristensswann@gmail.com.