What You Might Have Missed
Violence in Ferguson persists a month later, Chinese police officers teargas protestors, and the killer of a state trooper continues to lose police in the woods of Pennsylvania. This and more in your daily news update. 
September 29, 2014 at 10:00 AM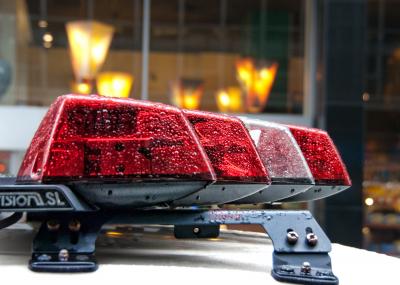 National News
Police officer shot in Ferguson, Mo., as protests continue
Following the August shooting of Mike Brown, Ferguson, Mo. has continued to be a site of unrest for public relations with law enforcement. Most recently, a Ferguson police officer was shot in the arm by a fleeing suspect while responding to a burglary. St. Louis County Police Chief, John Belmar, claims the shooting does not appear to be connected to the protests still taking place in Ferguson.
Full report at www.npr.org
Hong Kong police use tear gas on large pro-democracy protest
In the midst of the ongoing student protests occurring in Hong Kong, relations with police forces have been strained. For the past three days, a student organized protest that is being referred to as Occupy Central has filled the streets of Hong Kong's business and government district. This past Sunday police officers in riot gear employed the use of tear gas to disperse the crowds of protesters.  The organizers of Occupy Central have called for participants to avoid confrontation with police in order due to the threat of serious injury.
Full report at www.npr.org
Obama: U.S. underestimated ISIS, overestimated Iraqi army
During a 60 Minutes interview broadcast Sunday night, President Obama gave shed some light on his administration's assessment of growth and advancement of the Islamic State. In the interview Obama admits that the speed at which ISIS has grown was unforeseen by U.S. intelligence. Beyond this, he touches upon the fact that the Iraqi army has not had the will nor the means to deal with this threat as he might have hoped. The question still stands as to what these statements will mean in relation to the development of the crisis.
Full report at www.npr.org
Regional News
Search for trooper killing suspect shifts slightly
As of Sunday police have still yet to see success in the ongoing search for Eric Frein, a man charged with the shooting of a Pennsylvania state trooper just over two weeks ago. Frein, who at this point is being referred to by law enforcement as a sort of survivalist, has been successfully avoiding police by taking to the woods of the Pocono Mountains. Police now say that they suspect Frein is arming booby traps in order to hinder their efforts.
Full report at www.goerie.com
Local News
The Groove, Falling Hollywood big winners at RockErie Music Awards
This past Sunday saw the eighth annual RockErie Awards hosted at the Bayfront Convention center. The pre awards festival event played host to a number of local artists, including Song of the Year winner Brooke Surgener who performed for the 700 some patrons in attendance. In addition to Surgener, Falling Hollywood took home the title for favorite alternative group, and both Lake City Fresh, and Roy Hollis Jr. were inducted into the REMA hall of fame.

Full report at www.goerie.com