What You Might Have Missed
President Obama hits the campaign trail in favor of Maryland's democratic candidate for governor, while an urban village pops up in Hong Kong, and PA police continue to chase down Eric Frein. Keep yourself up to speed on this and more withour daily news roundup. 
October 20, 2014 at 10:00 AM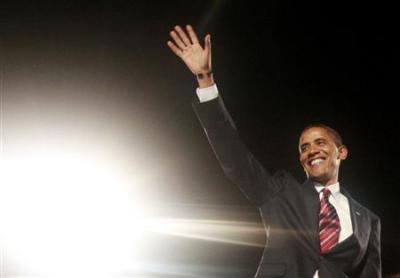 World 
An urban village pops up to comfort Hong Kong protesters
As protests in Hong Kong enter their third week, what was formerly a roadblock has developed into something more. Harcourt Road, a major Hong Kong highway has been overtaken by an expanse of tents which are now home not only to protesters, but a variety of arts and culture displays, as well as a free library. The small community has become a major source of solace for protesters, who have dealt with numerous hardships over the past three weeks, including instances of police brutality.
Full article at www.npr.org
National
Obama returns to trail with blue state focus
President Obama attended a rally at a high school in Maryland this past Sunday in order to offer his support for Anthony G. Brown, Maryland's democratic candidate for governor. Much of Obama's focus at the rally was to get voters to the polls on November 4. He emphasized the vital importance of voter participation in order to maintain balance in our bipartisan system, and urged voters to embrace the power of their voice in these midterm elections.
Residents uneasy about immigrant shift into suburbs
On the heels of steadily increasing illegal immigration rates, immigrants have begun to relocate from urban centers to suburban communities. The issue of illegal immigration, which has been hotly debated for countless years, is now beginning to hit home with many suburban residents, who have begun to demonstrate a distinct resistance to these new members of their communities. Though some residents are able to recognize and accept the circumstances by which these immigrants have chosen suburban communities, many other remain resistant to the change.
Full article at www.npr.org
Regional
Police: Another ambush suspect sighting reported
As the pursuit of Eric Frein--the prime suspect in the September 12 shootings of a state police barracks in Northwestern Pennsylvania--continues, a number of sightings have been reported. Most recently it is believes that Frein was spotted near Pocono Mountain East High School this past Friday by a woman out for an evening walk. Police have been forced to rely largely on such leads as a means of locating the suspect, who has successfully avoided police for over a month.
Full article at www.goerie.com
Local
Dozens march in Erie in protest of human trafficking
Human trafficking has persisted to be a major issue for innumerable years, and this past Saturday, Erie locals came out to march in favor of combatting the problem. Around 50 participants walked from Frontier Park to Dobbins Landing in a display of support for victims of human trafficking, and in an effort to encourage federal and state governments to take a firm stance in attempting to eliminate the issue.
Full article at www.goerie.com