What You Might Have Missed
The U.S. hits targets in Syria, the United Nations holds a summit on climate change, and a band of musical mummies are en route to Erie. Time to tune in.
September 24, 2014 at 10:00 AM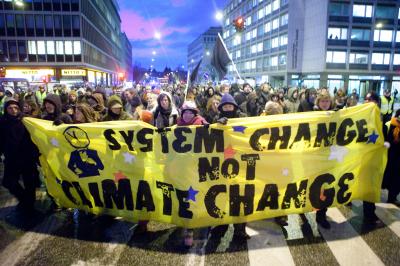 National News
In airstrikes, U.S. targets cell said to plot an attack
Early Tuesday, the United States took military action in Syria, launching missile strikes on a number of ISIS targets. U.S. government officials have characterized the attacks as highly successful on a number of fronts, most notably that in the midst of the strikes military personnel were also able to target veteran members of Al Quaeda in the area. Despite American intelligence analysts' reports that these strikes eliminated a looming threat to national security, some of the international community stands to question the legality of U.S. military action in the region.
More on the operation at www.nytimes.com
Obama presses Chinese on global warming
President Obama spoke on the issue of global warming at Tuesday's United Nations Climate Summit, making bold claims about a more unified international approach to solving climate change. Although he emphasized the United States' important role in this effort as one of the world's top producers of greenhouse gases, Obama was quick to address China's stake in the issue as well as another major contributor to global climate change. Although the Chinese went unrepresented at the summit by President Xi Jinping, a senior Chinese official sent in his stead reassured the summit that progress is being made to reduce emissions.
Find the full story at www.nytimes.com
Crime falls as U.S. locks up fewer people, Attourney General Holder says
In a press conference Tuesday, Attourney General Holder realyed a number of statistics that reveal declining crime and incarceration rates in the United States. According to Holder, the U.S. is now seeing the sharpest decline in these numbers in roughly forty years, that decline hovering somewhere around a ten percent dip. The Attourney general expressed hope that this progress might inspire further advances in the refinement of our criminal justice system that might decrease incarceration rates for good.
Find more on the Attourney General's address at www.npr.org
Local News
Erie County Council to contribute $1,000 to high-speed rail study
It seems there is hope for the potential development of the region's public transit options as the Erie County Council came to a unanimous decision this Tuesday to hire a consultant on the possibility of high-speed rail in the area. This comes as part of measures being taken to determine whether or not Erie could be included in future high-speed rail projects, a prospect that has garnered a considerable amount of local support.
Full story at www.goerie.com
Here Come the Mummies for Erie's Horrorfest
Following their well received performance at 8 Great Tuesday's this past summer, Here Comes the Mummies will return to Erie for Horrorfest 2014. The group is slated to play opening night, Friday, Oct. 17 at the Warner Theatre. This event marks the first incorporation of a live musical act into the festival's offerings, and it couldn't be a more appropriate addition.

Full story at www.goerie.com