Where Were You in 1968?
What Erie can learn by looking back 50 years
December 5, 2018 at 9:15 AM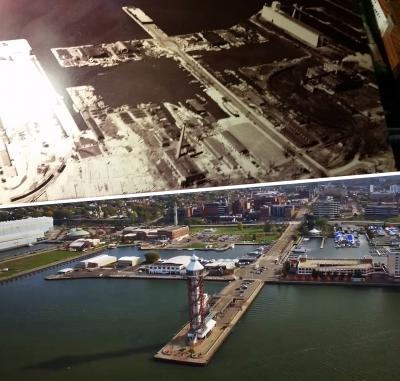 By: Liz Allen
Andy Roth's review of 1968 prompted me to do my own bit of time travel.
Then, James and Deborah Fallows' sky-high view of Erie made more memories take flight.
Combine the two ah-ha moments and I realized that we have much to learn from long-ago and high-altitude views of our community.
Roth has divided his research about 1968, the year that shocked our sensibilities and reshaped the American story, into six themes. He has delivered his lectures at the Jefferson Educational Society, where he is a scholar-in-residence, and at the Chautauqua Institution. He will give a condensed version of his talks on Dec. 13 at 7 p.m. at the Erie County Historical Society.
I attended one of Roth's Jefferson lectures because I'm an aging baby boomer who has arrived at that stage in life where I want to distill and savor memories of being young and idealistic. Later, I sat down to interview Roth at Brew Ha Ha at the Colony Plaza, because I wanted to learn more about his sweeping view of 1968, so I could look at that time frame from an Erie perspective.
In 1968, my biggest issues were learning to drive my father's AMC Rebel with the stick shift and trying to save money from my 50-cents-an-hour babysitting jobs to pay for car insurance, which jumped $40 because my parents now had a teenage driver. Oh, and I remember being mad at my brother Mike after he traded my Jimi Hendrix album to his friend for a Steppenwolf record. I wasn't born to be wild 50 years ago.
But Roth's work isn't about fostering nostalgia for the good old days. "This isn't just an antiquarian tour down memory lane," he says. Rather, he wants to help us understand how we got to today's "angry partisan politics" and to illuminate why racial progress stalled and then retreated. He also has interesting takes on the women's movement, the counterculture, music and what he describes as the "mediated America" — that is, what unites us rather than divides us.
To get an early taste of today's nasty cable TV shows, Google the exchange between Gore Vidal and William F. Buckley Jr. at the 1968 Democratic Convention in Chicago, he advises. "They just lacerated each other."
To trace the timeline from bipartisan compromise to bitter partisanship in Washington, study the outcomes of that Dem convention, along with Richard Nixon's Southern strategy.
Roth marks 1968 "as the beginning of the end of the great progress on civil rights," despite passage of the Fair Housing Act that year, which followed the Civil Rights Act of 1964 and the Voting Rights Act of 1965. "In 1968, you begin to the see the (George) Wallace phenomena, the white pushback," he says. "Donald Trump is the grandson of George Wallace."
The 1968 presidential race started out as a debate about the Vietnam War, then "morphed" into a battle over law and order and rising crime rates, he says. "That signaled the retreat on civil rights," he says.
Roth also calls 1968 the year of "sex, drugs and rock 'n' roll," but who could have predicted then that 50 years later, marijuana would be legalized, decriminalized, and used for medical treatment?
From Roth, I learned a lot about "second-wave feminism," as he talked about revolutionary advocates for women's liberation, including Carol Hanisch, Robin Morgan, Shulasmith Firestone, and Kathie Sarachild. How often have I said, "Sisterhood is powerful," without knowing that Sarachild coined that phrase?
After Roth's lecture at the JES, another phrase from that era popped into my head: "All politics is personal." This set me off on a quest to learn more about how the events of 1968 influenced my own interest in politics and journalism.
In May 1968, at the end of my junior year at Villa Maria Academy, I wrote a letter to the editor to complain about why the newspaper only reported bad news about teenagers. Instead of printing my letter, Larie Pintea, the editor of the Morning News in Erie, called to invite me to "hang out" in the newsroom that summer. "It's not gonna be glamorous, like Brenda Starr in the comics," he growled, or something to that effect.
"Hanging out" would be the equivalent to job-shadowing today, but with much looser rules. All I had to do was to show up at the Times Publishing Co. building at E. 12th and French streets at 5:30 p.m., trudge up the stairs and find a seat at a messy array of desks to listen to the police scanner, watch reporters bang out stories on their typewriters, and pay attention to the clanging teletype machines. I got a ride home about midnight.
I was in heaven — or so I thought, until one reporter, a college student himself, beckoned me to ride along so he could pick up a photo of a young Erie man who had been killed in Vietnam. At age 16, I was confronted with one of the hardest tasks of being a reporter — calling upon a bereaved family. After we left the house, with tears in my eyes and quivering lips, I asked the reporter how he got used to that job. "You never get used to it," he said, teaching me that while you have to be tough to be a reporter, you don't have to relinquish your humanity.
To show the editor I had what it took to become a reporter, I did a series of stories that summer about teenagers in Erie working on both presidential and congressional campaigns. After Roth's lecture, I decided to try to find my old stories by going through the Morning News microfilm in the Heritage Room at Blasco Library.
I started with the June 1968 edition of the Morning News, but I quickly realized that my project — to find my stories and to document what Erie was like in 1968 — would take months, not hours. Instead, I scrolled through some headlines from January, June and December.
As the "reds" reportedly stall peace talks about Vietnam in Paris, the war is being felt close to home. In January, the U.S. Selective Service announces plans to draft 72,000 men in 1968, while in Erie, "51 answer Erie, area draft call," a headline reads. "They fill the quotas for men set by the Selective Service System for Local Boards 63 and 65," the story says.
In June, two young men from Erie and one from Guys Mills are killed in Vietnam; another Erie man is seriously wounded. In December, a 19-year-old Erie GI is killed in Vietnam, five days after he was supposed to be discharged.
There is lots of news about presidential politics, including George Wallace's claim, reported in a Jan. 4 wire story, that he had amassed a "following of over 100,000 in California," and this ominous headline in the same paper: "Ku Klux Klan Membership Now at Highest Point."
On June 6, newspaper readers awoke to the news that Bobby Kennedy had been shot after winning the Democratic presidential primary in California the night before. Kennedy died 26 hours after being shot by an assassin. Erie residents, still reeling after the April 4 assassination of Martin Luther King Jr., mourned RFK's death and wondered what the world was coming to.
Racial discrimination is a big issue in Erie, too. In 1968, Erie City Council debates, then finally passes, a fair housing ordinance, but enforcement is stalled. Citizens, black and white, organize to fight bias against black students in Erie's public schools, and tenants in "slums," as the stories note, push for a rent withholding ordinance, which also gets tangled up in the City Hall bureaucracy.
Erie Mayor Louis Tullio dodges repeated requests to help renovate the old Booker T. Washington Center on East 18th Street before finally caving to make the renovations. After claims of a bias in a trial, a local investigation is launched to see "how many Negroes are called" for jury duty in Erie.
The Philadelphia Inquirer breaks an "exclusive" story that six college students who reportedly went blind after staring at the sun while tripping on LSD are from Edinboro College; a few days later, the paper reports that the LSD story was a hoax perpetrated by an official from an agency for the blind in Pennsylvania.
The want ads are divided into male jobs, female jobs, and male-female jobs. A local column in the society section says: "Women Realtors host dinner honoring male associates." Stewing chickens are 17 cents a pound at Erie County Farms and Andy Griffith and Peyton Place are playing on TV.
In Youngstown, Ohio, a bail-bondsman is on trial for performing a 1966 abortion on an Erie girl in a hotel room. Mario Bagnoni, detective captain of the Erie police, is set to testify. In Ripley, New York, a lawyer is arrested for performing an abortion.
Back in Erie, a 22-year-old woman claims in December 1968 that she has had "relations" with a number of police officers. "Who would you believe? Some broad … some pig … or a responsible high-ranking officer?" asks the city's safety director. Later, "truth serum" exonerates one of the officers but others are given suspensions.
Throughout 1968 in Erie, there are battles over urban renewal. The Urban Coalition is created to deal with housing, employment, education, political, civic action and "image-building" issues. To its credit, the coalition includes black members. There are, however, no women on the coalition.
The Erie Redevelopment Authority announces in June that it will demolish the Lawrence Hotel, the Shea Theatre, and Pulakos Candy in downtown Erie. "It will mean the loss of 65 years of work and a million dollars in damages," says owner Gus Pulakos in protest about the plan to take down his store at 926 State St.
In December, Erie is battered by a snowstorm, which causes major damage at Presque Isle State Park.
It's the Presque Isle story that makes me think about James and Deborah Fallows, the closing speakers at the Jefferson Educational Society's Global X Summit on Nov. 30. They are the authors of Our Towns: A 100,000-mile journey into the Heart of America, which includes their optimistic chapter about progress and civic engagement in Erie. Deborah Fallows talked about the experience of flying into small and medium cities across the country, and about the thrill of seeing Presque Isle from the cockpit of their single-engine private plane. She spoke of the need for Erie to make Presque Isle and the waterfront accessible to all, as Lake Erie was when she grew up in Vermilion, Ohio, where everyone had access to low-cost boat rentals and sailing lessons.
Her observation made me realize that we are lucky in Erie to have had a birds-eye views of our community for decades, thanks to the prolific aerial photography work of the late Bus Scott. His 78-year-old son, John Scott, is the archivist of his dad's work, which was published in the local newspapers and is featured in 15 books by local authors. John Scott has thousands of negatives of his dad's work, arranged by chronology and geography, and shot with 13 different types of cameras.
From the air, you can see what Erie used to look like downtown and along the bayfront. There's the Commerce Building, now gone. The Lawrence Hotel, now gone. The grain elevators, now gone. The McAllister Building, which the Erie-Western Pennsylvania Port Authority wants to tear down.
You can also see how close Presque Isle is to Erie — and think about how far away that special place is for those who live in the inner city, without access to cars or the means to pay the Water Taxi fare of $10 round-trip.
Look to the east of downtown from the air and we would see neighborhoods neglected by red-lining, and on both the west and the east sides, what our city looked like before the Bayfront Parkway and Bayfront Connector carved up and divided us — even while providing access to the waterfront.
Imagine what we might learn if we overlaid Bus Scott's photos from 1968 on the images that the Fallows took away from Erie during the reporting for their book. We would see much civic progress. And we would realize that much work remains to be done.
Liz Allen remembers 1968 like it was yesterday, but 50 years after she got her driver's license, she often mislays her car keys. You can reach her at lizerie@aol.com 
Check it out
John Scott, son of the late aerial photographer Bus Scott, has partnered with designer Denise Walker to create custom jewelry made by local entrepreneurs. You can see their work and meet Scott at Beachcomber Jewelry, 3445 W. 12th, during Gallery Night on Friday, Dec. 7, from 7 to 10 p.m.
The Beachcomber is one of 21 venues that will be open for Gallery Night. For more information, visit www.erieartmuseum.org.
Learn more
The Erie County Historical Society will sponsor a talk by Andy Roth, Ph.D., scholar-in-residence at the Jefferson Educational Society, called "The Far Side of the Moon and the Birth of the Culture Wars: America in 1968" on Thursday, Dec. 13, at 7 p.m. The talk will be at the Watson Curtze Mansion at the Thomas Hagen History Center, 356 W. 6th St.
Admission is free for ECHS members, or $10 for adults, $7 for seniors and $5 for students. Call 814-454-1813, extension 33, for more information.