Whiplash Makes Jazz Instruction Feel Like Basic Training
Somewhere between Dead Poets Society and Full Metal Jacket, Whiplash may rely too heavily on its toxic machismo than it should.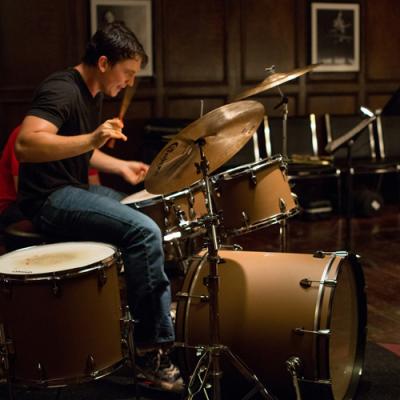 While watching a movie as engrossing as Whiplash, it's easy to forget that it's the story of an aspiring jazz drummer. More surprisingly, it's about big band jazz – the uncool kind that people jitterbugged to when Eisenhower was president. Though that may sound less exciting than a PBS pledge drive, there's a tension on display in the movie that outperforms most blockbusters at the multiplex, something Erieites can see for themselves when the film is shown during FILM at the Erie Art Museum April 1 along with a show by local jazz band The Monk's Brew.
Whiplash tells a simple story with focused precision. Andrew Neilman (Miles Teller) is a talented freshman at a prestigious New York conservatory. His drumming draws the attention of conductor Terence Fletcher (Oscar-winner J.K. Simmons), who accepts him into his elite studio band. Fletcher insults and humiliates his students on a daily basis. Since Andrew is uniquely talented, he's subjected to particularly abusive hazing – involving racial taunts, homophobia, and the occasional physical outburst – all in the name of making him a better drummer. This torture eventually leads to a western-style standoff between the young musician and his mentor at Carnegie Hall, with drumsticks standing in for pistols.
J.K. Simmons can transform himself into virtually anything – a kindly dad in Juno, a Nazi thug in HBO's Oz, even the editor of the Daily Bugle in the Spiderman movies. In Whiplash, he's downright diabolical – imagine Dead Poets Society starring the drill sergeant from Full Metal Jacket. With his sinewy biceps and elitist demeanor, you'll recall every overeducated asshole you've ever wanted to attack and impress simultaneously.
Whiplash is great fun – the tension is palpable, the direction is sharp, and the performances strike the right balance between bombast and plausibility. But it also takes Fletcher's "tough love" too seriously – and perhaps even condones his actions in the end. Consider the film's most famous line, in which the teacher shares his philosophy: "There are no two words in the English language more harmful than 'good job.'" It's a great, quotable bit of dialogue, but it's also shallow and misleading as a kernel of wisdom.
I'll be the first to admit that hard work and occasional bullying can result in great art-making. If you're not at work, google "Buddy Rich Bus Tapes" for an R-rated example that (partially) inspired the movie. But just as our "everyone-deserves-a-trophy" culture can result in mediocrity, the antics on display in Whiplash are more likely to engender toxic machismo than tortured artistry.
It's romantic to think that great art and suffering go hand in hand, but achievements of equal measure often come from solidarity, encouragement, collaboration, and patience. It's dishonest to assume that the tortured approach – or any single approach for that matter – guarantees artistic success. Unfortunately, Whiplash ultimately buys the snake oil its anti-hero is selling. But tasty as it may be going down, the potion doesn't always work. - Dan Schank
Film at 7 p.m., followed by a live jazz performance from The Monk's Brew, Wednesday, April 1 // Erie Art Museum, 20 E. Fifth St. // erieartmuseum.org/events/film.html