Wooden Nickel Buffalo Farm
Bison bring visions of days gone by at this Southern Erie County farm.  
October 14, 2015 at 2:00 PM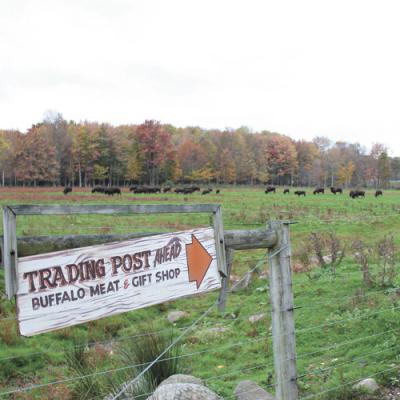 For three generations, day-to-day life at the Koman farm — like most family farms — has meant long hours and hard work.
And that's certainly remained true for Dan Koman and his wife, Mickey, since they converted the family's rural Edinboro farmstead from a conventional dairy operation to the Wooden Nickel Buffalo Farm over 20 years ago.
Between tending to their roughly 40-head herd of American bison (and all the standard accompanying farm work) and their other, off-farm jobs, the Komans routinely pull double-shift days. Plenty of farm visitors keep them busy, too; especially during the fall, when their annually-changing corn maze, gift shop, restaurant, and other attractions are in their peak season.
"We do what we enjoy," says 52-year-old Koman, who usually goes by "Buffalo Dan." "We like to educate people, get them out here to see what a working farm is all about."
And it's a very cool sight to behold, to be sure. We're talking about a big 'ol herd of huge, burly bison here. The Komans know their stuff, too: They can tell you about all things buffalo — from their history to the modern preservation movement.
But traditionally (and unfortunately), Koman says, most of the bison-gazing public is there more for looking, and less for actually buying the farm's main product: A locally-raised, grass-fed, all-natural, hormone- and antibiotic-free (and, really, pretty damn delicious) alternative to standard, factory-raised supermarket beef.
"Ninety-nine percent [of visitors] are appreciative," of the work they're doing to maintain the herd and educate the public about bison as a viable, healthy food source, Koman says. "They support us … but not always financially."
Compliments are great. So are smiles. But when it comes down to it — like all farmers — he says, "we still need that financial support, too."
Taking an agro-tourism approach to their business with the Wooden Nickel restaurant, tours, and other public draws has helped the Komans get the word out, though. And luckily, he says, a number of people are becoming more interested in their products as the collective conscience seems to be shifting its views on nutrition and food in general.
In the meantime, Koman says, "we'll keep plugging away."
They will — just like they have been. Like all farmers, "we do it because it's in our blood," he says. "It's what we love to do."
To learn more about Wooden Nickel Buffalo Farm and when you can check it out, visit woodennickelbuffalo.com.