Worldwide March Against Monsanto
Millions will March Against Monsanto this Saturday, May 23, in a worldwide food fight for freedom.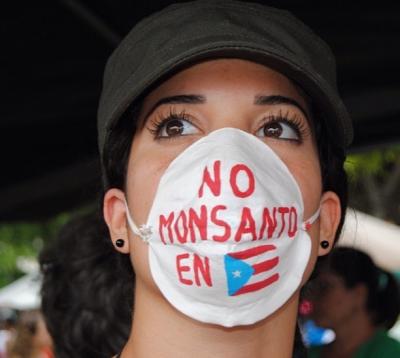 This Saturday, May 23, millions of people worldwide will March Against Monsanto. From Belgrade to Buffalo, Tel Aviv to Tulsa, marchers from across the cultural spectrum will gather with one common goal: to know what they're eating, and to choose food for themselves and their families that conclusively will not harm them.
It sounds so simple. And yet, throughout the world, unproven and questionably researched genetically modified foods (GMOs) are proliferated without labels. And though it's not the only culprit, agribusiness giant Monsanto's control of foods from seed to snack is the worthy target of this weekend's protests.
Proponents of GMOs often point to global hunger crises and food shortages, both of which they proclaim genetic engineering will alleviate. But two highlighted sections of "GMO Myths and Truths," a 2014 second-edition report co-authored by genetic engineers Dr. John Fagan and Dr. Michael Antoniou and researcher Claire Robinson, put those assumptions squarely in the "myths" category, concluding that "Conventional breeding continues to outstrip GM in delivering crops that yield well, resist disease, are nutritious, and tolerate drought and other types of extreme weather."
GMO Myths and Truths plows through hundreds of sources related to the risks and benefits of GMOs. Despite the report's enormity - 330 pages of analysis - Fagan and Antoniou received no financial compensation for their work. 
This is unique in the context of numerous scientist and researchers at major land grant universities, whose efforts have been purchased by Big Ag corporations like Monsanto, to ensure the only results being released corroborate their hand-picked evidence. 
A report in March of 2014 on Independent Science News, titled "How 'Extreme Levels' of [Monsanto's] Roundup in Food Became the Industry Norm," addresses the dangers of unchecked GMO proliferation. "Surprisingly, almost no data exist in the scientific literature on herbicide residues in herbicide tolerant genetically modified (GM) plants, even after nearly 20 years on the market."
The report concludes with a chilling summary: "Lack of data on pesticide residues in major crop plants is a serious gap of knowledge with potential consequences for human and animal health. How is the public to trust a risk assessment system that has overlooked the most obvious risk factor for herbicide tolerant GM crops, i.e. high residue levels of herbicides, for nearly 20 years? If it has been due to lack of understanding, it would be bad. If it is the result of the producer's power to influence the risk assessment system, it would be worse."
For more information (and intrigue), march this Saturday in Cleveland, Pittsburgh, or Buffalo. Or watch journalist Marie-Monique Robin's 2008 film, The World According to Monsanto: