Write Into It: October 11, 2017
Artists reflect on their favorite compositions
October 11, 2017 at 1:15 PM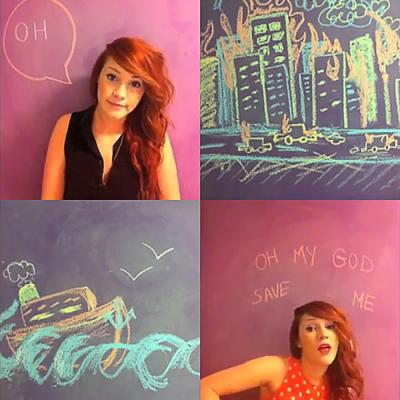 Brooke Surgener, Folk-pop artist
"Vagabond" (composed by Brooke Surgener)
Oh my god won't you save me from, we've learned to point these fingers like a gun. Oh my god I'd be glad if I become an always wandering vagabond.
Charles Brown: Thank you Brooke for introducing "Vagabond!" The song presents a way of seeing the world for what it is as well as what it could be. Is that fair to say?
Brooke Surgener: "Vagabond" is about pursuing what makes you happy without being certain of where you'll end up. Growing up I was told to have a backup plan, that I needed something to fall back on. If the thing I'm falling back on is a career that doesn't define me, will that truly make me happy? So the world I'm creating is a world of my own personal happiness.
CB: You sing about obtaining the greater things in life but you'll regret it. Where would the regret come from?
BS: Actually the first line is "I can't wait to turn off the lights and dream of greater things in life. I don't know how to get it but I know I'll regret it". This is about my daydreaming of where I want to be, where I can see myself playing music and being someone I want to be. The impacts I know I could make. Problem is, how do I get there? There's no certainty with music or art. It's not like a nursing degree. I don't know how I'm going to get to where I'm dreaming of, but I know I'll regret not trying to get there.
CB: "Vagabond" displays a nice deal of optimism for others. Does it also assist you as well?
BS: "Vagabond" will always be one of my favorites because of this. I don't always feel driven. I wish I had a nonstop positive drive, but it's so hard sometimes. You feel like you're going nowhere. When I play it, I feel such strength. A reminder flows through my body that it is "okay" to feel that way, but it reminds me "Brooke, don't give up". Go after what makes you happy, do what makes you happy, life will write itself along the way.
CB: Can you recall where you were, physically and mentally, when creating this song?
It was a song I didn't overthink. I just started singing and it came out probably in 20 minutes or less.
BS: I remember being 20 years old in a small recording room my Dad had built for me in the corner of our garage. It was a song I didn't overthink. I just started singing and it came out probably in 20 minutes or less. Also in that room was a wall with that "chalk paint" on it so that you could draw with chalk. I wrote the song and just started staring and envisioned myself writing to words and drawing pictures to explain the song I just wrote so people would actually think about the words. The next night I recorded it and made a stop-motion video. I was up 'til 10 a.m. the next day just putting it together on my computer. Sometimes something just sparks inside me and I know I have to go after it.
CB: Who do you think needs to hear your track the most?
BS: This song is for anyone, but especially the ones who feel lost. Another line I like in this is "they built our dreams when we were young just to tear the seams once we we're done". When we were young, we were told "you can be whatever you want to be!" Then we hit a certain age and we're told we need to go to college, have a good job, etc. Why did we stop dreaming of who we could be? Look at me. I'm a Disney princess. I'm a music teacher. I dress up as cartoon characters and sing music. There's no path for that. Only a path I had to create myself, and by no means did I have a plan. It took me failing, and still failing to find out where I want to be. I'm still not where I want to be, but I'm still trying. If you're listening to this song, feel it in your heart. Life will disappoint you, but you can at least choose to do what makes you happy — and I believe that happiness is the real success.
Check out "Vagabond" on YouTube
Charles Brown can be contacted at charlesbrowncj@gmail.com