You Ought to Know: Albert Glinsky
From what I knew before and what I recently came to know, I felt Albert Glinsky was someone Erie needed to know better. My editor agreed.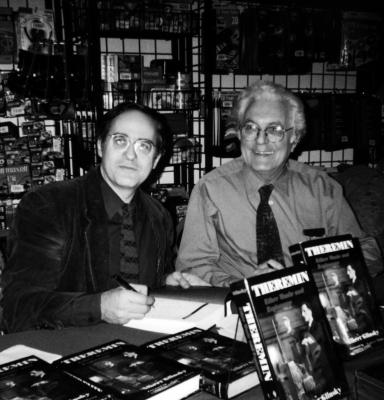 Albert Glinsky grew up an only child in Greenwich Village, the son of two professional sculptors. The '50s and '60s were fertile ground for the seeds of the arts, and being rooted in it from the time he was born, he knew at 12 years old he wanted to be a composer. After graduating high school, he started his studies at Boston University and ultimately received his bachelor's and master's degrees in composition from the Juilliard School of Music.
Taking his education one step further, Glinksy earned his Ph.D. in electronic music composition from New York University. Beginning in his ABD (all but dissertation) years, he became a professor in the music department at what was then Mercyhurst College.
Since then, Glinsky has composed several musical works, including a tour of "Ballet Flights," which the prestigious Joffrey II dance company presented during an international tour featuring performer Ronald Reagan, Jr. He has published a book on inventor Leon Theremin that received much acclaim, and his children, Allegra and Luka, are up-and-coming artistic performers. Most importantly—in my book anyhow—he knows Francis Ford Coppola.
But these accomplishments and highlights only scratch the surface.
Albert Glinsky was one of my professors during my tenure as a piano major at D'Angelo School of Music at Mercyhurst. He was friendly and kind, not boisterous or gregarious and one of the most intelligent people I studied under—if you know anything about theory or composition, you could understand why.
But these character traits were all I knew about Glinsky. Until recently, that is.
Thanks to the ever-so-public world of Facebook, I recently learned Glinsky had been granted the privilege of writing the authorized biography of Bob Moog. Yes, that Moog, the American pioneer of electronic music best known for inventing the Moog synthesizer, which created a new universe of sounds in musicdom. I learned of this on the same day Google turned its webpage into a playable Moog synthesizer in honor of Moog's birthday.
From what I knew before and what I recently came to know, I felt Albert Glinsky was someone Erie needed to know better. My editor agreed.
I walked into the D'Angelo School of Music on a hot Wednesday afternoon and Glinsky came down to greet me.
"Would you like to grab coffee?" he said, approaching me in the hall. We headed to the student union, but because school was no longer in session, the hours of the café were limited and we weren't able to grab that cup of coffee after all. We ended up going back to his office, where I quickly caught glimpses of many of the projects he had been involved in—a giant poster advertising a lecture he had given to the CIA on his Theremin book and photos of well known individuals he had worked with throughout his life.
Glinsky's a pro when it comes to interviews, and I learned that quickly. He's not only been interviewed many times, but he's conducted several of them himself (at one point turning the tables and even interviewing me). Of course this makes sense, but I hadn't taken into account that he was not only a published composer, but had previously published a book on Leon Theremin. So I opened by asking him how that came to be.
"In the Ph.D. program, you have to choose a topic for your dissertation. When looking for something to research, you have to know you're going to love it for the next four years or it will drive you crazy. At that time electronic music and synthesizers were just coming into being, and I took an interest in the Theremin—an electronic musical instrument that is controlled without physical touch—and well known to grace countless 1950s sci-fi movie soundtracks—and luckily found out nobody had written about it yet," he explained
The Theremin, invented by Leon Theremin (naturally), was patented in 1928. "This was before the days of Google so I had to conduct these magnificent searches at the library—pages of dot matrix printouts with the sprocket holes in the sides. I decided to write it in the context of the development of electronic musical instruments. And naturally, when you finish such a magnitude of a piece you want to turn it into a book. So, afterward, I started approaching publishers."
But there was more than met the eye when it came to Theremin. "I had quickly learned that information started coming out about Theremin being a spy. So, I managed to get a book contract and I scrapped everything I had and started all over again. Although I had much of the original research, I gathered a great deal more and it took me an additional four years to write it. Ultimately I titled it, 'Theremin: Ether Music and Espionage,' and covered everything I could about the man, his secret life, and his inventions.
This is where Bob Moog comes in.
"I wanted someone to write the forward and Robert Moog had a lengthy history with the Theremin because he actually started out building them. From the time he was very young, he would make and sell them and it was through the Theremin that he got to the synthesizer. That was his pathway. I didn't really know him at the time but I called him up and asked him if he would be willing to write it, of which he gladly accepted."
After Moog died in 2005, his family started looking for someone to write his authorized biography. "I believe they respected the approach I took with Theremin, and that is why they ultimately asked me. Of course, I gladly accepted."
For Glinsky, this book will in many ways be opposite of his first one. "I met Theremin when he was 95 years old. His legacy was older and it was during a time I wasn't around. With Moog, I'll be able to relate much better to the time and his generation."
So, I start to backtrack in the interview. Since he has published books about instruments he could potentially write music for, I wanted to learn about the only thing I actually knew about him—his life as a composer.
"I was just commissioned by the Erie Philharmonic to write an overture in honor of their 100th Anniversary. It will premier in November of 2013," he says. This will be Glinsky's third work for the Philharmonic. He wrote a piece in honor of their 75th anniversary in 1989 that was premiered by then-conductor Walter Hendl, and a piano concerto that premiered in 1993 under the direction of conductor Eiji Oui, which is also the piece he most connects with.
His works have been performed globally including such settings as the Aspen Music Festival, Lincoln Center, Kennedy Center, and in England, France, Belgium, Germany, Denmark, Norway, Spain, Switzerland, and the Far East—to name a few.
While his works have been performed far and wide, Glinsky's catalogue isn't as expansive. He tells me, "I don't have a huge number of works because I write very slowly and carefully. I view my works like a precious child that I don't want to let out into the world until they're ready."
And he's not done. As for his bucket list, after finishing his book he'd like to write a movie score and work on a project with his children. "I would love to collaborate with my two children, Luka and Allegra—one is an actor and the other is a dancer/choreographer. With all the different talents we possess, it would be great to write a musical, or something along those lines."
After all this though, perhaps you ask how someone who resides in Erie could be making a successful living in the arts world. And even though he was born in New York, he's spent the better part of his life in our fair city. The fact is: environment can be as much of a resistor as it can be a conductor. And that's fair to say from Erie to New York City or beyond. Perception matters. Surroundings have little to do with who you are or what you become—they are merely part of the equation.
Rebecca Styn can be reached at rstyn@eriereader.com