You Ought to Know: Angie Seykora
There exist both Zen and minimal elements. She uses everyday materials – cellophane, roofing felt, plastic Christmas tree needles – and yet what's so Zenfully twisted about it is that you begin to see the properties, the natural state of these things becoming magnificent.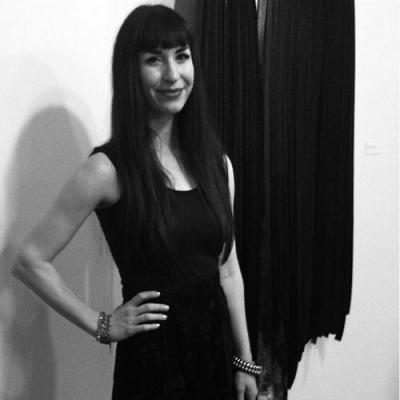 Minimal – the sound of chimes tinkling, blowing in the wind, a tiny thing singing in the bigness of this world.
Minimal – the absence of space, the smallest in amount or degree, only barely adequate, needing very little.
These are all ways that I would describe Angie Seykora's approach to sculpture. There exist both Zen and minimal elements. She uses everyday materials – cellophane, roofing felt, plastic Christmas tree needles – and yet what's so Zenfully twisted about it is that you begin to see the properties, the natural state of these things becoming magnificent.
In her artist's statement, she acknowledges that these cheap, disposable materials that our consumer culture is so quick to throw away become eye-catching, taking on a new life, a new shape, a heart. You could say Seykora is teaching us. Begging us to see wrapping paper and confetti in a different way.
"This installation is about challenging oneself to look closer, slow down, and begin to see the subtleties that emerge within the making and in the sculpture," she tells me of her work, "Layers of Systems," now hanging at PACA. "I'm provoking a deeper inquiry with my audience."
Seykora wasn't always going to do this, though her soul continually protested.
"'I want to be an artist,' I would say, as a kid," she says, taking a sip from her latte.  "But as I got older I thought it might not be an option."
So she considered a medical career. Perhaps enroll at a college to study pre-med and become a doctor of some sorts. But that didn't fit, didn't feel right, and life events would steer her back to the path of an artist.
"It was after a really bad car accident that I realized art is what I want to give and how I want to express myself," she reveals, staunch and certain as the moment she first felt it.
Art has always been in Seykora's life, but now it was coursing through her, giving her new breath and new life. Life – it's something one notices first from Seykora. She is full of it, vibrating amore and sunshine. She is incredibly positive and wildly passionate about it and her art, infusing all she creates with that spirit.
"I am surrounded by such tremendous support from my family, friends, and the faculty at Edinboro," she tells. Seykora came from the Midwest – Nebraska to be specific – and was awarded a full graduate-assistance program at Edinboro University of Pennsylvania.
"My undergrad was very traditional and I was predominantly working with metals," she states, recalling her earlier studies and creations. "I wanted to utilize the graduate program to focus on small studies. So I began with anything I could get my hands on – manipulating fabric, paper plates, or any common material that was around my house or accessible to work with. I want to reach a broader audience with things that are available to everyone, no limits." Fervently, she continues, "These small studies really opened up doors for me and brought me to the place I am at now with sculpture."
Her process is this: she is first inspired by the material's physical properties, not landscapes or architecture – though she finds them lovely – and from there she begins to see conceptual threads that become visible from working with these objects. Take for example her piece titled "Part I" (she is photographed in front of this gorgeous sculpture) consists of roofing felt that is laminated with iridescent cellophane used for gift-wrapping. When looking at the piece, one may see it more for its beauty and less for what it is made from.
"There are illusive qualities here, like the way the sparkle of the cellophane catches the light from where it is cut," she says, showing me the finer details of the artwork. "Also, the piece flattens out when you look at it head-on, though it comes concave off of the wall."
Seykora shares that her installations may shift because they are assembled onsite.
"From working with steel and bronze, properties that are so exact and complete, I love the flexibility of the pieces now, and they are as simple as I can make them. Nothing is glued in 'Part I,' the layers are stacked so the form changes every time I install it," she says, a passion bubbling up from inside.
Taking a look at Seykora's website, it's easy to see that she comes from large-scale metal sculpture – these pieces, gargantuan and immense – but now she prefers the smaller creations.
"Bigger isn't always better," she opines. "By working smaller it has forced me to consider things in a different way and not get so caught up in the end result; it's playful."
Her studio practice is very meditative and reflective of her sense of creation and art, with that life flowing through it.
"What I do takes patience, and there is much introspection in it. I know that I am not going to get an immediate result – that what I am doing is going to take time. There is a sense of repose in that," Seykora shares, looking through the window into the sun's rays beaming warmth onto us from outside. "I go into the studio every day. I have often heard, 'Artwork does not make itself,' so I go in and I work. From there I am getting ideas that unfold through doing. It's symbiotic."
With these ideas comes inspiration for new work. "I am interested in the reflection of light off of surfaces both literally and conceptually in its process… I want to push these layered two-dimensional pieces further and even though they are on the wall, this flat plane, I want to play with light in a sculptural sense. How can I mold light in its form and tie it in with the objects. I'd like to see what develops there."
For her, there are really no boundaries.
"Sculpture is an open-ended and broad discipline," Seykora pontificates. "It is simply this – as long as it exists in space, there is so much freedom in it, and this has been the best way for me to express myself."
Recently, when Seykora interviewed artist Anne Wilson in Chicago, Seykora asked, "Do you draw in a traditional sense?"
Seykora decided to answer that question for me, divulging, "I don't draw in a traditional sense. I draw with thread or the materials I am using. What I do is hand in making, like knitting or crocheting, I am making marks or patterns in my sculptural form and that is my drawing."
What was not shown at the gallery opening were the prints that Seykora creates, these unbelievably cool and amazing monotypes, which are one of a kind. Printmaking, being her minor, allowed her to work in another medium.
"My process is very connected to the sculptures I make," she elucidates. "I take the plastic Christmas tree needles and press them into the paper creating an impression, which embosses or gives texture as well."
The prints are thus tiny appendages of her sculptural works and in some cases easier to mount on the wall, but altogether thought-provoking and hauntingly lovely.
So who are the artists that have illuminated Seykora's mind? Tony Feher, Anish Kapoor, Eva Hesse, Louise Nevelson – all sculpture artists and creators who have given voice and meaning to the world. What materials does she use on the daily? Confetti, cellophane, thread, tar paper, roofing felt, electrical tape, vinyl, packaging – virtually anything anyone can connect with – and that's what is important to her, because she breathes life into lifeless things.
"There is so much color in my work and such an absence of it in my daily life. I feel like I get in touch with my colorful side through my art," Seykora says playfully.
With her glossy black hair and wardrobe, fair skin and red lips – she loves to see brightly colored, glossy confetti jumping off her two-dimensional layered pieces the same way the colors bound from her face.
Graduating this month, Seykora is pondering her next move.
"I love NYC. I love Philadelphia," she says, eagerly, considering the endless possibility and opportunity that awaits her. "But I also love Erie. Coming from the Midwest, I have appreciated the landscapes here, as well as the architecture. The colors, the trees, there's nothing like this in Nebraska. There is also a great community here."
Angie trails on, continuing to talk about Erie, the place she's most recently been calling home, and the place where her art's most recently been exhibited.
"PACA has been great, Brad [Ford] and Mark [Tanenbaum] are so supportive," she says of the leading men behind the PACA. "Erie is lucky to have such a strong artistic community. The creative people here are so hardworking and they bring such a breadth of life to this town. Erie is a hidden gem."
Seykora's "Layers of Systems" can be viewed at PACA, located at 1505 State St., through May 18. She is also a featured artist in the 90th Annual Spring Show at the Erie Art Museum, located at 20 E. Fifth St. You can see more of her art at AngieSeykora.com.