You Ought to Know: Ashley Sayre de Rivas
Ben Speggen tells us about the unorthodox path of Erie's high priestess of sushi, Ashley Sayre de Rivas.
November 14, 2012 at 12:24 PM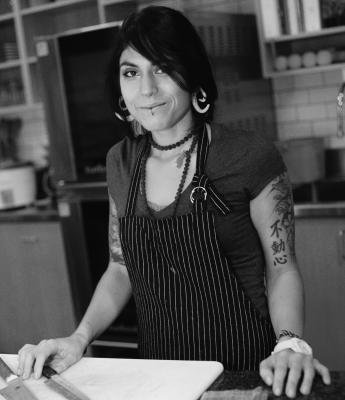 That high priestess – the one Cory Vaillancourt writes about in this issue's story on Frankie & May Fresh Grocer – stands before us at the center of her altar. Our spiritual guide begins her invocation in a quiet voice, telling us about the offering we're about to prepare, something she loves and for which she expresses great reverence.
This high priestess, our spiritual guide, is Ashley Sayre de Rivas, and this offering is sushi.
With jet-black hair tucked behind her ears that sport spiraling gauges, Ashley – best known as the "sushi ninja" at 1201 Kitchen who also teaches classes at Frankie & May – begins by explaining the difference between sushi and sashimi. While many people think all sushi always includes raw fish, it doesn't have to, she tells us. And while many people think sushi is a sliver of raw fish possibly atop a pad of rice, that – she explains – is actually sashimi.
With tattoos adorning both arms – the one on her right arm, a Japanese tiger and Mexican black panther bedecked with dahlias that capture her passion for those cultures and her heritage – Ashley, a young woman with a presence commanding our attention while welcoming our eager minds ready to learn, smiles softly.
"One of the hardest parts," she says about making sushi, "is letting the rice sit."
She pauses and looks over her shoulder at the rice cooker still containing a batch of rice not yet finished.
"You have to be patient," she says, with a smile giving way to an airy laugh. "I'm not exactly a patient person."
Born to a single mother in the Marines, Ashley's life began on the Marine Base in Camp Lejeune, N.C. After optioning for an honorable discharge because she didn't want to raise her daughter in a military life, Ashley's mom followed the path to Erie, and Ashley's been here since.
"Sushi is very Zen," Ashley says, as the rice cooker clicks, signaling the batch is ready for us to use. "That's why I like it so much – it's meditative."
She speaks of the tradition of sushi and Japanese cuisine, but Ashley hardly took the traditional, well-worn path to becoming a sushi ninja at 1201 and an instructor at Frankie & May. She attended Mercyhurst University where she studied Spanish. As a language arts major, she also focused on Russian and took up Japanese as a minor. Her first ambition was to teach, which explains why she enjoys working as an instructor at Frankie & Mays and is good at her craft, taking time to both impart a sense of history of the subject we're learning while also taking the time to guide us through our hands-on experience. But like many creative people who experience a sudden shove onto a greener, less-worn path they're destined to walk, she found her passion and embarked to find ways to share that passion with the world.
"I am very humble. I don't think anything I do is insanely creative," she says. "All I really want to do is make good food for people and ideally just make people happy through food. That's my only goal, that's my goal for this industry, and that's why I love it – it's a people-pleasing industry. All you're doing is making people happy. Especially when people are out on dates, that's my favorite thing…"
She pauses for a second and smiles. "I wonder how many babies have I created through my food – yeah, yeah!" she says, laughing, contemplating the sensual nature of food and the communal way in which we celebrate with it from birthdays to job promotions to first dates to anniversaries.
But the journey to where she stands now began before 1201.
"I was working part-time at a made-to-order place at the college," she explains. While serving up burgers and fries wasn't exactly the inception of her culinary creativity, a summer experience changed that.
Mercyhurst hosted the Pennsylvania Governor's School for the Arts during the summer, and as it turned out, many of the students in attendance were looking for vegetarian options. Ashley's artistry took over, and suddenly burgers and fries weren't the only options for hungry students looking for something different.
"I like down-home dirty food. Gritty – you know. Where you can taste life in it," she says of her own tastes.
After cooking life into food for hungry students, Ashley transitioned to the Whole Foods Co-op. She prepared food there for a while before leaving to begin The Singing Bowl, a defunct vegetarian restaurant that came and went all too quickly for Erie to appreciate.
"There, it was all about the food. We weren't worried about the money or cost, but focused on making great food for people," Ashley explains of the place she says was grounds for her creativity, which her passion for cultures fuels. "I've always loved Asian culture. The amount of respect they put into things and the amount of rigidity and focus and everything they do, there is a purpose for it. Everything they do is very much with purpose… with good intention."
While some may lament seeing a dream abruptly end for whatever reasons life scatters across the path, Ashley's fervor for knowledge and experience and purpose pushed her further down the path. That path led to 1201 Kitchen, where she's well-known and respected for her artisan sushi as well as her work in front of the stove and oven.
"I love how Dan [Kerns, owner and chef at 1201] does food – I love his style, and I love his direction," she says. "I just look to find someone who I'm so in love with their food that I just want them to tell me this is how it's done.
"I would rather study under people rather than study at school," she says of her path less traveled that led her here.  "I'm glad I have the background that I have because it gives me the flexibility to adapt to whatever restaurant I go to. Rather than thinking, 'This is how I did it in school, this is how it should always be done…' it's more intellectually freeing to be able to experiment."
And experiment she does. Not too long ago, two vegan women came into the restaurant. They told the server that they wanted vegan entrees. The server relayed this request to Dan. Dan turned to Ashley and asked her to come up with a dish for them.
She looked around kitchen, searching for things to pair together. Okay. Start with mole. Sear some sushi rice cakes. Then bake them in the oven. Batter some tofu in cornstarch and flour. Fry it. Top it with spinach and mushrooms. Add roasted red peppers. Complete with ground cashews. Plate. And serve.
With the dish presented, Dan told Ashley to take it up to the women and explain it to them. So she did. And they ate – no, they dined. And they were happy, which in turn, made Ashley happy.
But for many artists, these moments of happiness, as fulfilling – and filling – as they can be at the time, often give way to the hunger that drives them, the force guiding them along their path. For Ashley, a boon along that path is that impatience she exhibits.
"It's like a driving force toward perfection," she explains. "I'm always trying to make everything I do better, but there's never going to be a point when I feel like something I do is perfect. I know I'm never going to get there, but it doesn't stop me from trying to make something perfect or make something better every single time. You are able to recognize along the way things you have done wrong and how you could have done things better, but it's always a goal to make things better to try to get as close to perfect as you can."
And for many artists, the path often continues onward, beyond their current neck of the woods. That pursuit of perfection often acts as a driving force with directions both charted and uncharted, anticipated and unexpected.
"Beginning of next year, I hope to be in New York City," she explains.
There's a whole other culinary world out there, places where she can learn, grow, be challenged, challenge others, and come fuller into her own as an artist always striving to inch closer to the ideal of perfection.
"For anything in life, if you say you know everything, you're never going to learn anything – you never learn anything more thinking like that," she says. "I'm so hungry and I want to get full. I want to learn so much more so that I can be that much better and do what I do to make others happy."
Erie can still claim Ashley as its own – for now. As is the case with artists, spiritual guides, and sushi ninjas, the path they walk is less worn than the rest of ours, and wherever it takes them, we can be thankful for the time they spent with us and hope for a return sometime in the future, to bring back what they gathered further down the trail.
Ben Speggen is glad he knows the high priestess now and is happy he now knows how to make sushi. He's also hungry for the mole, tofu, spinach and mushroom, roasted red peppers, and ground cashew dinner. He can be contacted at bSpeggen@ErieReader.com, and you can follow him on Twitter at @ERbspeggen.