You Ought to Know: DJ Minor
A nationally recognized tattoo artist, DJ, who also paints, got his start in tattooing through the science of the craft, fixing and engineering tattoo boxes. He and his wife, Jen, currently tattoo and create art out of their new studio in Erie: Catalyst Tattoo.
August 24, 2011 at 4:53 PM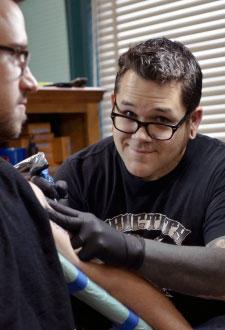 The Artist
It'd be easy to start a profile of DJ Minor with the awards. There's easily more than the space on this paper can hold. It'd be just as easy to start with the features in national magazines, maybe even daunting for a local publication, like Erie Reader, since at the same time I'm working on this article, he's coordinating things with Tattoo Magazine for an interview with them. And he's already done the photo shoot.
But maybe starting there isn't so easy because DJ isn't one to brag. He never once says anything like, hey, man, you know I'm pretty famous, right? But he is.
Instead, he says things like: "We try to have a varied system of artists who cater to different things so we try to get your idea the best way possible onto you. So you want a vulture ripping a skull off the ground, we got you. At the same time, if you want a real dainty flower, we got that too," his voice goes up on "too," reassuring that both of those ideas are cool to him. "We're just trying to get your idea onto your skin to be as close to what you see in your mind as possible while still expressing our artist themes through it."
And he's just as quick to say things like: "You've got to know what you're in to and what you're not in to, and we steer them to someone they need to go to. There's enough skin for everybody in this town. We're not trying hog it all. So if I'm not your guy, I'm going to tell you who to go to."
And he means it. Tattooing is a business and an industry, but he's an artist and art matters, especially when the canvas is someone's body. Then he launches into a description of how his wife's style of tattooing differs from his and why she's the best choice for some people. Then he talks about how talented the other artist in his shop, Corey Thompson, is and how he recommends people to him all the time.
But the referrals go beyond Catalyst. He's friends with other shops and other artists in town, so if a client can't get what they want from DJ, his wife, or Corey, he gives them directions to somewhere else. After all, art comes first.
So starting with the fame isn't going to work; I ask him about the beginning.
From the UK to the Bible Belt to Hawaii to Nevada to Erie—he's always been on the move. The 30-something speaks with a hint of a soft, southern accent that sings through words like bawbwire. His sailor uncle had tattoos up and down his arm. Small, unrelated souvenirs of sorts, DJ calls them. He's the only tattooed guy he knew. Then it's off to the Navy—boot camp and all that happy stuff. "Got an engineering degree while I was in the Navy."
Wait. An engineering degree? I thought you were an artist—not that engineers can't be artists.
"I was in this tattoo shop and this guy was cussing and fussing because his machine caught on fire," he explains, as it's the science of the art that got him started.
One of the transformers blew, so DJ fixed it. Suddenly he's a hit around tattoo shops, fixing tattoo boxes and working there when he's off duty.
"None of these guys had any concept of their tools," he says, as he's just as excited to talk tools as he is art.
Later on, similar situation: a machine breaks and the tattooer, who's working on DJ, huffs and then puffs, taking a cigarette break that turns into a half an hour break. DJ got bored, so he fixed the machine. DJ got bored again when the guy doesn't come back, so he finished tattooing himself. Turns out he did enough to impress some guys in the shop.
So while we're not talking about the fame and success, let's map the path to Erie. He meets his wife Jen in Texas. They decide to get married and then have a kid. And the kid brings them to Erie. Not literally since she's 3, but there's family here, and he wants to raise his kid around family.
The original spot he planned to set up shop was right on top of three other shops. But he's not that kind of guy.
"I would rather have to fight to have people's attention than try to be aggressive toward other tattooers," he says, speaking to more of his character than it does of his business plans.
He's big on supporting local artists. He plans to hire another artist, and he wants it to be a local artist. "I'm not trying to oversaturate the area."
But his ideas stretch beyond that. One of his current projects involves tattooing for donations. At $20 a tattoo, all the proceeds go to the local organization. Another way of strengthening art and the community.
I look down at the timer on my tape recorder. We've been chatting for nearly an hour already, but it seems less because he's got so many stories to tell and ideas to share. But I've only got so much print space, so I finish with the same question I always do: so, anything else you want to add?
He pauses. Instead of the general elevator speech sum up that I often get, or the self-promotion that follows, the you can catch me here or see my latest project there, DJ smiles, chuckles, and then turns the question to me: "So what'd you want to get tattooed?"
The Art
What better a way to get to know an artist than to watch him work, right? So I present the artist a canvas: a chunk of my upper arm. I toss out a couple of ideas to answer his question.
Maybe a paisley pattern. He's honest with me: it's likely not going to work, he says softly. It just doesn't translate well to the skin, he explains. It runs the risk of looking too busy. I appreciate his honesty.
"My job is to fulfill your art requirements, but at the same time, I'm not going to mess you up," he says. He gave me an example earlier: a growing trend is young women getting paragraphs tattooed on them. Young women, at least the kinds DJ and I are familiar with, are not flat, like paper, which makes it difficult to translate to skin.
OK, no paisley. How about this: a month back, I bought some jewelry for my wife from Glass Growers Gallery. I found a clay rose/old key/feather pendant. Perfect. And a piece Jen created. So how about that? Tattoo some of his wife's art that I bought for my wife onto me?
"Cool, man, cool." His head bobs so duck out of the shop and leave him to getting down to the business of making art.
So I walk in the shop less than 24 hours later. He's situating his workstation so I poke around, like first-time potential customer who has no idea he's in the midst of a renowned artist might. There's art everywhere, and the woodwork on the entrance gives the place a warm feeling. Toward the front hangs some original artwork and pictures of past work. There's some posters of tattoos that give the shop the feeling, of well, a tattoo shop.
He shows me the sketch and asks what I think. The inflection raises, his voice sharpens and I know he's genuinely excited. At first, the size of the drawing surprises me—the piece that will take up a healthy amount of real estate on my upper arm. I'm cool with it, but I don't want to take up too much of his time. I just want to get to know the artist, not burden him.
"Nah, it's cool, man." He grins, happy that I'm happy. "If you're cool with it, I'm cool with it."
I am cool with it. Even from a stencil sketch, it looks amazing. So we get started. He preps the arm and lays out the stencil.
Then the Reader photographer comes through the door. It's his first time here. He looks around and then makes his way toward us. Soon enough they're chatting tattoos and TV and tattoos on TV shows and we're all laughing. Then the needles are out.
"See these here," DJ grabs one. "These are the cartridge needles me and my wife use instead of the old traditional stuff. Super sterile."
And the gun's out now. It doesn't look like your traditional gun, well, because it's not.
He launches into an explanation of how this gun differs from traditional guns; it boils down to one thing: less trauma. After all this chatting, I nearly forget what's at hand: he's about to draw something into my skin.
"Ready when you are, sir," he says, gun-in-hand. Ready, I tell him. So it begins.
He's right, I tell him—the machine hurts less.
Tien's done snapping shots, so now we're the only two in the shop. The TV's on, and we chat off and on.
A couple walks in after an hour or so passes. The women's looking for a small tattoo, maybe a Chinese symbol. She heads toward the chart on the wall. Since he's been here, DJ's only done one tattoo from the wall; he prides himself in drawing everything, working his own touch into even the common pieces.
She mentions "love," that's the one she's thinking of. DJ explains there are two symbols for love: "the kind you do when you're married" and "the kind you have for your kids," he tells her. She didn't know that. She thanks him. He's happy to help. There are already enough girls watching around with the wrong kind of love on them, he jokes.
The couple wants to continue looking but their kids have other plans. They're bouncing off the couches, taking their shoes off, and generally running with no sense of direction. She'll come back, she tells DJ when she doesn't have the kids with her.
Back to my arm. He checks in every so often to let me know it won't be much longer and asks if I need breaks.
We chat more and the conversation never seems forced. But before I know it, we're done. He just wants to add some highlights, and then I can see it, he tells me.
I get up and eye it in the mirror. Beautiful. Three and a half hours of work, and I'm speechless. He's smiling. I just keep staring at my arm. The reds, the purples, the greens, the white, the little things I didn't notice on the sketch, the things he's hidden in there. All beyond words. So much so, I can't even try.
Good art makes you feel nice. Warm. Even gooey inside, maybe. But then you forget it five minutes later when a commercial for Bud Light catches your eye.
Great art steals the words from your mouth before your mind wraps its fingers around them and then dares you to try to take them back. It keeps your attention this way, keeps you wanting to talk about it, tell people about it, find the perfect words for it.
So I'll spend the next years of my life among the latter group, trying to express my gratitude and appreciation for a great piece of art this truly talented artist will never be able to hang in a gallery and will only see when we cross paths and I roll up my sleeve. A piece of art I can only hope he enjoyed making as much as I enjoy wearing.
##
Curious what D.J.'s favorite tattoos are? Want to know more about that non-traditional gun? Wonder what we were watching while he tattooed me? Why did he call the shop Catalyst? And what other cool stuff couldn't fit here? Check out this extended web-exclusive Q&A.