You Ought to Know: Greg Ropp
The man behind the Eerie Horror Fest talks about bringing the multi-billion dollar industry to Erie.
October 17, 2012 at 4:30 PM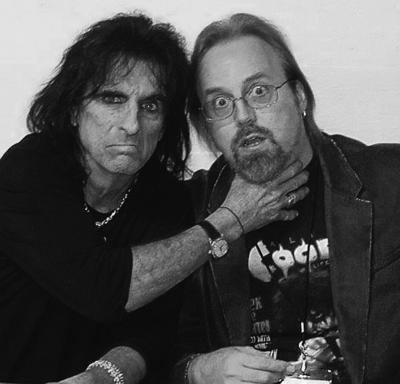 At the Eerie Horror Film Festival & Expo, familiar faces roam the halls of the Warner Theatre. These faces aren't from people that you've met in real life, however. Instead, they're the inhabitants of your favorite films, the authors of those cult comics you adore, the people that help create the entertainment you love so much.
In one place, you can see "Mad Max 2: The Road Warrior" actor Vernon Wells walk down the hall while original "Dawn of the Dead" cast member David Early sits at a nearby table. Numerous films flicker on the screen, providing even more material for fans to feast their eyes upon.
Still, there's one more person whose face you should know, because if it weren't for him, Erie might not have been able to see any of this.
"When the Horror Fest came around, I really loved the idea of doing a convention-type thing, which was the nerdy part, with the black-tie affair of a film festival," says Greg Ropp, the man who began this festival nine years ago. Greg is also the president of the Eerie Horror Fest and an interesting individual all around.
While the Horror Fest has been around for nearly a decade, the Edinboro native's love of horror started long before that with the help of his family.
"I was about 5 years old, and my grandmother would babysit me a lot," Greg says. "She was a night owl, which I sort of inherited from her. We would always stay up late, and sure enough, the late movie usually was 'Frankenstein,' the 'Mummy,' or the 'Wolfman,' or some such crazy thing that was going to warp my brain and rot your soul, so I had a cool grandma. I think early on, some of my fondest memories were sitting around this console TV watching these movies."
With the support of his parents, Greg's love of horror helped usher him into the world of film and literature. In addition to creating fanzines in his youth, he dabbled in music, recording multiple albums with the bands The Void and 5 Empty Chambers. In fact, he still gets requests from fans to this day.
"I'll be at the [Eerie Horror] Film Festival, and somebody every year – it's been nine years – someone pulls out an old CD and has me autograph it," Greg says. "I think it's hilarious, you know, this is [from] 15 to 20 years ago."
Eventually Greg, ever the movie fan, started the Eerie Horror Fest and helped to found the Film Society of Northwest Pennsylvania, although he's also tried his hand at a lot of different jobs.  For 23 years, he ran a rent-a-video store in Edinboro. He's sold scarves and e-cigarettes at kiosks before. He's even run hemp rallies before, which actually served as experience for how to set up a large event.
"My parents think I'm a terrible slacker," Greg says. "I've never really had a 9-to-5 job in my life. Some people say, 'This guy is a loser.' Well okay, but a cool loser. I try to avoid working as much as possible – a normal job that is. Lately, my newest obsession is picking and doing auctions and eBay stuff. That's actually keeping the lights on right now."
Much like picking, the art of finding valuable items amid various collections of what some may call "junk," Greg has picked a path that calls to him, choosing his various occupations ever since attending Edinboro University of Pennsylvania for journalism and criminal justice.
Despite the success of the Eerie Horror Fest so far, Greg doesn't actually make much money from the event, as a large portion of the proceeds goes to charity. In fact, a lot of the money needed to run the Horror Fest comes out of his own wallet.
However, Greg doesn't need a steady cash flow from the event to find the Horror Fest worthwhile.
"My favorite thing of all is watching somebody, especially a young person, who has never met anybody with any kind of clout," he says. "It doesn't matter if it's a B-movie actor or a class-act headliner – just seeing that person get an autograph for the first time never gets old."
Greg loves the joy that film can bring. From actually watching movies to a brief brush with cinema celebrity, the big screen is such a big part of his life that he has some more ideas for Erie.
In addition to the Eerie Horror Fest, which he wants to split up and have the film festival and convention on separate days, Greg wants to start the Erie International Film Festival, a multi-day event that would bring movies into Erie that you wouldn't be able to see at Tinseltown.
"I want dialogue, I want interaction, I want people leaving the theater thinking," Greg says. While he's known by many as an avid horror fan, Greg wants to bring in all sorts of films to the denizens of this city. However, he's still got some plans for the horror scene.
"We have always thought that with a name like 'Erie,' it's a no-brainer that somebody would say that this a great place for a Horror Hall of Fame," Greg says.
Of course, this would be a big undertaking, and yes, there will be some naysayers. Greg, however, is adamant that the Flagship City can become the home of horror.
"If I owned a town called 'Erie,' I'd go crazy with it," he says. "Horror is a multi-billion dollar industry. It's the only genre of film that has never been out of style. Yes, the box office has gone up and down, but you will never see a year where there's not at least 100 horror movies being produced."
While a Hall of Fame could bring increased revenue and attention to the city, Greg argues that the city needs to believe in itself to make such a thing happen.
"How do we break through that wall and show them how great Erie can be?" he asks. "Erie needs to understand how successful it can be and stop being so freaking afraid of it."
Greg may claim he doesn't have any plans for his life, but he does have some big ideas for Erie.
"I've had people come up to me and say I'm satanic," Greg says. "What do you do? I mean, there's a part of you that thinks 'What the hell is wrong with this person?' and part of me thinks 'Well, that's pretty cool.'"
You see, Greg doesn't care what you think about him. What he wants is continue to add to the community, whether it be through "Gone With the Wind" or "Dawn of the Dead," and maybe bring some new faces into this city.
Alex Bieler can be contacted at aBieler@ErieReader.com