You Ought to Know: Mishol Randolph
She's been to hell, and back; and now, she's dressed for success. 
March 20, 2013 at 6:40 PM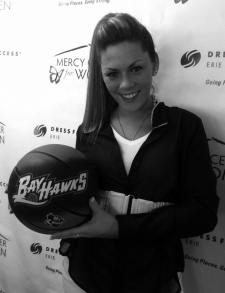 Six-thousand and twenty-eight little bricks are stacked up around her. Like the dark water at the bottom of a well, she is surrounded – save for a tiny pinhole window to see the world. Inside, she sits on her springless jail bed, skinny and weathered, like a small sapling after a hard storm. And time is a frozen stream, snaking slowly beneath a long thin crown of ice. Aside from the bland transitions between institutionalized moments, she has nothing but the gauze – just a few inches too short for morbid utility – mummifying her abscessed arms. And a Bible.
For some, the Bible's stack of pages become a book of truth, and for others, it's simply a story that can spark a guiding light out of the darkest times. However, there is another way to reach heaven, and those who take this windy road never realize it takes a long detour.
"I've been through hell," Mishol Randolph says, sitting back in her chair. "So why not believe in a god?" Sitting in Dress for Success Erie, a small white building on the corner of East 28th Street, Mishol is pretty and put together, and carries a certain air of success with her – which juxtaposes the story she tells from within the shop. The place is packed tight with professional women's clothing; some new, some used, but all free for the right persons in need of professional attire. There is nothing about Mishol that could hint towards her history: the people she's run with, the places she's run to, or her tribulations upon those stomping grounds.
"My mom was a single woman [when I] was growing up and she drank a lot – she wasn't around a lot – so I could run riot," she explains. With the house empty, there were no rules or restrictions. In combination with being the stereotypically ambitious, adventurous, and aggressive first-born, it wasn't long before Mishol found herself greeting trouble with open arms.
"He was a bad boy, and that attracted me," she says about her high-school sweetheart and father to her now 7-year-old daughter Baelyn. "The next thing you know, I'm smoking weed, and then we were introduced to pills." She's referring to the surge of diverted pharmaceuticals that swept through Pennsylvania - not excluding Erie - in the early 2000s.
"We started selling them and making thousands of dollars a week, so I dropped out of school," she says, reflecting on her sophomore year of high school. There was money to be made in this new-found trade, but it wasn't long before curiosity got the best of her. "We're like, 'What is the big deal about these pills?' 'cause these pills were going for about $60 each."
So with new shoes, a beat-up car, and an apartment, Mishol had a new sense of confidence that came with a pining to indulge.
"We tried them, and it was instantly heaven. It was a euphoria that I couldn't explain. I was hooked," she says. "And it was all downhill from there." The apartment Mishol and her boyfriend rented became a dangerous place; it was no longer a personal venue for adolescent mischief and young love, but a place for junkies, and the dregs of Erie to frequent. But despite new clientele, the bills were stacking up, and to boot, Mishol was going to be fending for another person soon. "Honest to God, the day I found out I was pregnant, I quit everything cold turkey."
She packed her bags and left, fleeing for her aunt's house in her white Buick Century, the engine knocking to breathe. With help, Mishol nipped the new habit in the bud, continuing her pregnancy totally clean.
But things hadn't even turned bad yet, Mishol insinuates, "The day I had [Baelyn] I had an epidural... They hit my spine. The next thing you know, [the doctors are prescribing] me Vicodin."
No longer a body worrying for two, Mishol started taking pills again, turning reckless, and going harder than ever. Surpassing what the doctor's prescriptions would allow, she took to the streets, finding what she needed and selling the rest to fuel her habit.
Two of the many fallacies that plague addicts are the notions of vigilance and, in a different vein, egocentrism. It is the times when these two erroneous beliefs are reckoned with that tend to be the darkest hours.
"There was a moment where I got what I needed and I had some extra [Klonopin] in my coat pocket." She continues after a brief quiver. "My daughter just started crawling around, and she went in my coat pocket, and she digested the two pills. I never will forget that moment where I'm holding her and I'm rushing her to the hospital and she's just telling me that she wants to go to sleep… It was the most terrifying moment of my entire life."
Baelyn was given charcoal at the hospital, and fortunately came out of the ordeal unscathed. But Mishol had a different outcome.
"I spent the night, [and] woke up to Children's Services tell me I had to leave the hospital without my daughter." At rock bottom, Mishol's habit grew stronger, and soon she was introduced to heroin.
"That was like a touch of heaven, like God came down and touched me. That was the most beautiful feeling in the entire world," she explains in solemn voice. "I would do anything for that feeling."
Nearly a dozen overdoses ensued – Mishol waking up in the hospital, livid with the doctors who pulled her away from a permanent darkness. Mishol's life turned into a simple routine: 30 days in jail, a failed stint in rehab, get high, back to the hospital, repeat – until finally the fog lifted over this mired cycle.
Now at the threat of going down state – with a longer sentence – for repeatedly being caught selling drugs, as well as smuggling them into rehab, something clicked.
"I have a 5-year-old daughter," Mishol says she screamed to the judge. But what the judge said wouldn't stop ringing in her head, "You didn't care about her last week; why do you care about her today?"
After receiving sixty days in the hole – what seemed like an indefinite time to Mishol – she was given one phone call a week, a Bible, and surplus of time to think. "I called home. It was Baelyn's birthday and all she was doing was crying for me, saying that she wanted me. And knowing that I have years until I can even hold her," Mishol says, edging towards tears. "I finally hit my rock bottom."
When she returned to her quarters, there sat the book of thin pages and a permanent snapshot of Baelyn burned into her mind. She thought to herself, If nothing changes, nothing changes. She started reading the Bible, finding comfort in the scripture, and a euphoria that didn't come from a needle. "I honestly don't like religion – I'm more spiritual," she clarifies. "Religion has restrictions on God."
After 60 days in the hole, she began going to church in jail, working out in the courtyard, and planning her future beyond her square stone walls. Like Albert Einstein said, Insanity: doing the same thing over and over again and expecting different results. So when Mishol's time was through in jail, she was determined not to be part of the revolving door, and decided to interview at the Mercy Center for Women [1039 E. 27th St.], her first step in trying something different.
She started fresh, learning the life skills she missed over the last near-decade. After the months past she was introduced to Mary Graziano, the program director for Dress for Success Erie and the Going Places Network presented by Wal-mart. Through these organizations, Mishol was able to make connections that were sincere and progressive. By working on the Junior Board for the Boys and Girls Club [1515 E. Lake Road] she met Owen McCormick, the Owner of the Erie BayHawks, and was able to land a job as an account executive.
But even with the past behind her, she wasn't out of the clear yet.
Some were unhappy with Mishol's newfound success. They even went as far as to email her co-workers and attach a copy of an article of Erie County's Most Wanted, with her name front and center. Ascending from her mental faults, she finally caught a glimpse of light, and as she raised her head to feel the warmth, a blog was started about her. The forum detailed her addiction, her lack of qualifications, and down right bashed Mishol coldheartedly. NBA security was notified, and she received a call from them soon after. After she confirmed the sum of the allegations, her superiors were notified, but her merit and hard work saved her job.
While her past continues to haunt her, she is also moving forward into an amazing future. She volunteers her time on the Board of Advisors at the Boys & Girls Club of Erie and has plans to start her own organization for women. More recently and most notably she received a call from Joi Gordon, CEO of Dress for Success. Mishol went breathless as she was informed of her invitation to the "Something to Share Gala" at the Grand Hyatt in New York City as the Keynote Speaker. The event is beyond huge – tickets run $500 - and is attended by some of the biggest names in every field: Vanessa Williams, Bobbi Brown [CEO Bobbi Brown Cosmetics], Cory Booker [Mayor of Newark, NJ], Chris Canty [Baltimore Ravens Defensive Lineman], Michael Phelps, Cindy Lieve [Editor-in-Chief, Glamour], Amy Astley [Editor-in-Chief, Teen Vogue], and so many more. Mishol will go and represent not only Erie, but Dress for Success, by speaking at the gala on April 11.
While she takes care of her little sister and daughter, Baelyn, in their new home, she lives by one simple rule, "If you can't handle my past, you don't deserve to be in my future."
Mishol's determination has allowed her a second chance at life, one she took very seriously. She has risen from the refuse of her addiction, forded the dragging currents of crime, to now find herself standing in the light she used to watch fade from behind a barred window.
Matthew Flowers can be contacted at mFlowers@ErieReader.com, and you can follow him on Twitter @MFlowersER.