You Ought to Know: Stephanie Wincik
Stephanie Wincik is a local author. She writes ghost stories. And she?s someone you ought to know.
October 20, 2011 at 1:00 AM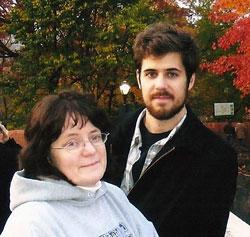 An unsuspecting breeze. The cracking branch. The rustling leaves.
A creaking floorboard. The squeaking hinge.  A door slamming shut.
When the calendar falls to October, we live for these sounds and relish in the chance to scare ourselves. We rush out to see this year?s horror movies because we love the feeling of fear without the consequence of, well, having to actually flee from some maddened killer or something worse yet, some being from another dimension?a ghost, a demon, a spirit that refuses to move on from this world and to whatever lies after.
And aside from the enveloping darkness of a movie theater, we build bonfires, roast marshmallows, drink in the crisp autumn air, look to the full moon, and exchange ghost stories that we heard were true. Did you here the one about? Do you remember when? I know it can?t be true but? as the fire crackles, hisses, and slowly dies, giving in to the surrounding darkness.
But for most of us, we never get beyond sitting in theaters, clenching our fists in terror or huddling around campfires, swapping dark tales, hoping no one forgets them.
But so much of a region?s history can be told through its legends, its myths, and its ghosts. What happens if no one?s keeping track? Enter author Stephanie Wincik.
?My life?s probably pretty boring,? says Stephanie with a light, reserved chuckle as she sips her coffee.
A lifelong resident of Erie County, Stephanie grew up in Girard and now lives in the house that she was raised in. Stephanie attended Penn State Erie, The Behrend College and graduated in 1977 with a nursing degree. She?s held a number of positions within her career field and now serves as the associate director of nursing and health services at Erie Homes for Children and Adults.
Okay?maybe not boring, but normal enough. We grow up, go to school or start our careers and hope to advance through the ranks before we grew old and realize our life has passed us, right? Stephanie?s soft smile through thin lips and quiet laugh come on as she talks about work?she lives an enriching and rewarding life when it comes to work, they say.
Still pretty normal, right?
But there?s something else. Something dark. Something scary. Something terrifyingly real: Stephanie writes ghost stories. Pretty far from normal?and especially far from boring.
Stephanie loves the paranormal and so far has authored: Ghosts of Erie County, More Ghosts of Erie County, Heroes in Disguise, Reaching Through the Veil: Ghost Hunting in Erie County, and a time-travel series for children, Northern Lights and The Journey: A Northern Lights Adventure.
?I always was a big reader,? says Stephanie. ?From the time I was 6 or 7, I?d be the kid that wasn?t outside playing; I?d be the kid that was inside reading. That was just an interest I always had.?
With a career as a nurse, Stephanie never planned to be a writer. But she saw a need for these ghost stories to be recorded somehow, so she stepped up, cracked her fingers, and started writing.
?There?s a preponderance of ghost stories [here] that I grew up hearing. I thought, ?I wish someone would write them down because they?re basically just word-of-mouth legends,?? Stephanie says of her youth. ?So I just did it.?
And Stephanie self-published her books to get them out quicker.
?It was a lot of trial and error,? Stephanie says of her early tribulations. ?I had to go on the Internet and sort of learn how to do it?made a bunch of mistakes but figured it out finally. It was fun.?
And publishing your own books, while challenging, surely can?t be boring. But getting the actual books out there proved to be the biggest challenge since as her own publisher, Stephanie had to visit all the bookstores to see if there was any interest.
?I got lucky?everyone in Erie loves ghost stories,? says Stephanie with a humble breath that belies a true talent and drive that are supported by the fact that people continually invite her to read stories from her books they?ve heard time and again.
?People think I?m a ghost hunter,? she confesses. ?People want me to come to their house and get rid of their ghost.? Stephanie can?t rid you of your unwelcomed spirit, but she isn?t afraid to get out into the field. ?I did a book where I followed three different ghost hunting groups around the area, and I would not want to do that. It?s good that they do it because I really think that at some point, the paranormal will become the normal because I think we?re going to find out what it is. God bless them for sticking with it.?
And as any good writer does, Stephanie prides herself in accuracy in research. Take her work with the ?Gravity Hill? for instance?a back road that when driving down the hill creates the feeling of going upwards. ?People think it?s an energy vortex under the ground,? she tells me with a smile. ?Turns out to be an optical illusion.?
But her life story doesn?t stop there. A nurse who writes ghost stories has another passion: she also writes as an advocate for those with intellectual and developmental disabilities with her book Making a Case for Life: A New Definition of Perfection.
?I happened to be reading just randomly and came across this statistic that 90 percent of babies with Down Syndrome are now being aborted because there?s a new prenatal test that?s very simple to do so a lot of the docs are strongly recommending people get this test and then if they find out have down syndrome they are really strongly encouraged to have an abortion,? she says, as a worry sweeps over her face and the chuckles are gone. ?I was astounded by that and started research because I thought it couldn?t be true?it just has to be an exaggeration. I know a lot of people with Down Syndrome, and they?re incredible people and that prompted me to write a book about that issue. I really hadn?t planned on it, but it really found me.?
And the issue hits even closer home for Stephanie, who participates in ECHA?s life-sharing program ,as she welcomed in a lady with Down Syndrome, who?s now been living with her for three-and-a-half years.
?It changed my whole perspective. I?ve worked there since 1980, and I love the people I work with?they?re awesome?but until you actually live with someone, you don?t realize how amazing they are,? she says and the smile?s back. ?She?s changed my life for the better. She enjoys every minute of every day, and that kind of was something I never did. You rush through your life, and you don?t really look at things or pay attention. She?ll see the sun coming through the window, and she?ll giggle because she loves that it?s coming through the window and landing on her. So it made me look at things a different way, and I think it?s probably made me a better person.?
So aside from being a nurse and a writer, Stephanie?s a family person. She?s still living with and learning from her friend. But her family life still connects to her art when it comes to writing. Her son is a photographer, and she?s worked with him.
Stephanie?s son, Zach, artfully burns his photos on wood pieces and breaks them into sections. So to combine their artist talents, Zach took photos of old?haunted?buildings and then burnt them on the front and placed legends his mother wrote on back.
?It was a lot of fun,? she says. ?We haven?t come across a project yet, I?d like to do a book with him?I can do the writing and he can do the photos.?
So a nurse, writer, friend-who?s-willing-to-open-her-home with talented kids to brag about?makes for anything but boring.
But don?t forget. She tells ghost stories of ghouls haunting our backyard. And it?s the Halloween season. So if you haven?t read a Stephanie Wincik book already, pick up a copy and sit down with a cup of your favorite whatever?just be sure to leave the light on.
##
For more information on Stephanie as well as information on how to purchase her books, visit her website at stephaniewincik.com.