You Ought to Know: Sue Lechner
Erie native Sue Lechner comes from a musical family and has make music and performance a large part of her children?s lives.
September 7, 2011 at 3:00 PM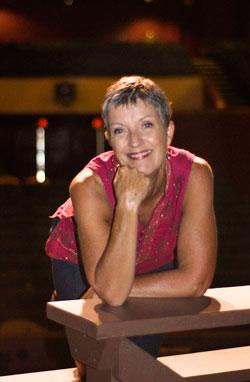 Although from years back, her current Facebook profile photo looks like a cross between Vivian Leigh and Joan Crawford. She spent a brief stint (and by brief, I mean about three weeks) as weekend weather-girl on WICU. She had Polio as a child. She gets emotional (in a good way) when she talks about her mother and her work. She is exceptionally talented in the art of theater ? whether in production, directing, acting or supporting? and equally passionate about it.
I am referring to Susan Lechner, marketing director for the Erie Playhouse. I had the opportunity to sit down with her the day the earthquake ?hit? Erie. I was driving to the Playhouse, and my car started shaking? in that moment, I cursed my vehicle, thinking that it was just getting old ? but the moment I walked in the door, the first thing Sue asked was if I felt the earthquake. It took me a moment to realize my car acting up wasn?t the result of the piece of crap it actually is ?rather just little ol? seismic waves being released through the core of our planet. Although, with the mockery that ensued from the media and our west coast rivals (even if it was a 5.9 on the Richter scale, maybe I didn?t feel any earthquake and it really was my car after all).
Anyhow?there we sat in the downstairs lobby, talking about the earthquake and rehashing a little bit about her life growing up. She went to Montclair Elementary school (which no longer exists and is now the Montessori school) and then went on to Westminster Junior High (which also no longer exists and is now the Millcreek Education Center). While this information doesn?t take us anywhere in her personal life, I add this digression to point out that Erie, while maybe not evolutionary or glamorous, isn?t stagnant and does continue to evolve and change.
Having known of her over the last couple of years and having been involved in the music scene myself in varying degrees, I was already somewhat aware that her life was abundant in the arts ? but even I didn?t know how deep her roots went. Her inspiration growing up was her mother and her aunt. And her interest in theater, dance and the arts comes (very) naturally, given her history.
?My mother was a Rockette [yes, the Radio City Music Hall kind] in NYC and on Broadway.? At this point Sue stops and waves her hands over her eyes in a way to stop herself from crying. She apologizes that she gets emotional ? though, inside I completely understand. I asked her if her mother was still alive today and she tells me she passed in 2007, at 92 years young.  And then she continues. ?My mother was amazing. Very talented. So much so, she actually had a contract with Warner Brothers and MGM studios on Long Island.?
She even had a stage name. ?To the acting world, everyone knew my mother as Joan English, although outside of that arena we all knew her as Joan Morton.? And yes, her roots are in Erie. However, early on, Joan?s parents split up and her mother took them to NYC.
This move would obviously aid in helping Joan?s career flourish. As she got older, she would perform in many dance extravaganzas in several movies and shows including the ?Gold Diggers? of ?33 or ?34 - she couldn?t recall - and the ?George White Scandals.?  The ?Scandals? were over the top, Broadway musical revues known for their flashy, fleshy production work. They vied with ?Ziegfeld's Follies? and ?Earl Carroll's Vanities? as the top NYC Broadway attractions of the 1920s and '30s.  And that production would ultimately launch the careers of many entertainers, including W.C. Fields, the Three Stooges, Ethel Merman, and more.
However, all good things must come to an end - or is it, when one door closes, another one opens?
?My mother had just injured her back in an accident so she couldn?t dance anymore. So, she turned to voice. As a result she became a nightclub singer in Washington, DC at the Nat King Cole Room. One day she was traveling on the train to work and a gentleman, who at the time was in the service, noticed this striking woman with great legs. He decided to approach her and offered to carry her bags - and you could say - the rest is history.?
The two got married and would ultimately move back to Erie. They also had a son and a daughter. Growing up, Sue and her brother Bill, were engrained in the arts in several ways. ?My parents took us to the Philharmonic, the theater, the ballet ? everywhere. In fact, my brother was so influenced by ballet and dance that he studied it for a few months ? he had heard it would help with the coordination as an athlete. ?This,? Sue says with a smile, ?was short lived though.?
As for her own theatrical background? ?I really started with dance and ballet when I was 8 years old. I also participated in the children?s theater at the Erie Playhouse. Over the years I would perform on stage locally and at Chautauqua in the summers. I went to Butler University to study dance, transferred to the University of Utah, started having knee problems so I switched majors. I ultimately finished up at Gannon with a Bachelor?s degree in Communication Arts and Theater.?
As for all the transitioning, ?Well, I was like most typical college students. I was getting to the point where I would go to one or two classes in the morning and if it was ski season?? she trails off, leaving me to understand that her priorities were much like my own back then.
?After I graduated, I then met my first husband, who was also involved in theater, got pregnant with my first born Kate, saw the light and got divorced,? she says half joking and half epiphanic. Sue would go on to remarry and have two boys. She started becoming more active in Playhouse, and the managing director at the time, David Matthews, was looking to fill a few gaps in the administration ? so Sue piped up and soon started working on the other side of the stage. And in 2000, she became the marketing director.  Prior to joining the EP, she served as public relations director for Robinson-Conner Insurance, worked in the role of program director for Tele-Media Cable, and taught as an adjunct faculty member at Gannon University and McDowell High School. She did all this while raising three children and also exposing them to the world of music and theater. According to Sue, ?We were definitely a musical family. We all loved different aspects about it and we even worked together once. All of us performed ?Music Man? together back in ?94.? As for how she played mother and cast member at the same time? ?In those situations, you can?t have too many cooks in the kitchen, so I let the director handle the kids in that arena ? it was actually a great experience.?
Today, her eldest daughter Kate lives in Pittsburgh with her husband and her own daughter. She is still involved in theater ? having majored in it ? and still performs, teaches and directs it. Sue?s two sons, Scott and Bobby, both play in bands (the Never Evers and Dead Sexy Sheilas) and live in Brooklyn. As for Sue herself - she continues to be active in the theater scene ? most recently portraying Honey Mae Futrelle (she told me this in full southern accent) in ?Southern Hospitality.? Her stage resume reads like the ?who?s who? of great broadway productions. She directed and choreographed ?My Way: A Tribute to Frank Sinatra,? was awarded a challenging role as an ovarian cancer patient, Vivian Bearing in ?Wit,? became true to life (literally) in ?Master Class,? where she portrayed opera diva, Maria Callas, and had to memorize four page long monologues and swears one night while performing she felt the spiritual presence of someone beside her. She also held the lead role that all young teenage men drool over as Mrs. Robinson in ?The Graduate? and directed and choreographed ?Dirty Rotten Scoundrels.? And the list goes on and on.
In the near future, she?ll direct ?Alice in Wonderland? and be involved at the ?Christmas Spectacular? at the Playhouse. As for after that, she wants to continue to stay active in the theater and be around her children and husband as much as possible.  Did I mention she and her husband have been married for over a quarter of a century (a feat in itself these days) and that she has been part of the playhouse for over five decades.
Talk about commitment.
I can only imagine (and hope) ?through her ? and the life of her children and grandchildren ?that the talent that has been passed down the line through her family?.will continue to be seen (in Erie and beyond)?for many more generations to come. As Sly and the Family Stone once said ? her life, truly is, a family affair.