You Ought to Know: The Authentic Passion of Marc Berarducci
He left Erie at the age of 18, backpacked through Europe, and found a passion for the culinary arts. Now Marc Berarducci is back and ready to share that passion with Erie.
January 11, 2012 at 10:00 AM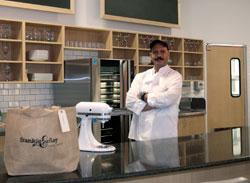 They call it "the circle of life" for good reason. Life can be a long, meandering journey, but in the end lies the beginning; we all return, in a manner of speaking, from whence we came, bringing with us the tastes and interests developed on that long meandering journey. Marc Berarducci's own meandering journey began shortly after high school, and Erie is right to be excited about what he's bringing with him. "I'm trying to develop something unusual, something different," he tells me. "Something that depicts the passion in food, something authentic. That's my ultimate goal."
As I sit with Berarducci on this mild January day, I notice that he carries with him the manner of a European; or at the very least, as a European with an above-average insight into American culture. "I left Erie at the age of 18, and then I went off to Switzerland at the age of 20 to finish my undergraduate studies," he says "Then I went on to do my Master's in Hospitality Marketing in Geneva [Switzerland]. Having completed that, I got my first job in Paris. I was with Ford, doing marketing."
Sounds like a dream come true, right? A young man, traipsing about Europe, landing a good job with an internationally-known company? Turns out, it was but the beginning of Marc's meandering journey.
"I started dabbling in catering courses at the Cordon Bleu in Paris for a year and a half. I took evening and weekend courses. Following that, I was transferred up to London, still with Ford, and then I was transferred to Rome. Finally, I said, 'I'm working 12 hours a day, this is crazy!' so I quit it all, went to Florence [Italy] where I had some family and lots of friends, and started redefining myself. I wanted to cultivate my passion for the culinary arts."
Now it really sounds like a dream come true – ditching that good job with an internationally-known company to pursue his true passion.
"I managed to work with some friends in their kitchen for a summer, 14 hours a day, with my maestro, the pasta-maker, making wonderful sauces." Marc's eyes look off to a faraway place as he tells me about all he learned on this portion of his journey, giving me the feeling that in his head, he is back there, right now, instead of sipping a double espresso with me at Romolo's on West Eighth Street. "It was just a really good experience. It killed me, 14 hours a day, but it was a great experience."
It's been said that if you do what you love for a living, you'll never work a day in your life; Marc gave up working 12-hour days to "work" 14-hour days cultivating his passion. "I left that with a Master's Degree in Culinary Arts, pretty much, obviously focusing on the Italian or Tuscan palate."
After focusing on culinary consulting in Italy for a few years, the circle of life unexpectedly tugged on Marc's sleeve and eventually steered him back towards Erie. "I came back here about a year ago," he says, without a hint of reservation. "My mother [Susan Adams] had a health issue, and my father [Dr. Edward Berarducci] passed away about three years ago, so we [Marc and his daughter] came back to help her out."
After being away – far away – for nearly 30 years, Marc notes that while some things in Erie are different, many things remain the same. "Erie's funny; Erie really hasn't changed much in 30 years. Erie doesn't like change, but there are people who look forward to some innovative changes to the city, and there are a few of these places popping up…I think there are a lot of possibilities in this city for change."
One of those changes Marc brings back from his meandering journey marries his passion for culinary authenticity with a revered local landmark, which is where Marc's Erie roots come in handy; he knows that as much as Erie needs change, that change must be grounded firmly in tradition to succeed. "Erie's ready for some new things. I'm not re-inventing the wheel, I'm giving people something authentic."
The "new" Stonehouse Inn, will be opening to the public by reservation only, on Tuesdays and Fridays starting January 17. "Tuesdays will be called 'giro d' Italia' ['tour of Italy'] so we'll be going around focusing on specific regions of the country. Friday is more of a Mediterranean night, could be Greek, French, Italian, or whatever. So for the time being, we're going to be focusing on those two nights, and see how that evolves."
The Stonehouse, which Marc calls "an Erie icon," is a symbol of that which has not changed in Erie, but it is also a symbol of that which could change in Erie. His excitement is evident as he talks about it. "It's like a step back in time. It's still the old setting – you walk in, see the fireplace and things like that. The charm of the Stonehouse isn't changing. I don't want to change the image of the Stonehouse… I just want to add some additional attributes to it. I want to try to make it something authentic and affordable."
Marc's cuisine should seem right at home in this authentic setting. "My goal is not, per se, in 'high-end' but more so in authenticity. I don't like the 'nouvelle cuisine,' I don't like all this fusion. That's not me. I like to put something on your plate that will explode with flavor – something simple, something authentic. My training is in Tuscan food, which is the simplest thing in the world: real flavors that really stand out."
While Marc's desire for culinary authenticity is evident, his desire to create an authentic setting is no less a priority. "I want to create a relationship with the customer, as if you were coming to my house for dinner. There's no a la carte menu – you get what I made for you. I'm going to come out and sit at your table and say, 'This is what I made for you tonight.' There will be some signature items, but you really won't know what you're going to get until you get it."
If you can't wait to experience what comes out of Marc's kitchen at the Stonehouse – or if you can't get a reservation at this smallish, intimate venue – Marc plans on bringing his authentic passion to your kitchen as well. "I was very fortunate to get involved with Frankie and May [the new grocer opening at 1101 Peninsula Drive]. I'm working in their demo kitchen, I'll be teaching some courses, and I will be also making some of my own food products, selling to them wholesale, and they'll be reselling, like my jumbo ravioli, porcini gnocchi, fresh pasta, some sauces, some pestos, things like that."
It's clear that Marc Berarducci's endeavors here are an unforeseen result of the long meandering journey of an 18-year old kid from Erie. The circular voyage of Marc's life, from Erie's little Italy to Europe's real Italy, has brought him back to us so that he can share a taste of the passion he picked up along the way. This is exactly the kind of authentic change, grounded in tradition, that Erie would do well to embrace.