You Ought to Know: Tim Brown
He's cooked for presidents, speaks six languages, and makes something more than just ice cream. Abby Badach tells us you ought to know Tim Brown of Gelateria Barbara.
July 19, 2011 at 10:00 AM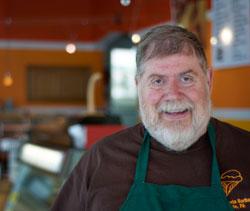 Yes, Tim Brown, co-owner and co-founder of Gelateria Barbara, 602 W. 18th St., is a culinary artist – not only by trade, but by his very essence. He spent 30 years as an executive chef all around the world – Hawaii, Los Angeles, Florida – and did everything from make breakfast for 1,000 people to cook dinner for the president of the United States.
Multiple times.
After that, he devoted 16 years to a career as a tenured professor of the culinary arts at Indiana University of Pennsylvania.
Just listen to the way Brown says "gelato" – with a little sigh in the middle, a little sospiro, the emphasis like this: gel-LAH-to, which distinguishes it greatly from my decidedly American "jell-addo."
Brown – a true gelataio, or, person who makes gelato – crafts his product with a time-tested, authentic Italian machine from the 1970s (it was designed in the late 1940s) and, of course, a heaping cup of instinct.
"You can't have a 15-year old back there who pushes a button and waits for it to beep," he said. "There's no computer controls; there's nothing. You have to look at it and say, 'Yeah, it's done," or, 'No, it needs a little more time.'"
The Gelato
So what's the difference between gelato and ice cream? Ice cream has a federal definition, Brown explained – it has to be called "ice cream," and it has to have a minimum of 10 percent butterfat. The cheapest ice cream you buy has 10 percent butterfat. The expensive brands – the premiums and super-premiums – can go anywhere from 14 to 24 percent butterfat.
"And unfortunately, in this instance, fat doesn't equal flavor," he said. "Fat, especially when it's cold and frozen, hides flavor – it masks flavor."
Gelato, however, has a lower butterfat content than ice cream (and, conversely, typically more sugar). Nothing Brown makes has more than 7 ½ percent butterfat, which makes the flavors really "sparkle." The fruit flavors he crafts have no butterfat at all.
"Is all of it better for you than regular ice cream? Probably not – but I'm not asking you to come in for a health food," he said. "It's about indulgence, it's about enjoying it – and like everything, should be enjoyed in moderation."
And Brown is dedicated. The day before we spoke, he said, he spent all day – from 10 a.m. to 6:30 p.m. – making gelato. Brown said he has about 200 formulas that he draws from, all of which begin with a "base mix" he purchases from Titusville Dairy. To that mix, he adds different ingredients based on the flavor – anything from chocolate to fresh fruit to pineapple and hot peppers.
That's right – pineapple and hot pepper gelato. He calls it Thai Pineapple – "It sounds terribly wrong," he said with a laugh.
Brown got the idea during a trip to Bangkok when street vendors were selling sticks of the fruit rolled in cayenne pepper.
"The juxtaposition between the sweet and hot, and the tartness of the pineapple, really, really works," he said.
The flavor is now being sold in gelaterias in northern Italy.
Another unique flavor to Gelateria Barbara is a gelato made with fresh pear, gorgonzola cheese and walnuts – dreamt up one night when Brown and a fellow gelataio friend were out to dinner.
Over a few – OK, maybe more than a few – glasses of grappa (an Italian grape-based pomace brandy), they recalled their dessert plate of those three ingredients and decided it would make for superb gelato.
The next morning, they perfected the formula in his friend's gelateria – "Even in an inebriated state, we were smart enough to write it down," Brown said with a laugh – and the rest was history.
Delicious, delicious history.
The shop – and Barbara
Gelateria Barbara is housed in a former flower shop in the heart of Erie's historic Little Italy neighborhood, on the corner of 18th and Cherry streets. They started building on it in 2004, spent a year on construction and opened in May 2005. Brown said they've gotten more business every year since they've opened. The neighborhood is a good fit, he said; when you're selling an authentic product – in this case, a historically Italian dessert – it's good to be surrounded by the culture.
Brown has been known to greet his customers in Italian, and he teaches his employees to greet them the same way.
"I'm blessed with a wonderful team of employees," Brown said. One employee even suggested a gelato flavor to him – melon berry, while he was munching on a bowl of watermelon and strawberries while off the clock – which turned out to be a smash hit. Brown has instructed his team on how to make fresh pasta, too – everything from spaghetti to ravioli to gnocci – which the shop also sells.
Brown speaks at least six languages, which he learned during his travels from kitchen to kitchen in countries all around the world. He has a firm belief in speaking the language of where he is, Brown noted – when he was living in Los Angeles, for example, he learned a functional amount of Spanish upon learning that it was the native language of his staff.
"I can't tell you that I can stand on the street corner and have a discussion about the stock market," Brown said, "but I can run a kitchen that way."
With a career that took you all over the world, I asked him, what made you come to Erie? Is this your hometown?
"No," he said. "I fell in love."
That would be Barbara, the store's namesake, who serves as Brown's partner in life as well as his partner in the shop. The two met at a conference for adult education and have been together for nearly 12 years.
Brown hails from northern Minnesota.
"It took me about 19 years to realize it was never going to get any warmer," he said. From then on, he sought out more temperate climates – and then, eventually, Erie.
The shop, painted in thick, horizontal stripes of vibrant color, stays open all year round, though Brown says business always picks up in the summertime. Brown's summer staff clocks in at seven members, while it typically tapers to three in the winter months.
Last winter was particularly tough on the gelateria. A traffic accident sent a snowplow spiraling into the storefront, and the gelateria was closed for three months. But the show must go on – and after a valiant cleanup effort, Gelateria Barbara was open for business once again.
Brown said he's happy where he's at – he gets to instruct his staff in the intricate work of the culinary arts, he lets his creativity flow when dreaming up new flavors and he is proud of the authentically Italian product he brings to the Erie community.
"What I do here are exactly the same methods, flavors and the same tastes that you would get in Italy," he said.
An authentic product brought to you buy a man who's spent a lifetime devoted to learning the art and culture of food – now that's sweet.