Your Guide to 2016 Fairs
Five opportunities to finish summer with family fun
August 31, 2016 at 2:15 PM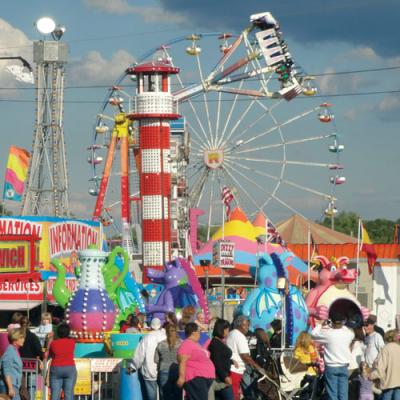 Was it even summer if you didn't attend a fair? Snack on a funnel cake? Take a ride on the Ferris wheel? 
Fortunately, you have plenty of time. Summer ends on Thursday, Sept. 22, and if you were so determined, you could visit a local fair nearly every day until then. Though you'd consume an alarming amount of hot dogs, pizza, and caramel apples, it might be enough to hold you over until next year's festivities. 
The Crawford County Fair has just ended, but the Erie County Fair began Sunday, Aug. 28 and lasts until Saturday, Sept. 3. The trend continues with the Spartansburg Community Fair from Sept. 3-10 and the Waterford Community Fair from Sept. 5-10. The season closes with the Albion Area Fair from Sept. 13-17 and the North East Community Fair from Sept. 15-17, leaving only a few days where you will have to cook your own dinner and find alternative entertainment. 
Erie County Fair, Wattsburg Agricultural Society
Sunday, Aug. 28 to Saturday, Sept. 3
After 132 years, the Erie County Fair still draws a crowd. This year's festivities include a performance by Chris Higbee, a talented singer and fiddler who is returning by popular demand, and a unique motorcycle-racing show put on by the Fearless Flores Family inside the "Globe of Death," a metal ball. This traveling family of four was featured on the sixth season of America's Got Talent. They've performed across the country, but this is their first time at the Erie County Fair.
Admission is $8 per person, which includes parking, most rides, and grandstand entrance, except Friday and Saturday.
13993 Rtes. 8 & 89 // 739.2232 // wattsburgfair.com
Spartansburg Community Fair 
Saturday, Sept. 3 to Saturday, Sept. 10
The Spartansburg Fair includes tractor pulls, truck pulls, and a game of cow patty bingo throughout the week. On the final day, a parade is held at 11 a.m. that includes antique cars and tractors, marching bands, clowns, and more. Later that night, the celebration continues with a demolition derby and fireworks. 
Admission is $4, though children under 12 are free. Ride passes cost $9. 
214 Jefferson St., Spartansburg // spartansburgcommunityfair.com
Waterford Community Fair
Monday, Sept. 5 to Saturday, Sept. 10
The 71st Waterford Community Fair has a schedule packed full of family-friendly events. This year's headlining event, a monster truck show, takes place on Saturday, Sept. 10. Rides will be available, as well.
You can currently purchase fair booster buttons online for $8. This covers admission costs for every day of the fair, but not entrance to grandstand events. Advance sale Ride-a-Rama passes are available for $15 per day. 
13012 Rte. 19, Waterford // 796.6923 // waterfordfair.org 
Albion Area Fair 
Tuesday, Sept. 13 to Saturday, Sept. 17
The Albion Area Fair proudly proclaims that it is "the biggest little fair around." It includes tractor pulling competitions, baking contests, and a horseshoe tournament. Admission is $5 per person, though children under 12 enter for free. 
Academy St., Albion // 756.3911 // albionfair.com
North East Community Fair 
Thursday, Sept. 15 to Saturday, Sept. 17
The mission of the North East Community Fair is to educate the community and provide a place where people can show off their work. It's held annually at the North East High School gymnasium. Admission is free.
1901 Freeport Rd., North East // northeastcommunityfair.org
Tracy Geibel can be reached at tgeibel@ErieReader.com.