Youth Movement
With a new generation headed to Harrisburg, Pennsylvania politics are set for a change. Sean Wiley and Ryan Bizzarro - Erie's newest legislators - get the Vaillancourt treatment in this issue's cover story.
January 22, 2013 at 10:08 PM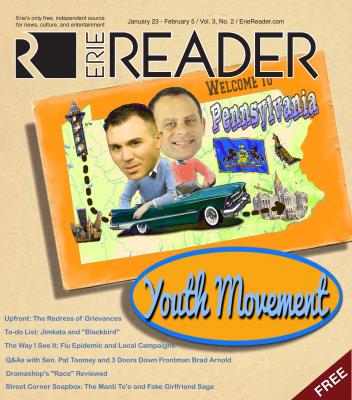 After 2 years – almost to the day – since attending Gov. Tom Corbett's Inaugural Ball in 2010, I once again found myself hurtling through the Bible-black darkness, southeast-bound, seeking the Tuesday twilight of a sunrise that was still several hours off. These were the very first hours of the new year, and they would be spent piloting several thousand pounds of steel, rubber, and plastic to Harrisburg, the seat of the government of the Commonwealth of Pennsylvania.
The sure-footed silvery Subaru was soft and warm and safe and even comfortable, like an old horse. Turning in after 2 a.m. and rising before 4 made the subtle hum of the sedan that much more sedating – hypnotic even, akin to a womb-like shell providing shelter, serenity, and life support, without which one would surely perish in the cold, lonely mountains at this time of night, at this time of year. It was snowy and slick; treacherous terrain for one so modestly equipped, but ultimately surmountable. And surmount we would, that sure-footed silvery Subaru and I, because we had a schedule to keep – I had to pick up my press credentials by 10 a.m. for the swearing-in ceremonies of our newest elected officials, State Representative Ryan Bizzarro and State Senator Sean Wiley.
Bizzarro and Wiley were swept into office last November, replacing the long-serving and well-seasoned John Hornaman and Jane Earll. Their victories were almost inevitable. Bizzarro, a Democrat from a prominent local family in a democratic district, squeaked past formidable Republican Jason Owen; Wiley, a strong, high-ceilinged candidate with only weak opposition, steamrolled Republican challenger Janet Anderson. These newborn legislators, full of potential and promise and progressive pragmatism, would bring with them not only the hopes and dreams of the people of Erie County, but also the fears and nightmares.
But above all, they would carry with them the confidence and the trust of the majority of the voters of their respective districts, a tremendous privilege and a heavy burden to shoulder, especially considering their relative youth – Wiley is just 42, and Bizzaro, still a tender 26. Their election means that the average age of the legislators in these two seats drops from well over 60 to just over 30. Their election heralds a new generation of leadership. Their time is nearly here, and their election signifies the genesis of a youth movement in Erie.
"The voters have spoken very loudly about the next generation of leadership in this community," said Wiley, the elder of our two new legislators. "It's important that we cultivate that next generation."
Wiley's clear blue eyes seem to change with the environment; they are light and subtle at times, and dark and steely at others, but they are always staring directly into yours. He looks younger than his years, but when he speaks, it is with the grandfatherly comfort and confidence of a man twice his age – measured, calm, and deliberate. He's not as tall as you might think, but he's slim and presentable with short, dark brown hair and a slightly receding hairline that speaks to the life experience he brings to his new job.
"The next generation of leadership is thinking much bigger than we have in the past," he said. The product of an Italian immigrant mother and an Erie-born father, Wiley's roots are overwhelmingly blue-collar, but he cites his parents' perseverance and hard work as determining factors in  who he is today.
"I was a latchkey kid. They both worked full-time. They sacrificed a lot for what I was able to gain," he said. His appreciation for his parents is clearly deep yet lies close to the surface. "My father was a cigarette salesman for a number of years and worked his way up into an executive role with Phillip Morris. My mother worked for a plastic surgeon for 26 years, and retired from there. She still works part-time. She's amazing, absolutely remarkable; the sun rises and sets on her."
"I was very fortunate," he continued. "My mother and father worked their tails off to make it happen. In the very early stages, it was tough, but my aunts and uncles were all blue-collar – my uncles worked at GE for 25 or 30 years on the shop floor. But I was very fortunate that my parents worked very hard and moved up the ladder very quickly."
Growing up on Sigsbee Street, Wiley and his family moved to the west side of town when he was still very young before eventually settling in Fairview, where he spent the next 15 years of his life. He went to Fairview High School, graduating in 1989, and then attended DeVry University in Columbus, Ohio, leaving with a bachelor's degree in business operations before returning home.
"In 1990, I attended Mercyhurst College, but it was too close to home for me," Wiley said. "I needed to leave, I needed to move out of town. I needed to have some independence. I was looking at the traditional universities – Ohio State, Penn State, Pitt – and the opportunity came up through a friend of mine who said, 'Hey, you have to look at this school, they have a great business degree.' I had the manufacturing end of it, the sales end of it, the entrepreneurial component, the accounting component all wrapped into one degree, which I really liked."
Wiley liked the fact that he could pursue a diverse degree, because like many of us at that time in our lives, he didn't know exactly what he wanted to do. But he did have an inkling.
"When I was a kid, my grandfather was in the political arena, and I always knew I wanted to do that in some capacity, but I didn't know how to get there," he said. "So I had to do the traditional thing. I had my girlfriend at the time, who is my wife now, and I knew that we were going to be together forever. I had to get a job, and get a degree that made sense and correlated with my job opportunities, and go back [to Erie] and make this happen, and start life. So I took the approach of, 'Yeah, that's a dream that I have but I have to pay the bills, so this is what I'm going to do right now. '"
The "right now" for Wiley consisted of getting a job and paying the bills. "After I got home from college, I got into the building industry. I worked there in the summers [in college]; I was throwing shingles, unloading trucks – I did all of that. Then I was given the opportunity to get a job right away [after graduation] with the company I worked for – Presta Contractor Supply. I moved into the sales end of it, the office end of it, and did a lot of the white-collar component of it."
During a stint while he ran the inside sales department at McInnes Rolled Rings on East 12th Street, Wiley was asked to go into outside sales and sell product in the state of Indiana. His wife was pregnant at the time, prompting some soul-searching choices for the young family man. "We both made the decision that this was the best place for us."
Not long after, Wiley was offered the opportunity to work in government, where he eventually served as the Erie County Director of Administration, reporting to then-County Executive Mark DiVecchio.
"That changed my life completely. That was the switch. I took a huge pay cut to do it, but I had the opportunity to do something I really loved, and it was great. It was the most amazing 3 years of my life."
I arrived in Harrisburg with just 15 minutes to spare that unseasonably warm January morning; it had warmed up to forty-something degrees, and jacketless, I hurriedly made my way from my parking spot near the capitol complex to the western entrance of the Pennsylvania State Capitol building.
The Pennsylvania State Capitol building is breathtaking. Magnificent. Stunning. Both inside and out. Designed by Philadelphia native Joseph Miller Huston and constructed in 1902 of hearty Vermont granite in the Beaux-Arts style, it is certainly one of the handsomest if not the handsomest state capitol building in the nation. I know of no other such structure serving as the seat of state government that compares favorably to it, and I've personally visited nearly a quarter of them – including Arizona, Colorado, both Carolinas, Georgia, Illinois, Indiana, Massachusetts, Ohio, Utah, Virginia, and Wisconsin.
Featuring a gilt brass central dome with a diameter of 94 feet that rises more than 270 feet above the seemingly-ancient streets below and crowned by a 14-foot tall golden statue called Commonwealth – designed by École des Beaux Arts graduate Roland Hinton Perry – the capitol building creates a brazen divergence from the lumpy grey sky, standing as a comforting symbol of humankind's timeless desire to exert some control and sense of order over both its own environment, and affairs.
This dome – supposedly inspired by St. Peter's Basicila in the Vatican – serves as the center of a gargantuan 475-room building that is more than 500 feet wide from end to end and houses the Senate chamber in the north wing, and the House chamber in the south. Lavishly decorated throughout with murals, mosaics, and stained-glass windows surrounding sweeping marble stairways and rich, dark wood trim, it is here that men and women come – from all races, from all religions, and from all ages – to do the work of the people. They hail from Lancaster and Latrobe, from Indianola and Industry, and from Allentown and Altoona, and from Erie. Like Ryan Bizzarro.
"It's not just an Erie thing; most of the freshmen are relatively young going into this election cycle," said Ryan Bizzarro, the younger of our two new legislators. He's tall, thin, and clean-cut, with soft, soothing brown eyes that suggest a wisdom beyond his years. Immaculately attired and meticulously groomed, Bizzarro speaks with a precision not unlike his appearance – neat, clean, and reasonable.
"My parents were both born and raised here," Bizzarro said. "I have deep roots in this community." Like Wiley, he is of Italian extraction. "My family, on my father's side, they came from Italy, had nothing and built themselves from the bottom up."
Also like Wiley, he spent his earliest days in the city before heading west. "The exact address is 2817 Raspberry. We lived there until 1994, and then we moved to Millcreek Township," he said. "I went to Sacred Heart for kindergarten through 5th grade; then I went to West Lake Middle School, then McDowell High School, then on to Edinboro University [of Pennsylvania]."
Growing up, Bizzarro's passion was always criminal justice, but at Edinboro, he discovered another passion.  "I enjoyed helping people – I still do; but then I got bitten by the political bug, so to speak, so I switched gears and I double-majored in criminal justice and political science. I took it pretty seriously. I hit the books hard."
After graduating from Edinboro, Bizzarro went straight to the District Attorney's office, where he worked as a victim/witness coordinator. But after one year, he felt the call to return to school, enrolling in Gannon University's well-known, highly-respected master's of public administration program – that same program from which many of our younger community leaders have graduated.
"It's a great program; if you have an interest in efficiency, particularly government efficiency, government working for the people versus people working for the government, it's a great program to be in," he said. "I think anybody who's running for public office could learn a lot there."
Bizzarro cited the quality of the instruction and the non-partisan approach as excellent preparation for the challenges he now faces. "I had some great professors – Dr. Kozak, Dr. Ostrowski, even Dr. Onorato, who's Republican. What's right is right; there's no left, there's no right, it's very matter-of-fact, and that's how they put it."
The impact of these men on Bizzarro clearly affects how he sees himself politically. "I am pretty middle-of-the-road. Even when I went door-to-door on the campaign trail, to people that I knew were going to be supporting my opponent, I still wanted to know what issues were most important to them. You can never have enough knowledge going to down to Harrisburg."
While sprinting up the monumental steps, two at a time, leading to the capitol's entrance directly beneath the dome – all the while burdened with an overpacked backpack replete with laptop, camera, phone, sunglasses, pens, and pants-pockets filled with about $18 in change – it occurred to me that my burden was still not as great as those who were to be sworn in on this day.
Ironically, I was hurrying just to wait in a long line.
As I entered, I took note of the two huge sculptures guarding either side of the doors – The Burden of Life: The Broken Law and Love and Labor: The Unbroken Law, carved of marble by George Grey Barnard, a Bellefonte native and Art Institute of Chicago grad.
Metal detectors – those now ubiquitous municipal greeters – had to be sated before I could continue on to the appropriate credentialing authority. Of course, everything in my possession had to be lain bare before them, including my belt.
Bolting through this citadel of art, culture, and knowledge, I finally found the small offices wherein my credentials lie. Once so adorned, I poked my head into the Senate Chamber, sumptuously adorned with deep, hunter-green walls trimmed with gold and accented with redwood trim. Within the room itself, there are several rows of desks, with an aisle down the center, dotted with four 15-foot tall gilded lampposts; similar sconces ring the room. Flanking the speaker's podium are two large murals; on the left, a godlike Washington, pointing skyward as Franklin and founding fathers haggle below him. On the right, a deified Lincoln contemplatively pondering the ground as a woman in black, and obviously in mourning, looks skyward to him, surrounded by union blues.
I then made my way, minutes to spare, into the grand house chamber, evocative of a Renaissance palace and backdropped by a towering mural titled Apotheosis of Pennsylvania, where I ran into Ryan Bizzarro.
"I'm going to be focusing on education," Bizzaro said. "We can't talk about bringing jobs to the area if we don't have a skilled and educated workforce."
He's right. Erie's skilled and educated workforce – expert and intelligent in the art of manufacturing – finds itself hungry for jobs that left Erie before he was born and will never return. Retooling and retraining is in order for the tech-based economy of the 21st century, and no one knows it more than Bizzarro, who grew up never not knowing what the Internet was. But wishing and hoping for a return to the heyday of miles of assembly lines adding value to steel and iron – something some legislators still adopt as their mantra – isn't going to happen. However, Erie is still home to a thriving business community, one that must be protected and enhanced. "Business retention," he said, "and business development is also a top priority of mine. "
Another priority of his is transportation infrastructure. "We have thousands of structurally deficient bridges in the state; it's not only an economic issue, but also a public safety issue as well."
But one issue, above all, seemed to garner more import than the others. His soothing brown eyes seemed to grow hard and livid when he talked about the reclassification of Erie County from urban to rural last fall.
"Of course, I think it's ridiculous to say we're anything like Forest County… if you look at our surroundings and the type of economy we have here, you can't compare."
Last September, just before Gov. Corbett visited Erie to preside over the Governor's Arts Awards, it was announced that based on per-capita incomes, Erie would be classified as a "rural" county. Bizzarro laughed when I suggested that we should have greeted Corbett while outfitted with overalls and pitchforks. In December, Corbett promised to revisit the issue.
"We haven't heard anything since, and we're not going to," Bizzarro said.
Wiley concurred and elaborated.
"My first – and you can mark this down – my first and foremost priority is the urban-to-rural designation. There are people's lives that have been negatively impacted by this, and there are people who are on the streets because of this." He, too, was visibly upset by this pastoral reclassification. "Unacceptable," he said, because it wouldn't be very Senatorial to utter the words I think he wished he could.
"The functionally disabled community, seniors, the Barber Center – if you look at it across the board, these providers took about a 7 percent cut by that one designation change. The impact of that is people not getting the services they need, and the only way to sustain it is to cut programs. So everything that Safe Harbor provides, that Family Services provides, the Barber Center provides, that Erie County provides – those services have been cut by almost 7 percent."
On the heels of a 10 percent cut in the budget last year, this is clearly a crippling blow to those who provide services to the most vulnerable segments of our community. "Within a one-year time frame, you have a 17 percent cut to these providers. You can't sustain that, you're going to start seeing them close. I'm surprised we haven't seen that yet," he opined. "I'm very surprised."
Since their election last November, it's obvious that both men have and will continue to grow considerably as their youth movement matures.
"My philosophy is that we have to grow together," Senator Wiley said. "I don't believe that it's all about the individual growing solely. The individual, they bust their ass, they make a lot more money, they grow their businesses, they grow their personal wealth, and that's great. But there's also a difference in philosophy where they grow, they work hard, they grow their personal wealth, and it spreads amongst the entire community. The community grows together, and not just one element of the community."
His steely blue eyes reverted to their less-aggressive shade of sky.
"What I think you're going to find in this next generation of leadership – and I'm not being critical of our past; our past is our past and we have to learn from it, not live it – is probably being more open-minded to different ideas, [and] a willingness to accept differences of opinion, a willingness to accept different ideas."
"In the social arena, you're looking with a much more accepting eye on certain things that may have been taboo in the past. You're looking at personal respect of the individual and the right of individuals to decide how they live their lives. Every generation becomes a little bit more progressive, and what you're finding is a much more progressive way to lead. You're finding a more accepting group of individuals that are saying, 'Just because that's the way I choose to live my life doesn't mean I have to dictate how others live theirs.' And I think that's a beautiful thing, personally. With leadership in place that is accepting of that, you're going to find a lot of different opportunities that are going to present themselves in these communities, and I'm excited to be part of that; I'm excited to be a part of a different way of thinking, a more accepting community, a more welcoming community."
Representative Bizzarro echoed Senator Wiley's comments.
"I think both sides are coming together on those social issues. Both parties are realizing that you can't legislate morality," he said. "You see it across the board, even in the state offices. People are sick of the same old same old. Let's get some people in who have a relatively different approach and a different way of handling things. We're by tradition slower at adapting to new things than any other state because we are so traditional. But our time will come," he continued, those soothing brown eyes staring off into an uncertain, yet hopeful future. "Our time will come."