2023 Summer Events Preview
Mark your calendars for live music, cultural events in a packed summer schedule
Summertime in Erie is the absolute best, and part of what makes our summers so special is their fleeting nature. When we finally make it through our (usually) brutal winters, the warmth of summer has us all striving to make the most of it. The community shows up in droves to enjoy a packed schedule of live music, cultural events, and festivals. There's not a summer day in Erie without something to do.
Is camping out at a days-long music festival your thing? More into a BYOB, lawn chair vibe? Either way, we've got you covered. And it's not just live music that makes the Erie summers special: we've got art events, food and drink festivals, long-standing heritage fests, physical activities to get you out exploring, and history and educational series to expand your mind.
Whether you plan to pick a few activities from the following list, or pack in as many as possible, we hope that you can fully appreciate the beauty of Erie during these short-lived, glimmering, sun-soaked months.
(All events listed chronologically within each category)
JUMP TO:
Local and Local-ish Live Music Events
Expand Your Mind and Challenge Your Body
Local and Local-ish Live Music Events
Edinboro Art and Music Festival
May 19 - 21 // Various locations in downtown Edinboro // edinboroartandmusic.com
Kicking off a summer filled with music is the Edinboro Art and Music Festival. With an ever-growing lineup, featured headliners are Donna the Buffalo joined by local favorites Tiger Maple String Band. As of this writing, 22 bands are slated to perform (including national and local favorites alike). For the art portion of the festival, be sure to stop by Goodell Gardens (221 Waterford St.) for a student art show and various art and craft vendors.
Monday Music in the Woods
Mondays, Jun. 5 - Jul. 31 at 6 p.m. // Celebration Garden, 4105 Asbury Rd. // asburywoods.com
Grab your lawn chair, bring a cooler, and enjoy the beautiful setting of the Celebration Garden at Asbury Woods (adjacent to the Andrew J. Conner Nature Center) while listening to local acts performing folk, bluegrass, classic rock, and other favorites. Guests can enjoy the music and explore the nature center, the animal exhibits, and browse the gift shop.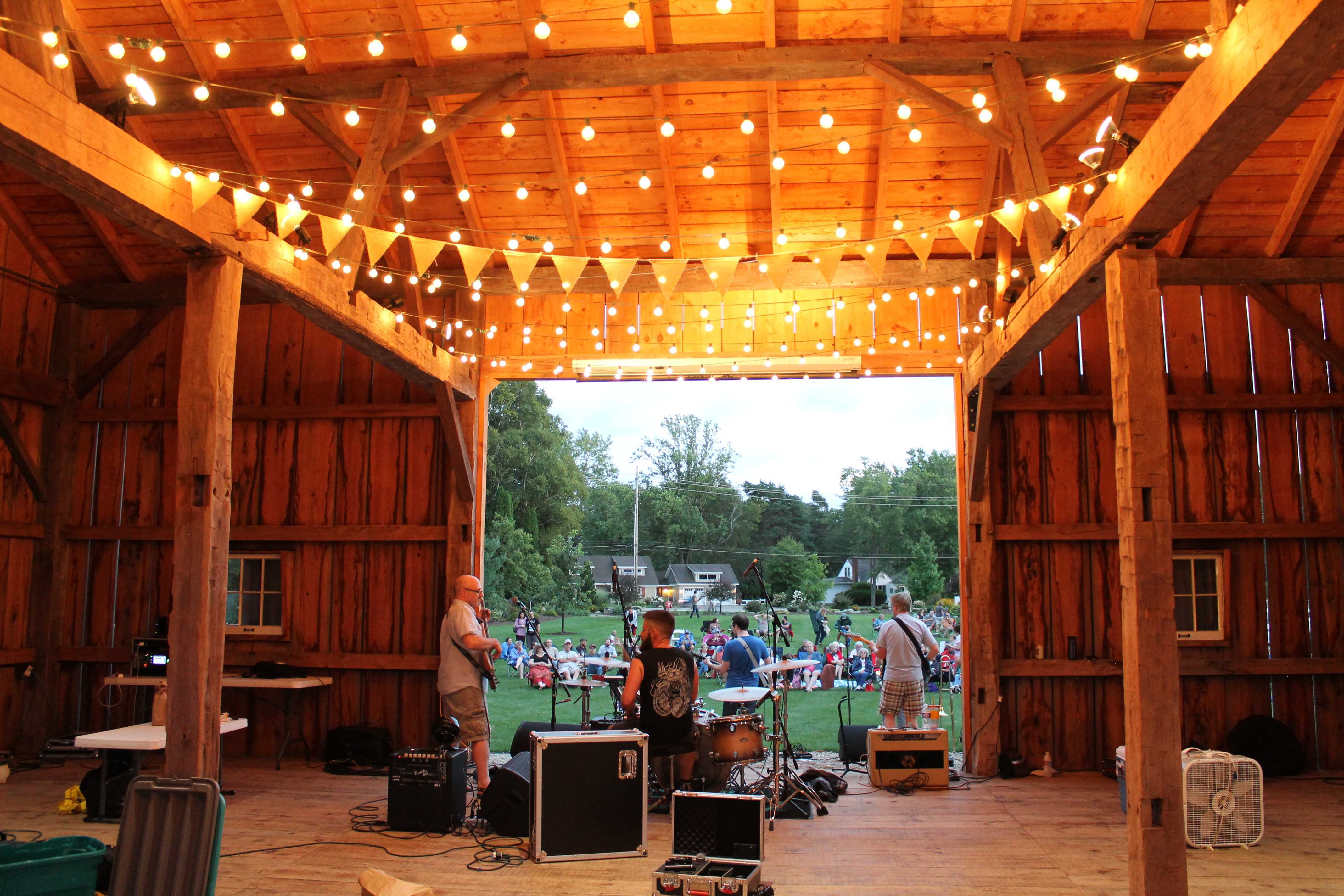 The Summer Music Series at Goodell Gardens and Homestead, Fridays throughout the summer.
Photo: Erin Phillips
Goodell Gardens and Homestead Summer Music Series
Beginning Friday, Jun. 9 at 7 p.m. // 221 Waterford St., Edinboro // goodellgardens.org
Head out to Edinboro on Friday evenings throughout the summer to enjoy the lush botanical gardens, historic homestead, and barns of Goodell Gardens, along with a fully local live music lineup and local food vendors. Spread out your blanket and enjoy the glimmers of fireflies and the fragrant summer air, accompanied by the sound of beautiful music.
Music in the Park 2023
Wednesdays, Jun. 14 - Aug. 23rd at 7 p.m. // Lake Erie Community Park, 10192 W. Lake Rd., Lake City
Enjoy the miles of trails winding through this 125-acre jewel of a community park while the sounds of local music fill the air every Wednesday evening.
Gazebo Concerts in the Park
Jun. 15, Jul. 20, and Aug. 17 at 7 p.m. // Beute Park, Lawrence Park // lawrenceparktwp.org
Every third Thursday this summer, Lawrence Park Township brings live music to their gazebo and its connected park on Iroquois Avenue. Bring a lawn chair to enjoy small-scale local music all summer long.
UPMC Sunset Music Series
Wednesdays, Jun. 21 - Jul. 26, from 5:30-8:30 p.m. // Beach 11, Presque Isle State Park // discoverpi.com
You likely already know that Erie boasts the second-best sunsets in the world, and UPMC along with Discover Presque Isle and the Presque Isle Partnership gives us all a great reason to get out and appreciate them. With live music, food trucks, hula hooping, and ice cream, it's summertime in Erie defined.
12th Annual Riverside Music Festival
June 22-25 // 1 Fountain St., Cambridge Springs // riversidebrewing.co
In a tribute to the festival that took place for years at the historic Riverside Inn (which tragically burned down in 2017), this is a multi-day, jam-packed schedule of live music on the former site of the Cambridge Springs icon. Featuring three different stages, each with their own lineup, it brings true festival vibes. This is a family friendly event and will include a family "zone" with crafts and bounce houses.
Chautauqua Institute Summer Music Series
Beginning Jun. 24 // 1 Ames Ave., Chautauqua, NY // chq.org
The historic Western New York institute is dedicated to bringing the best creative and cultural events to our region all year long. Their Summer Music Series brings some serious musical heavyweights our way including Bonnie Raitt, Natalie Merchant, The Revivalists with Band of Horses, Patti LaBelle, and many more.
30th Annual Great Blue Heron
Jun. 30 - Jul. 2 // 2361 Wait Corners Rd., Sherman, NY // greatblueheron.com
A short drive east, The Great Blue Heron is a full-on experience. This year's lineup features Donna the Buffalo, Keller and the Keels, Peter Rowan, Kaleta and Super Yamba Band, Kevin Kinsella OG JBB, and Couch along with 27 other acts (and counting). With on-site camping and the chillest vibes, you'll want to jam all weekend long.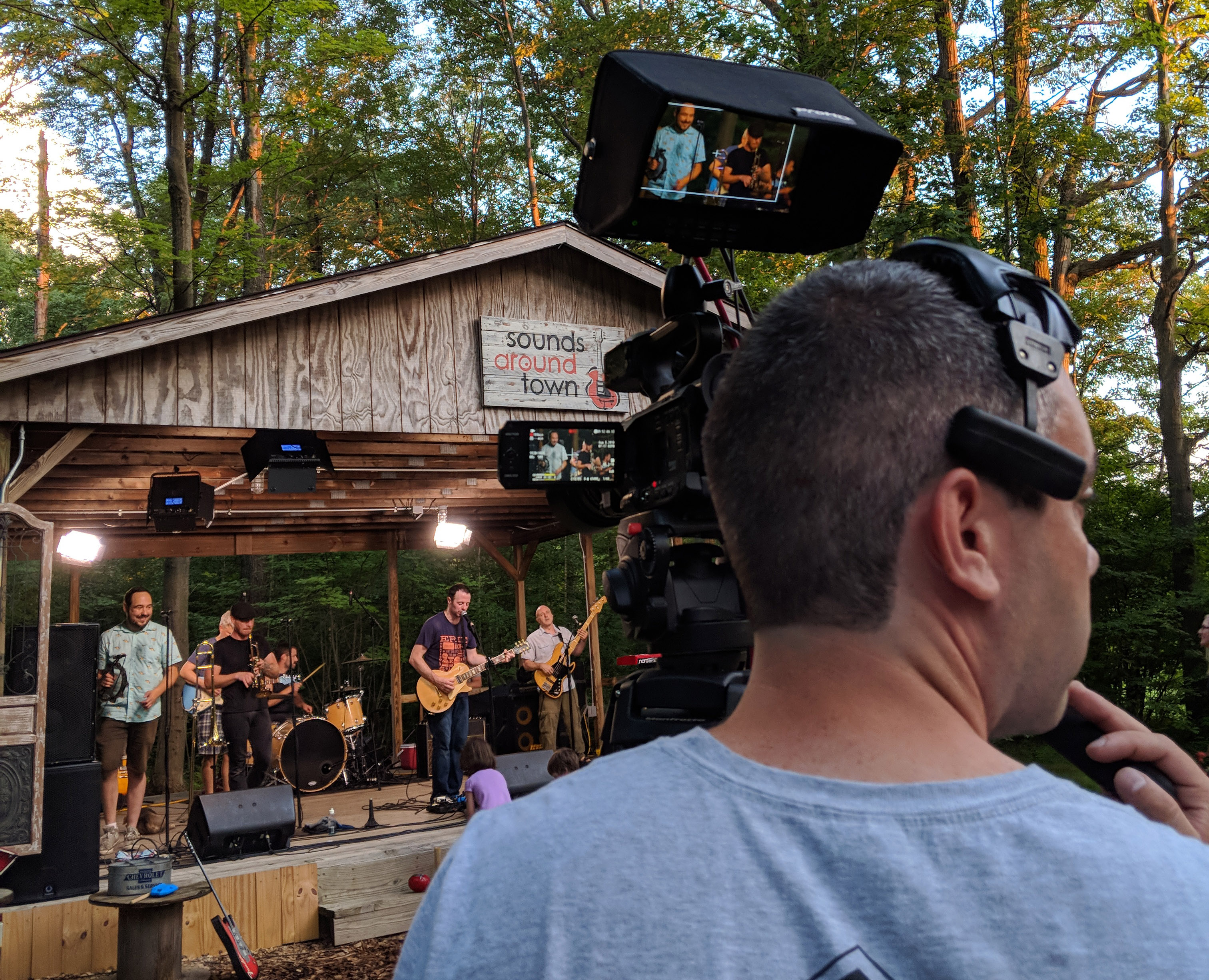 WQLN's Sounds Around Town, Fridays in July. 
Photo: Erin Phillips
WQLN Sounds Around Town
Fridays in July at 7:30 p.m. // WQLN Studios, 8425 Peach St. // wqln.org
Each year, music lovers of all ages enjoy Sounds Around Town's free concerts in the idyllic wooded setting adjacent to WQLN's studios. This is a free, family-friendly event which features a different local music group every week. Each session is recorded and will be featured in subsequent WQLN television programming.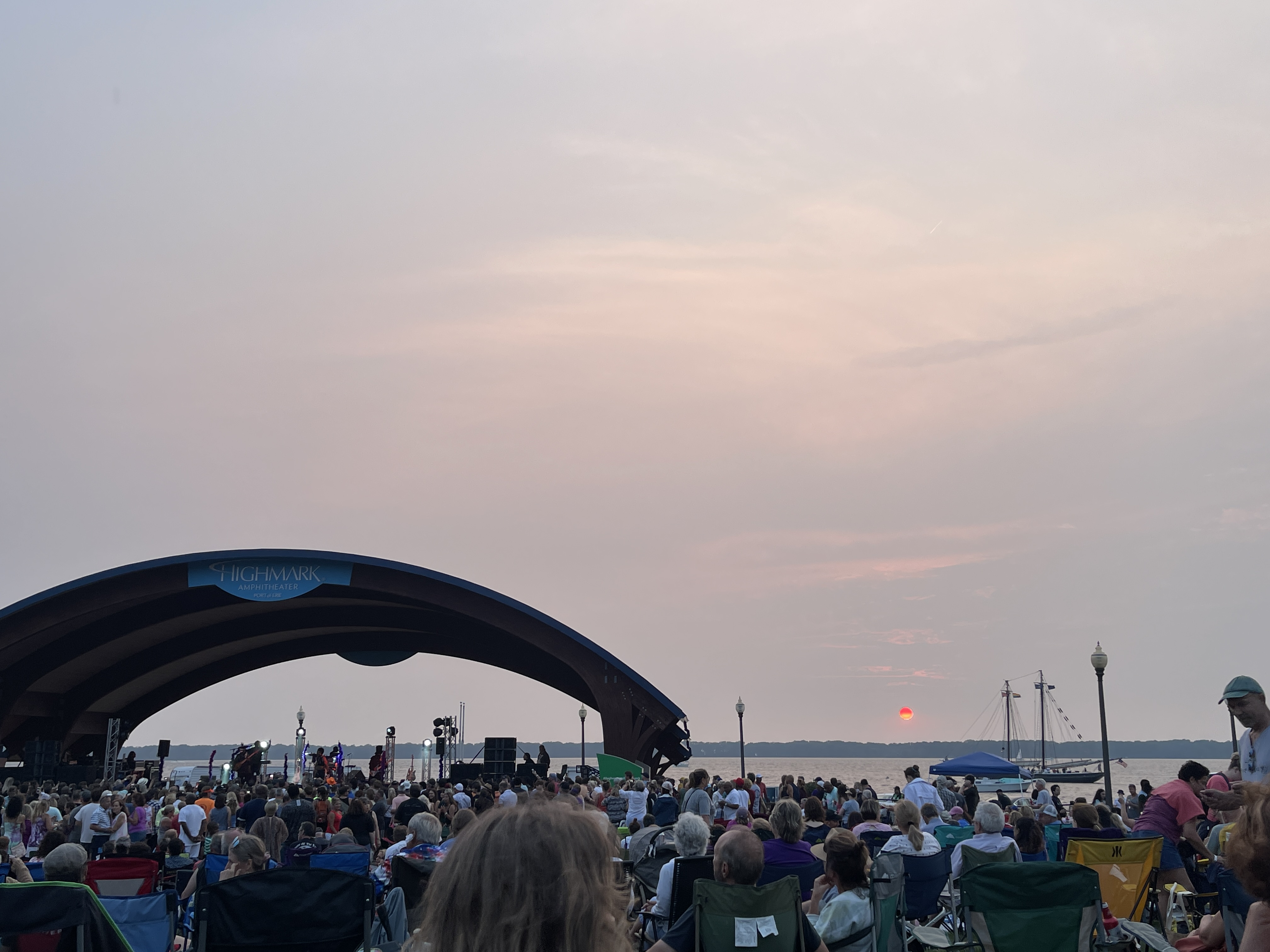 8 Great Tuesdays, Tuesdays from mid-July through August.
Photo: Jessica Hunter
8 Great Tuesdays
Tuesdays, Jul. 11 - Aug. 29, 6:30 p.m. // 726 W. Bayfront Pkwy. // porterie.org/8greattuesdays
Enjoy some great live music, featuring national headliners and local openers, in one of the most picturesque spots in Erie at Liberty Park Amphitheater. Set up your blanket on the hill overlooking the bay, with sailboats gliding along the shimmering water, and the sun setting behind the performers. No wonder it's one of the most popular Erie events each year.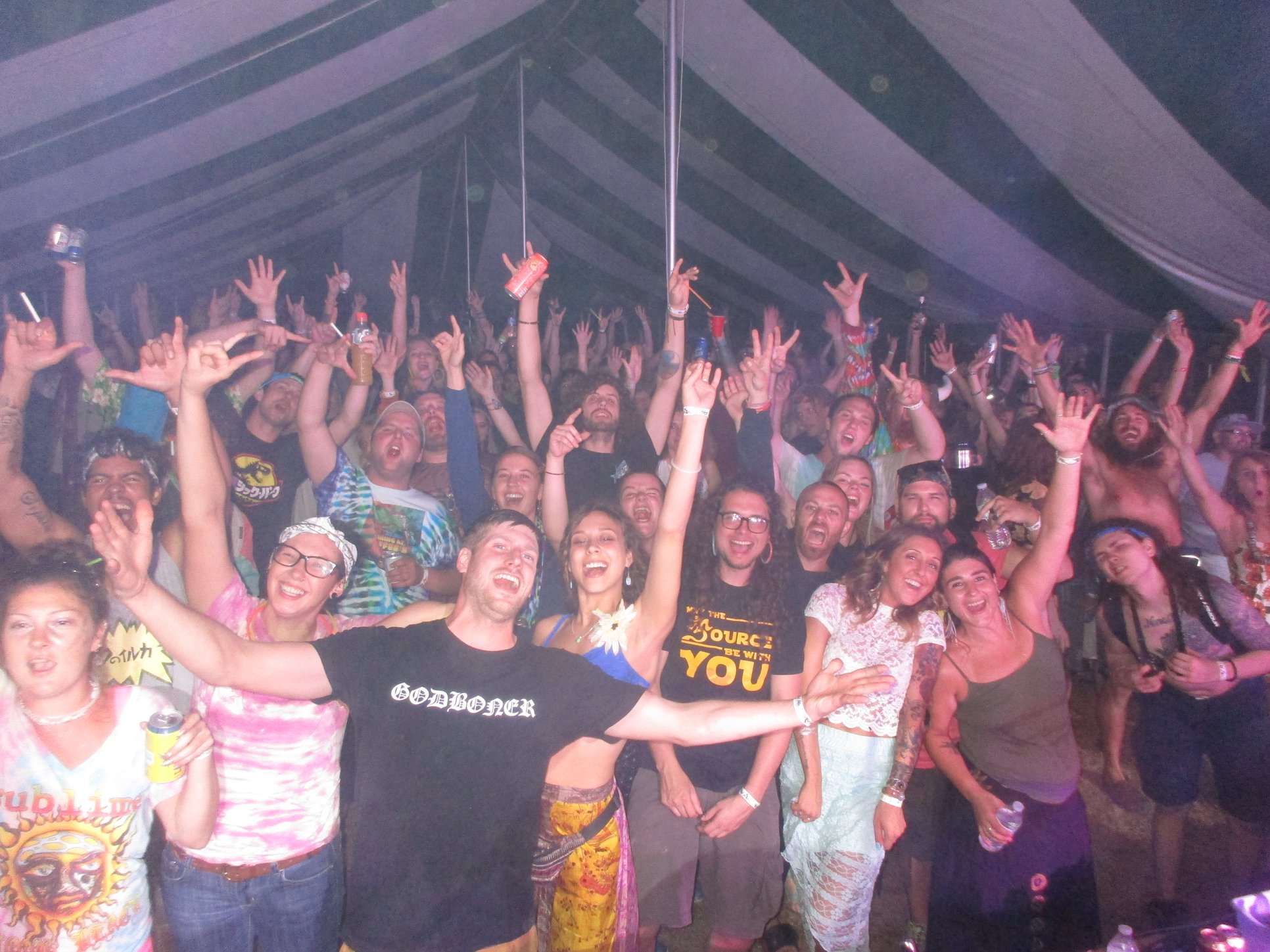 The 38th Annual Gathering At Chaffee's is scheduled for July 21-22.
Photo: Garrett Skindell
The Gathering at Chaffee's
July 21-22 // 8296 Mill St., Girard // thegatheringatchaffees.com
If you're looking for a true festival experience, get hip with the crowd that's been attending the Gathering religiously since its inception 38 years ago. With on-site camping and non-stop outdoor music: prepare to get dirty, sweaty, and absolutely blissed-out on some great music — with local and national acts in turn.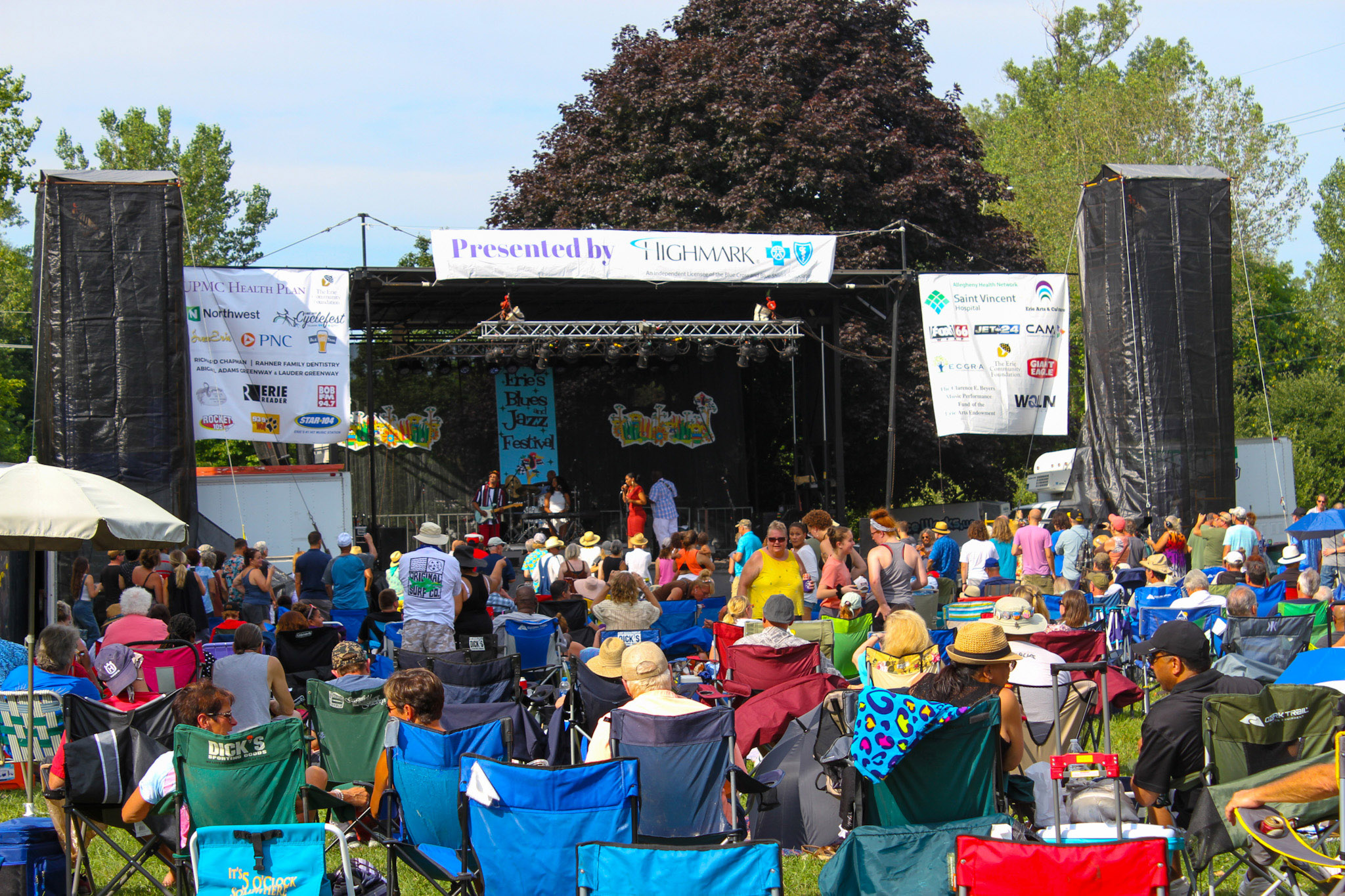 Blues and Jazz fest takes to Frontier Park for the 31st year on Aug. 4-6.
Photo: Jessica Hunter
31st Annual Blues and Jazz Festival
Aug. 4 - 6 // Frontier Park, 1501 W. 6th St., Erie // eriebluesandjazz.com
It just isn't summer without the Erie Art Museum's yearly Blues and Jazz Festival, which takes over Frontier Park at the height of summer and features outstanding national acts within the Blues or Jazz genres, with local acts interspersed. Set up your tent and get ready to dance.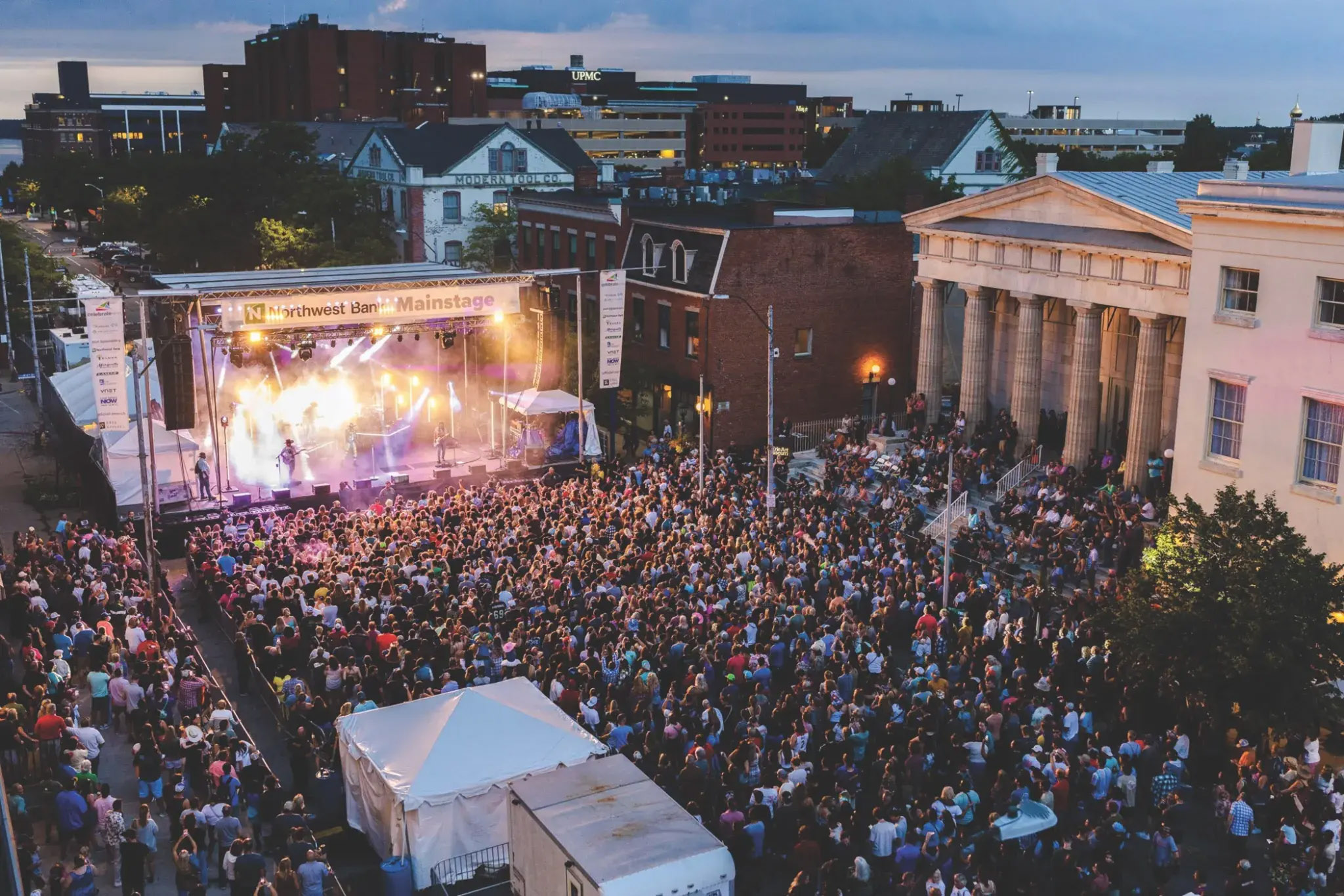 Celebrate Erie always draws a crowd. Scheduled for Aug. 18-20.
Photo: Ryan Hoover
Celebrate Erie
Aug. 18 - 20 // Downtown Erie, PA // celebrateerie.com
If you've lived in Erie for a while, you may recall a time when this festival was dubbed "We Love Erie Days." And while the name has changed, the sentiment surely hasn't. We do love Erie and Celebrate Erie is our yearly excuse to show it — with live local music and at least one major national act (TBD) each year, family-friendly arts and crafts stations set up on a closed-off State Street, and PLENTY of local food and drink. Erie sure does give us a lot to celebrate.
Our West Bayfront Porchfest
Saturday, Sept. 30 // Various locations in the West Bayfront // ourwestbayfront.org/events
Closing out the summer is the 4th Annual Our West Bayfront Porchfest. Multiple homes throughout the West Bayfront neighborhood (which includes everything west of Sassafras Street and north of 12th Street up to the Bayfront Connector) turn their porches into stages. Local bands are scheduled to play on various porches throughout the day, with transportation to and from each residence provided by Our West Bayfront and the EMTA Trolley. Enjoy a fun day of music while enjoying the historic homes of the West Bayfront.
Botanical Beverages at Goodell Gardens and Homestead
Saturday, Jul. 22 // Goodell Gardens and Homestead, 221 Waterford St., Edinboro // goodellgardens.org
Featuring locally distilled spirits from Cart/Horse Distillery, locally made hors d'oeuvres from Cali's West, and local music entertainment, you'll sip creative cocktails featuring the flavors of trees, blooms, and herbs local to the homestead, all while supporting the work of Goodell Gardens.
Beer on the Bay
Saturday, Jul. 22 from 1 p.m. to 8 p.m. // Liberty Park Amphitheater, 726 W. Bayfront Pkwy. // eriebrewingcompany.com
This annual event celebrates all the fermented hops, malts, and yeasts you can handle. Dozens of local and regional micro-brew specialists line up around Liberty Park for plenty of beer tasting. Maybe you'll discover your new favorite.
Erie's Wild Rib Cook Off and Music Festival
Sept. 7 - 10 // Perry Square, 601 State St. // erieribfest.com
Otherwise known simply as Ribfest, during this long weekend in September, Perry Square is transformed into one giant BBQ restaurant. Featuring local smokers, award-winning traveling national professionals, and mainstage musical acts all weekend — you'll be licking your fingers and tapping your toes.
North East Wine Fest
Sept. 22 - 24 // Gibson Park, 44 W. Main St., North East // nechamber.org
Enjoy the fruits of North East and beyond as you taste your way through the vintages of dozens of local and regional winemakers all gathered in Gibson Park for this annual early fall weekend. With local music, food vendors, and artisans, you can plan to stay all day.
Arts and Drafts at the Brewerie
September 2023 (exact dates tbd) // 123 W. 14th St. // facebook.com/artsanddraftsfestival
Established in 2008, this annual public art festival is an iconic event in the Erie area, as it features the work of over 70 local artists and includes a full lineup of local bands. Each year boasts a featured artist, whose lifetime of work in the Erie area is celebrated. Enjoy unique local art, music, and beer.
Expand Your Mind and Challenge Your Body
If you'd like to avoid summer brain drain while also working on your summer bod, check out the following educational and physical events happening throughout Erie this summer. Learn about local history, native species, and appreciate local art — or challenge your body with a grueling triathlon or the award-winning Barber Beast on the Bay.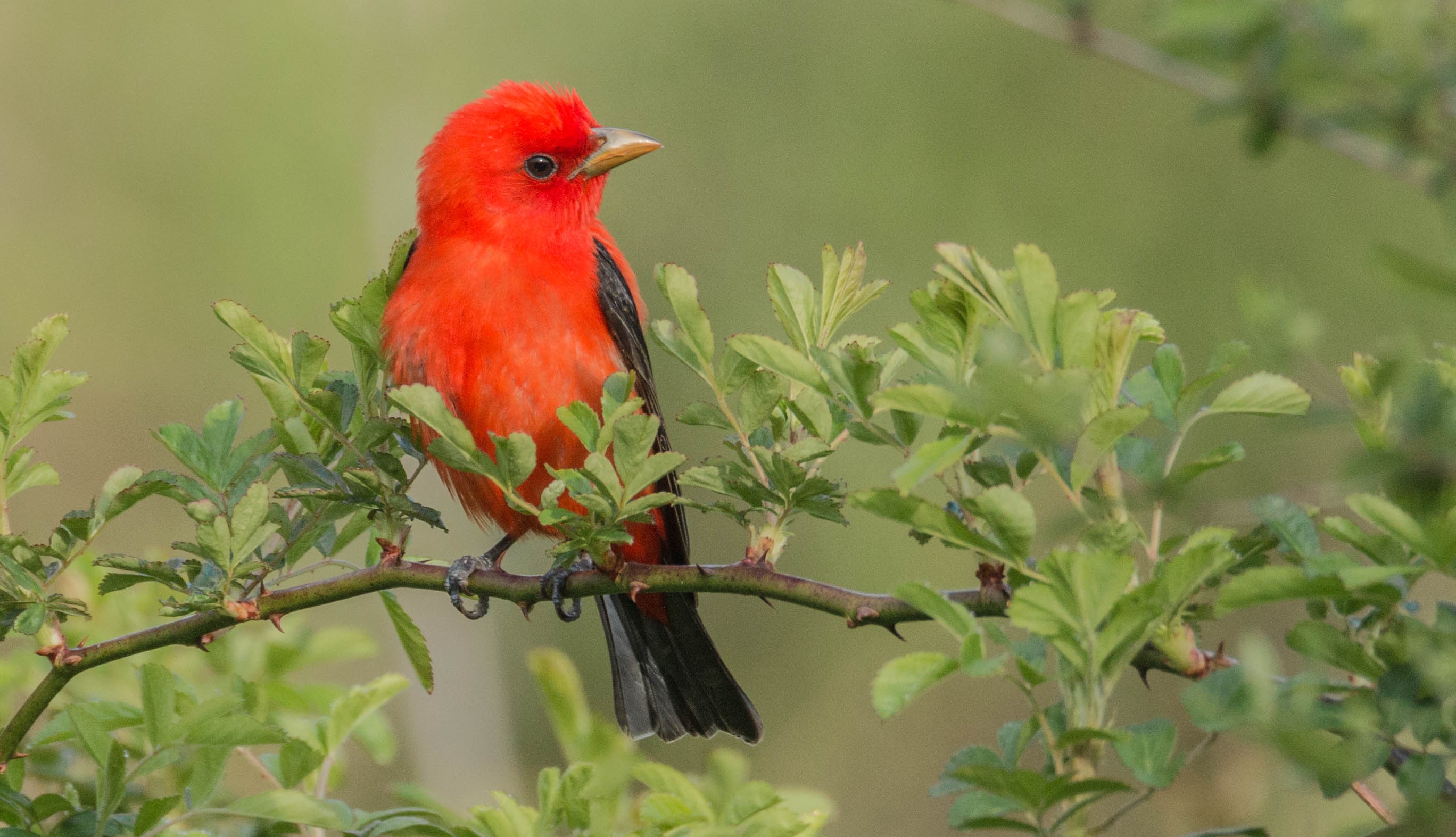 Observe birds like this Scarlet Tanager at the Erie Bird Observatory Banding Station.
Photo: Dean Zeller
Erie Bird Observatory Banding Station
Opens Apr. 21 (check back for rotating programs) 10 a.m. to 2 p.m. // Fry's Landing, Presque Isle State Park, 301 Peninsula Dr. // eriebirdobservatory.org
Learn more about our native bird species on Presque Isle with a visit to the Erie Bird Observatory's banding station at Fry's Landing. On Fridays, Saturdays, and Sundays during specific periods throughout the summer and fall, observe the capturing, data-collection, and banding of wild birds in order to monitor their migration and ultimately aid in their conservation.
7th Annual Erie Ale Works 0.01K
Friday, May 12 // 6 p.m. // eriealeworks.com
Spoiler alert, 0.01K is about 38 feet. This annual spoof on a 5K fundraiser is geared toward the more sedentary among us. With proceeds benefiting the Erie Humane Society, and plenty of brews and local food truck fare available after teams complete the grueling track — the local beer gurus at Erie Ale Works encourage teams to be as silly as possible.
One program offered through the Erie County Public Library's HistERIE week is a historic architectural bike tour.
Photo: Jeff Phillips
Erie County Public Library's HistERIE Week
Jun. 5 - 10 // Various locations around Erie // eriecounty-pa.libguides.com/histerie
The second annual HistERIE week hosted by the Erie County Public Library brings a full week of local history-related events. Learn more about where we live through guided walks, presentations and talks, historic tours, research tutorials, film screenings, and more.
CruiseTown Erie Car Show
Jun. 9 and Aug. 11 // State Street, Downtown Erie // carcruisefinder.com
Enjoy downtown Erie restaurants and bars while looking at classic and hot rod cars. Cars of all ages, makes, models, and customizations will be parked along State Street. Learn more about the history of the automotive industry through this family friendly event.
Presque Isle Poker Paddle
Saturday, Jun. 10, 9 a.m. // Presque Isle State Park Lagoons Boat Launch, 301 Peninsula Dr. // discoverpi.com
Paddlers of all kinds are welcome for this fun fundraiser on Presque Isle. Take your kayak, canoe, or paddle board to five different marine stops around Presque Isle and pick up a card to add to your hand. The team with the best poker hand at the end of the course wins cash and prizes!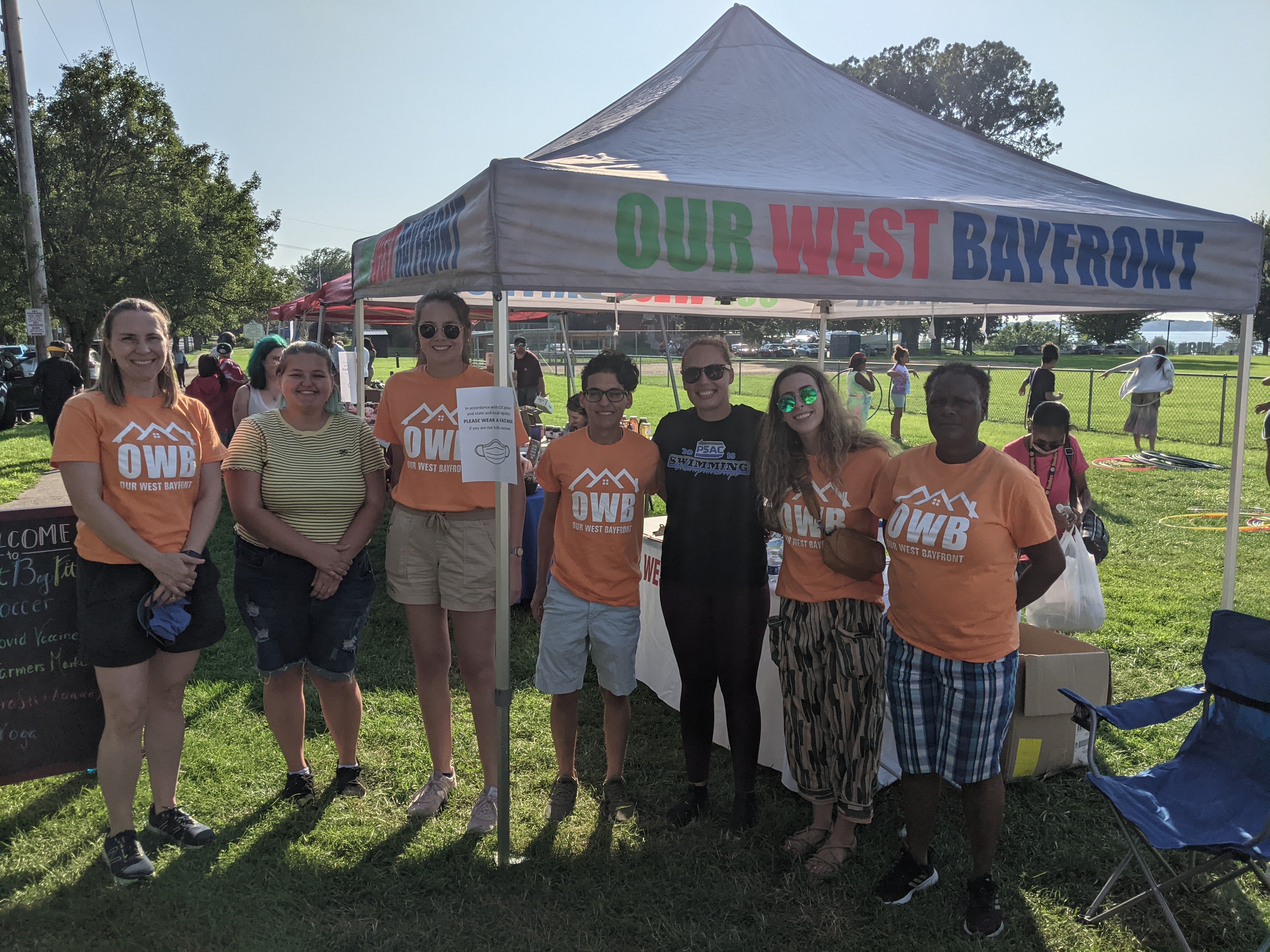 Our West Bayfront's West Bayfit events come to Erie's Bayview Park Wednesdays in June and July.
Photo: Erin Phillips
West Bayfit
Wednesdays, Jun. 14-Jul. 26 // Bayview Park, W. 2nd and Cherry St. // ourwestbayfront.org
If you've never been to the hidden gem of Bayview Park, local neighborhood organization Our West Bayfront's weekly summer event West Bayfit gives you the perfect excuse to check it out. These events combine fun, fitness, and family hosting a variety of activities, crafts, sports, local community organizations, farmers markets, and more.
Erie Art Museum Gallery Night
Jun. 23, Sept. 15, and Dec. 15 // Various locations // erieartmuseum.org/gallery-night
Think of Gallery Night as a pub crawl but with art galleries instead of bars. Hosted at various creative venues across the county including (host) Erie Art Museum, City Gallery, Ember + Forge, Kada Gallery, Grounded Print Shop, and more — stop in to multiple locations to learn something new and see a variety of local talent on display.
Erie Pridefest
Jun. 24 // Begins at The Zone, 133 W. 18th St. // nwpapride.org
This yearly celebration and parade aims to enhance visibility of Erie's LGBTQIA+ community. This family-friendly event put on by NWPA Pride Alliance invites all to join in the colorful and celebratory march beginning at the Zone and culminating at Perry Square where features include a drag show and an ever-growing, eclectic vendor market.
Discover Presque Isle
Jul. 24 - 30 // Presque Isle State Park // discoverpi.com/events/dpi
Raise money for our defining state park while learning a new skill (like archery, fishing, kayaking, etc), taking a guided hike, touring the lighthouse, or supporting local artisans. There will be bonfires on the beach, plenty of live music, local food vendors, and more. Even if you've lived here forever, there's always something new to discover at Presque Isle.
Lake Erie Cyclefest
Jul. 28 - 31 // Various locations // eriesportscommission.com/lakeeriecyclefest
An all-cycling weekend for all cycling lovers, the Erie Sports Commission brings cycling events for all fitness levels to every corner of Erie County. With beginner-friendly routes like the Downtown Slow Roll or the Presque Isle Sunrise Ride, there are also more intense routes that allow you to see the beauty of Erie County as you could never experience it from a car.
21st Annual Presque Isle Triathlon
Aug. 5 // Presque Isle State Park // discoverpi.com/events/presque-isle-triathlon
An intense athletic competition set on the most beautiful track, the Presque Isle Triathlon will test your mettle while pleasing your eyes. Athletes will begin with a 0.35-mile open-water swim course in Lake Erie off Beach 10, loop counter-clockwise around the entirety of Presque Isle for the cycling portion, then close things out with a 5K leading back to Beach 10. Whew.
COMICON Erie
Sept. 8 - 10 // Bayfront Convention Center, 1 Sassafras Pier // eriepromotions.com/comicon-erie
Get ready to geek out at the annual ComiCon Erie, presented by Erie Promotions. As in years past, there will be nationally recognized comic book authors and illustrators present to meet and greet visitors and sign comic books. Along with local artists and organizations, there will be cosplay contests, LEGO building competitions, Q & As, photo ops and more.
10th Annual Barber Beast on the Bay
Sept. 9 // Presque Isle State Park, 301 Peninsula Dr. // barberbeast.org
Winner of 2022's Best of Erie award for Best Athletic Competition, the Barber Beast on the Bay is an American Ninja Warrior-esque obstacle and physical endurance course set across 10 miles of Presque Isle. The challenging route takes participants grunting over sand, water, and trails to the ultimate benefit of the Barber National Institute. Adapted courses are available.
When our city's neighborhoods were first established, residents who immigrated to Erie from elsewhere in the world tended to settle into certain parts of the city where they could be near one another. This helped them acclimate to America while providing them with a sense of home and belonging. To celebrate heritage in Erie is to honor these cultures and neighborhoods, and we certainly have no shortage of heritage festivals to prove it. Here is a listing of all of the scheduled heritage events happening in Erie this summer. Stop by for cultural food, customs, art, and music and celebrate the international diversity of Erie.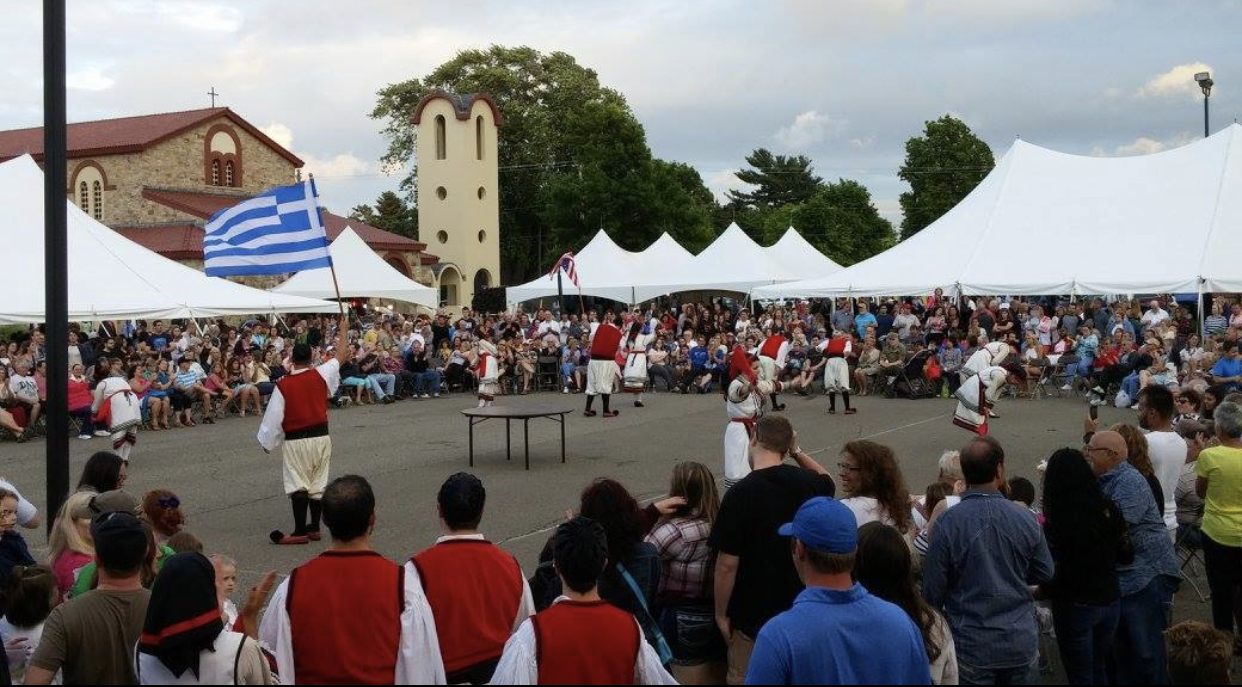 The annual Panegyri Greek Festival takes place from July 7-8 this year.
Photo: Jessica Hunter
Troika Festival 2023
May 26 - 28 // Church of the Nativity Community Center, 109 German St. // churchofthenativity.net/troika
North East Firemen's Cherry Festival
Jul. 5 - 8 // 40 N. Lake St., North East, PA // necherryfestival.org
Panegyri Greek Festival
Jul. 7 - 8 // Assumption Greek Orthodox Church, 4376 W. Lake Rd. // erieorthodox.org
Waterford Heritage Days - 50th Anniversary
Jul. 21 - 23 // Parks in downtown Waterford // waterforddays.com
The AmeriMasala
Jul. 22 // Perry Square
Dan Rice Days
Aug. 2 - 6 // 34 Main St. W., Girard, PA // danricedays.com/schedule
St. Paul's Annual Italian Festival
Aug. 11 - 13 // 1617 Walnut St. // erieitalianfest.com
Zabawa Polish Festival
Aug. 25-27 // Holy Trinity Parish, 2220 Reed St. // holytrinityrc.org
German Heritage Festival
Sept. 2 - Sept. 3 // St. Nick's Grove, 5131 Old French Rd. // dank-erie.org
Erie Irish Festival
Sept. 15-17 // St. Patrick's Church, 130 E. 4th St. // erieirishfestival.com
If funnel cakes, thrill rides, games of skill, livestock, craft and farm competitions, Americana, and live music are your thing, you might want to check out one of these annual county fairs around the region. Dating back over 100 years in some cases, they're a celebration of the agricultural history of our area.
Cochranton Community Fair - 95th Annual
Aug. 7 - 12 // cochrantonfair.org
Warren County Fair - 92nd Annual
Aug. 8 - 12 // warrencountyfair.net
Crawford County Fair - 76th Annual
Aug. 20 - 26 // crawfordcountyfairpa.com
Erie County Fair - 138th Annual
Aug. 28 - Sept. 2 // wattsburgfair.com
Spartansburg Community Fair - 101st Annual
Sept. 4 - 9 // spartansburgcommunityfair.com
Waterford Community Fair - 86th Annual
Sept. 4 // waterfordfair.org
Albion Area Fair - 78th Annual
Sept. 12 - 16 // albionfair.com