A Brief Chat with Senator Bob Casey Jr.
On accomplishments, goals, and getting back to work
November 7, 2018 at 9:00 AM
By: Ben Speggen
It was a cold Friday night in Erie, Pennsylvania. The rain was flirting with a decision of whether to break loose on those gathered in the parking lot of Lavery Brewing Company, as Senator Bob Casey, Jr. stepped out of a tour bus to greet the huddled masses squeezing in both for warmth, and in excitement to get closer to the senator.
The two-term U.S. Senator, along with Pennsylvania Gov. Tom Wolf, had arrived in Erie on Friday, Oct. 26, to officially kick off the PA Votes Blue bus tour across the commonwealth. In addition to the tour's headlining duo, the opening acts included a cadre of local Democratic politicians — City of Erie Mayor Joe Schember and Erie County Executive Kathy Dahlkemper, along with state congressional representatives Ryan Bizzarro and Pat Harkins, assembled by Erie County Democratic Party Chairman Jim Wertz. Also on the ballot and there in person were Bob E. Merski and Ron DiNicola.
Merski is looking to extend the blue lineage of the state's second congressional district and follow in the footsteps of the late Flo Fabrizio by defeating Republican challenger Tim Kuzma. DiNicola, on the other hand, is vying to unseat five-term Republican Congressional Representative Mike Kelly for PA-16 with U.S. congressional districts having recently been redrawn by the State Supreme Court reuniting all of Erie County from its previous division into PA-3 and PA-5.
Both DiNicola and Merski have picked up key local endorsements — including that of the Erie Times-News — along the way, as have Casey and Wolf. But the race of Casey against four-term Republican U.S. Rep. Lou Barletta hasn't grabbed the headlines the same way other local elections and U.S. Senate races have.
Key polls, including Franklin and Marshall College, have consistently had Casey up on Barletta by an average of 14 points. Not much has shifted since early primary polls.
But still, the Senator, "one of the last of the old school New Deal Democrats in Congress," as Real Clear Politics observed, was in Erie to address voters, speak with union representatives, and get started on the lead-up message to Tuesday, Nov. 6, the mid-term elections.
Having challengers isn't new to Casey. Others have tried, yet after first defeating incumbent Rick Santorum in 2006, he won his 2012 re-election bid.
"Barletta, who represents a blue collar district in the northeastern portion of the state, probably starts out as the favorite," Real Clear Politics tempers that statement by suggesting that "in a better environment," (e.g., not Pennsylvania, where Casey's brand of New Deal Democrat suits the state he serves politically favorably and not in a mid-term following a presidential election, as the opposition party can tend to hold or gain ground due in part of partisan backlash), Barletta "would probably pose a serious threat to him."
That is, not here, not now.
But one needn't look further back than 2016 to be reminded that pollsters, while right more often than wrong, do get it wrong.
Nevertheless, during his two terms as senator, Casey has had successes for his state and his country. Too, he's worked across the aisle on legislation and has plans on the road ahead.
After delivering his remarks to the crowd in the Lavery parking lot, Casey headed inside of the pub to greet and shake the hands of those who stuck around after the governor's concluding remarks. On his way out, I had the chance to ask the senator a couple of questions before he boarded the bus on the way to his next campaign stop.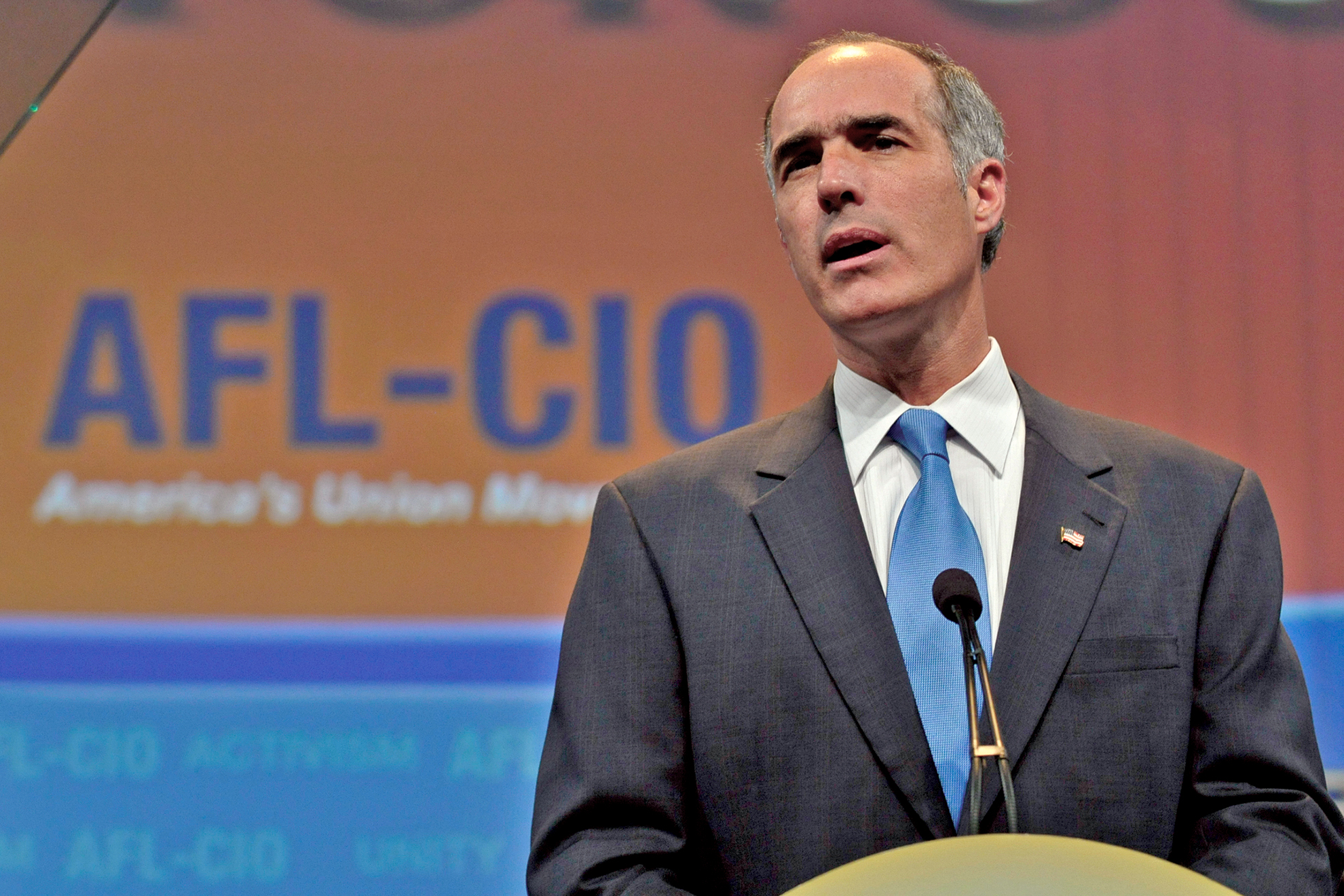 U.S. Senator Bob Casey, Jr. (D - Pennsylvania) speaks at a AFL-CIO labor convention during his first term in September 2009. If elected to a third term in office, Casey hopes to make progress on infrastructure, healthcare, and early learning initiatives.
Here is Senator Bob Casey, Jr. in his own words:
Ben Speggen: Fast forward to Wednesday, Nov. 7. You've won. That's the outcome you want, so what's the first thing you're telling Pennsylvanians? What's the first thing you're telling the country?
Senator Bob Casey, Jr.: Well, if it all works out for me and I win, the first thing I do is say thank you. It's a privilege to serve this state, it's a privilege to serve in the Senate, and to be reelected to the Senate is a great honor, so the first thing I'll say is "thank you."
And then, just go back to work [laughs], and try to figure out a way to bring the sides together. I think a big issue we can bring both parties together on is infrastructure. You've got plenty of bridges in Erie County that need to be repaired. You've got folks in Northwestern Pennsylvania — I was down in Warren the other day, and 40 percent of the people that live in Warren County have no high-speed Internet. How the hell can you learn in a school or build a small business, or grow an economy if 40 percent of the people living in your county don't have high-speed Internet? That should be part of a broad infrastructure agenda. So I think both parties can come together on that.
The president should use that as an opportunity, not just to build and to grow jobs — and to rebuild, really — he should use that as an issue to unify the country. He has a chance to do that. No matter what happens on election day, he has a chance to unify the country on infrastructure. Let's see if he does it.
BS: In your own words, the greatest three accomplishments you've had during your last term, and then three things you want to work on your next term if elected?
BC: Well probably in this term, it was the ABLE Act (Achieving A Better Life Experience Act), which was the most important new law for people with disabilities in a quarter-century. It allows for a family to save for a disability like you save for college, kind of like a 529 plan for disabilities. That will be transformative for people's lives over the next generation.
Also the Campus SaVE Act (the Campus Sexual Violence Elimination Act, not to be confused with the Safe Campus act), which made it possible to keep young women safer on college campuses. It requires schools to do a lot more and have guidelines and prevention efforts to reduce the likelihood that sexual assault will occur. A lot of schools need to do a lot more, but now they're required to do a lot more because I passed a law.
I tried to do as much as I could on infrastructure. We've been successful with bringing lots of dollars to the waterways system in Southwestern Pennsylvania. Working with a Republican (Roy Blunt of Missouri) to repair so-called off-system bridges in a lot of small communities. When very few people were getting things done in infrastructure, I got that bill passed a couple of years ago. So I want to continue to work on that.
I think one of the biggest issues that's been a priority of mine, but it's been elusive is: when are we going to make a national commitment to early learning? So that kids can learn more now, and literally earn more — have bigger paychecks down the road. That's a big, big goal, but I think it's an important goal for me, and I think for people around the country who want to have a stronger, more skilled workforce that can out-compete anybody in the world.
I think there's still more work to do on healthcare: trying to bring the cost down on healthcare and trying to make sure that we cover more people. As great as an advance of 20 million people getting coverage was, we still have maybe 28 million who are not covered. So we still have a long way to go on healthcare, but at least we've advanced. We haven't retreated. Republicans — I hope — would abandon their idea to rip up protections.
Ben Speggen can be contacted at bSpeggen@ErieReader.com, and you can follow him on Twitter @BenSpeggen.