A Conversation with Ahmed Gallab
The current leader of Sinkane, and former member of Yeasayer, Caribou, Of Montreal, and the Atomic Bomb! Band talks about finding unity through music.
November 25, 2015 at 2:30 PM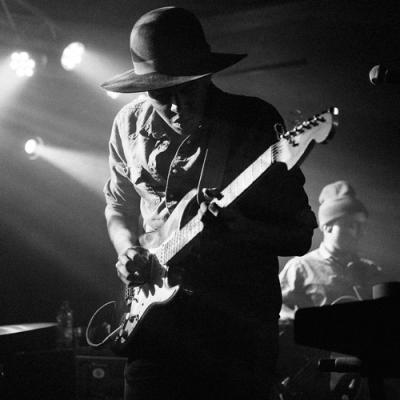 Ahmed Gallab is the multi-instrumentalist and driving force behind the band Sinkane, who played an intimate, incredible set at Mercyhurst's D'Angelo Performing Arts Center on Nov. 19. They blend a fusion of afrobeat, indie, shoegaze, and soul into something wholly original.
I spoke with Gallab recently about his various projects and the musical odyssey that brought him here.
Nick Warren: So, I've seen that you grew up in a bunch of different places, how do places like Sudan, or Ohio, shape you, musically?
Ahmed Gallab: You know, as far as being an artist, you create what you know. Whether you're a photographer, a painter — what you do is an extension of who you are and the experiences you've had. Being a person that's traveled a lot and lived among many different cultures and many different kinds of people, that experience has affected the way I make music. I find that through all my travels, people more or less are the same. They feel emotions similarly. When they're happy they're happy, when they're sad they're sad, and when they're nostalgic they're nostalgic in the same way. It's all primal instincts and characteristics of human beings. that's true everywhere in the world. And through music I've found parallels and similarities between different kinds of music in that regard. Like reggae music and country western music, African music, and soul music from the U.S.: they all kind of come from the same place. The people who made that music are more or less the same. Oppressed white people in the U.S., and oppressed black people, and Jamaicans, and Africans — they're cut from the same cloth. The energy they put into making the music is very similar. I guess that's my answer. I've been able to draw on those similarities from my experiences and communicating with people.
NW: Right. Even though the circumstances and specifics might vary, the emotions are the same. Was there any moment, musically, where you know that you wanted to do this full time?
AG: When I was 11 years old. I played my first show, my band was called "Present Tense." Actually, we were called "Rigid Prawn" at the time [laughs]. We had the opportunity to play with a band, a high school band, and we were all in seventh grade. It was the first show I ever played and I knew the moment it started that that's what I wanted to do with the rest of my life. 
NW: You started out on drums. Have you been gravitating towards certain instruments lately?
I find that through all my travels, people more or less are the same. They feel emotions similarly. When they're happy they're happy, when they're sad they're sad, and when they're nostalgic they're nostalgic in the same way. It's all primal instincts and characteristics of human beings.
AG: Just the ones that I know. I'm just trying to be better. Between being a better guitarist, keyboard player, drummer, and singer, singing has been the biggest one. I have the privilege of playing with some really talented musicians. The rest of the guys in my band are so good at what they do. And it just inspires me to be better at what I do.
NW: Yeah, improving yourself by playing with the best people is the best way to do it. I've heard you bring up a Spiritualized show, in Cleveland, as one of the other moments that kind of made you realize something. How has the musical environment in Ohio affected you?
AG: I was able to be around some amazing musicians from a very young age. People who really embodied the DIY ethos and showcased it in the best way possible to a young, inspired person. I was living in Kent, Ohio, through high school and there was a label called Donut Friends Records that had a bunch of great local bands, and some regional bands that they released records of. I would go on their website and see their releases, and I could go to their house to buy records, or go to shows to buy records, and see that they were going on tour, and doing this all themselves. I go back and I look at old Donut Friends records, and I could tell that they made them themselves. The sleeves were made out of old priority mailers from the post office. They just kinda cut them out and made seven inch sleeves. I thought that was so cool, these people that I was inspired by and looked up to were right around the corner from my house, and I could talk to them when I went to the music store, and so on and so forth. Even now that those guys have kind of taken it to the next level, Jamie [Stillman] from the Party of Helicopters, and who ran Donut Friends, he makes Earthquaker Devices effects pedals, and those are world renowned pedals. It's just so cool to have been around that kind of environment when I was a young kid. They'd go on tour and come back and bring these bands that they had toured with to Kent, and we'd get to see this really cool underground music, that really couldn't have existed before the internet. That just made it really exciting for me to scour the underground scene and talk to these kids and shake their hands and buy records from them and ask them what they were listening to, and they'd tell me some crazy, whatever band that no one else knew. Then I could go to the record store, and the record store guy would look in his book and buy these records for me. So I was exposed to some really interesting music at a young age, not the regular like Stevie Ray Vaughn, or Smashing Pumpkins, even though I still like the Smashing Pumpkins [laughs]. That really helped shape my musicality and my understanding of music. 
NW: What certain things can you get from a live show that you might not be able to get from a record?
AG: I think both of them have their own kind of energy. When you think about listening to a record, a lot of times it's a really personal experience. But when you go into a live setting, you're literally experiencing a true form of community. There's a band performing that's relaying a message to you, and you guys are all among a community of people who are experiencing this, and you need to relay back the response. It's like a conversation between the band and the crowd. Together, you guys are creating this universal experience. It's very primal, it makes you move, in a way that can't make you move when you're listening to it at home. And I guess the collective energy of everyone involved is something that you can't experience alone. It's a really beautiful thing.
NW: You guys probably experience that almost every night.
AG: Yeah, you know, it's weird every night because sometimes it's stronger than others. You never know what's going on in everyone's day. Some people might be having a really bad day, and the show helps them have a better one. Or sometimes it doesn't help them, but they're happy to be there. Some people are introverted, and some people are extroverted so the way they react to the live experience is different. It's all a weird coming together. My favorite is when everyone just lets loose, and has a good time. But what I'm learning is that people don't have to let loose to have a good time, I don't have to internalize that and think that I'm doing a bad job or something. People are still there because they want to be there.
NW: You mentioned that everyone can have a bad day and a certain mindset going into it. It's been a really rough week for a lot of people. I think music has the power to bridge some gaps and kind of connect people. 
AG: Absolutely. I think it does do that, too.
NW: I want to ask another question kind of for myself. That Spiritualized show, was that at Agora, in Cleveland?
AG: Yes, it was. At the Agora. Were you there?
NW: Yes I was! Mostly what I remember from it was there were strobe light warning signs posted around and the crowd was somewhat older.
AG: Yeah, they were a bit older, and they played a lot of Spacemen 3 songs too. There was a show going on at the Ballroom, the smaller room. They were on tour with Black Rebel Motorcycle Club, and BRMC had to bail from the tour so they asked a local band to open up for them. And I remember that local band being like "just a show of hands, how many people here are in bands?" And I raised my hand, but I got really embarrassed. I was like 17 years old and I thought he was gonna say something, but I think he was just trying to make fun of people or something like that. But that show was so amazing, I can't even put it to words. It took it to another level for me. It made me want to give that experience to someone else. I certainly know, I was a different person before that show, after seeing them and after experiencing that I've been enlightened, you know?
NW: I'm really loving just everything you've put out. The last two full length records I've listened to so much, especially since hearing about this show. Anything in the works for the future?
AG: There's a few ideas. I'm going to start working on a new record when I get home from tour. Some other projects that I can't really talk about but [pauses] next year's going to be a pretty busy year.
NW: And do you mind if I ask you about the Atomic Bomb! Band? How did that come about because that created something really special and unique.
AG: The Luaka [Bop] guys saw me perform with Femi Kuti in New York. And they asked me if I knew who [William] Onyeabor was, because they were interviewing Femi about Onyeabor, and he didn't know who he was, and I said absolutely! I know who he is and I love his music, and I love everything about him. And they said "well we should meet up, we're doing this project, we'd like to see if you'd want to be involved." And so they asked me to be music director, and again I said absolutely. And one thing led to another, and here we are two years later we've done 18 remarkable shows and had a really great time doing what we did and I'm very, very happy that the asked me. I have a lot of respect for those guys. Luaka Bop is filled with great people.
NW: You got to work with Pharoah Sanders, and David Byrne. I've heard you mention Pharoah before and he's just one of the greatest.
AG: He's the reason why I started this thing. We played with him twice. Charles Lloyd too, we played with Damon Albarn, and David Byrne, Joshua Redman, and Alexis Taylor. So many people.
NW: The line-up is just an all star list. With you kind of helming the ship. That's really incredible. How does it compare to being a band leader versus playing drums for the multitude of amazing bands you've played drums with?
AG: [Pauses] There's a lot more responsibility involved. When I was just playing drums, I was hired on to play with other people. I didn't have much responsibility at all, and I just kind of clocked in and rocked out. That's all I was needed to do, but I always wanted to do more, to be involved more in the projects, although people didn't want me to be, but I wanted to be. So, being a bandleader, I had the opportunity to be involved more and to kind of call my own shots, have the control over the project. And I'm collaborating with people that respect me enough to give me some sort of authority. That's a lot different than just playing drums, but it's also a huge responsibility, and you have to make sure that you own up to it. So it can be very stressful at times, but it can also be very gratifying a majority of the time. You deal with the stress, and you'll be fine. Not many people are cut out to do it, and the people who do, I think, love it. So, it's a unique tradition to be in.
NW: Well, you're doing an amazing job. thank you so much.
AG: Thank you.
Nick Warren can be contacted at nWarren@ErieReader.com