A face-off with Colleen Dixon
My first run-in with Colleen Dixon came on the lacrosse field.
February 23, 2011 at 12:38 AM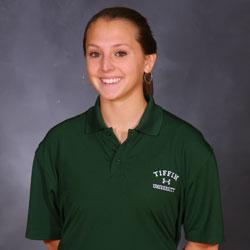 My first run-in with Colleen Dixon came on the lacrosse field – Westhill High School (Syracuse, N.Y.) was getting ready to square off against Lafayette High School (Lafayette, N.Y.) in a rainy, Friday night playoff game.
As the warm-up clock began to wind down, both teams jogged their way to the sideline for stick checks. I decided to take a detour – the coaches' clipboard. Carefully, I removed the plastic bag, making sure the light mist didn't erase the night's X's and O's.
The chicken scratch was impossible to read, but there was one name that stood out: Colleen Dixon, No. three.
What went through my mind of what I was going to do next still remains a mystery to me. I crossed midfield, into enemy territory, and proceeded towards Dixon.
"Are you Colleen?"
"Yeah."
"I'm Christina Alexander," I said. "I'm going to Gannon University next year."
"Oh, OK."
Now that's what I call a great first introduction between future teammates.
"I just wanted to win!" Dixon later admitted in a text message.
Although Lafayette didn't emerge triumphant that night, Dixon did notch six goals and showcased why she would be such a pivotal player for the Gannon University women's lacrosse program.
In her senior year, Dixon joined the Star Riders – Central New York's popular lacrosse traveling team.
"My coach (Dick Lighton) talked to (Gannon's head coach) Steve Wagner about me," Dixon said. "(Coach) Wagner watched me play in a few tournaments in the fall of my senior year.
"I'll never forget the first time he called me. I was watching the first episode of LOST. I was so caught up in the fact that he was contacting me that I wasn't really taking in everything he was saying."
A small town girl was finally getting a chance to shine.
"I wasn't really being recruited at all," Dixon said. "At the time, I wasn't on a club team so I wasn't getting much exposure. I was looking at a few Division III schools. At one point, I thought about not even playing lacrosse in college."
To get a feel of just how small Lafayette High School was, Dixon graduated eighth in her class out of 65.
Dixon would go on her official visit to Gannon and sign her letter of intent during the early signing period.
"Coming from Lafayette, Erie seemed like a big city," she said. "It was everything I wanted in a school – city setting, good academic programs to choose from and a promising lacrosse program."
Dixon was an impact player as soon as she stepped on the field as a freshman, contributing 25 goals, seven assists (32 total points), 26 ground balls, 29 draw controls and 22 caused turnovers.
In 2008, she was named to the Intercollegiate Women's Lacrosse Coaches Association  – US All America second team and IWLCA All South Region first team.
During the 2009 campaign, Dixon was again named to the IWLCA All-America second team, IWLCA All-South Region first team and ESPN The Magazine Academic All-District II At-Large third team.
In four years, Dixon rounded out her collegiate career with 160 goals, 53 assists (213 total points), 129 ground balls, 126 draw controls and 73 caused turnovers. She ranks eighth in career goals, eleventh in career points and twelfth in career assists.
Aside from the accolades, there have been unforgettable memories along the way, including beating then No. 1 West Chester.
"After losing to them for two years and a third time my senior year by a score of 24-7, we finally did it," Dixon said. "Every emotion built up for four years came out when we won that game.
"The game symbolized what Gannon lacrosse is, no one did it for themselves. We did it for each other and for who got us there."
For many associated with the lacrosse program, the motto, "We didn't do it for the individual glory, we did it because we loved each other," resonates deep within the organization.
"Gannon lacrosse doesn't strive to be good," she said. "We strive to be great. And to be great meant that we had to make sacrifices and work harder than any other team."
Sacrifices often meant passing on Friday night parties due to early Saturday morning practice, homecomings, and many other activities a regular college student would do.
Days off were usually spent in the training room trying to heal the bumps and bruises. The hot tub, cold tub, athletic tape, stim machines were a part of the daily repertoire.
Whatever time that was left in-between early morning practices, lifting, individuals and meetings were spent studying for quizzes, tests and homework.
After a brief one-year stint as a freshman coordinator at EA-Tri State in Erie, PA, Dixon itched to be on the lacrosse scene once again- this time as a coach.
After reading online about a coaching vacancy, Dixon submitted her resume and traveled to Ohio to interview for the women's lacrosse head coaching position at Tiffin University.
On July 18, 2010, Dixon became the second head coach in Dragon's lacrosse history after taking over for departing Mark Schreiber.
"If I could have my way," Dixon said. "I would still be playing lacrosse at the college level. I really miss it, but I think this is why I went into coaching – I can't give it up yet.
"I went from following the rules to making the rules, It's a transition that definitely took a little bit to get used to."
Like an artist staring at a blank canvas, Dixon envisions shaping, building and developing her team into contenders and a force to be reckoned with in the future.
"There is a lot of work to be done on and off the field," Dixon said. "It's just not going to happen overnight. It's a great position to be in, but a lot of work."
The former two-time captain hasn't shied away from the Gannon values, morals and leadership qualities she possessed as a standout midfielder.
"(Gannon) has truly paved the way to where I am and is something I want to pass on to my team," Dixon said. "The University taught me respect, discipline and the importance of academics- all of which I hope my girls gain through their time at Tiffin."