A short chat with Freekbass
Like your funk Freeky? Your Freek funky? Then head to the Docksider tonight!
November 14, 2014 at 4:26 PM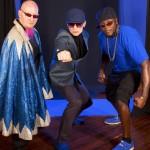 "It's gonna be crazy getting back to the Docksider," the funk virtuoso/superhero/spaceman known as Freekbass told me as we took part in a little long-distance morning coffee-talk a few days back.
"I hope Erie hasn't forgotten about me," he said, chatting with me from his Cincinnatti-area base station.
Yeah ... fat chance, Freek.
Anyone who's seen and/or heard Freekbass before won't have (can't have) forgotten it: He's got a look and a vibe all his own, to be sure, and his sound ... well, the same can sure be said of that, too. He was brought up and brewed up in the same funky Ohio hotbed that gave the world James Brown's King Records and Bootsy Collins and the Ohio Players – and that illustrious lineage shows – but, like we said in the most recent issue of the Reader, he's doing his own thing, and doing it better than right.
"Weaned on the fertile funk scene of Southern Ohio ... bassist Freekbass possesses all the low-end goods but chooses not to repeat the rhythms of the past. Instead, his brand of funk reinvents the style for the present," Relix Magazine said in its review of his chockfullafunkiness latest album, Everybody's Feelin' Real.
That piece of work -- which includes backing from Parliament Funkadelic/Rubberband keyboardist Razor Sharp Johnson, crazy-good horn man Skerik, and Trey Anastasio Band vocalist/trumpeter Jennifer Hartswick -- was produced by none other than "a cat named Duane Lundy, a really great guy [who has] a really organic sense of music," Freekbass said.
Lundy's also worked with lots of other great musicians (including My Morning Jacket's Jim James and Ben Sollee, the subject of our most recent cover story) and, in the studio, he used that organic approach to help lay down what Freekbass calls "the blueprint of what we're doing now live -- I'm so excited because of that."
And, with his super-freeky-funky touring band, the Bump Assembly, alongside him, he's bringing that energy to the Docksider's stage tonight. "That used to be one of our homes-away-from-home," Freekbass said. "We loved it there, and always had a great time."
For those who do themselves the favor of going to tonight's show at 1015 State St. -- an early one it is, from 7 to 10 p.m. -- that experience is sure to be mutual.
Writer/photographer/fan of things funky and freeky Ryan Smith can be contacted at rsmith@eriereader.com, and you can follow him on Twitter @RyanSmithPlens.