Ben Sollee
The popular genre-bending cellist and composer brings his distinct brand of indie folk to Erie.
November 12, 2014 at 8:00 AM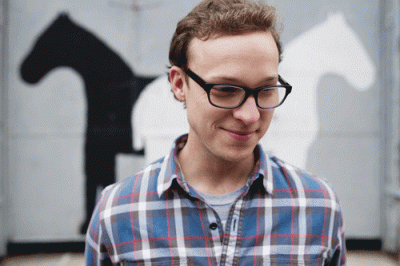 Ben Sollee just can't stop working. The man that NPR's Morning Edition called one of the Top Ten Unknown Artists of the Year back in 2007 has been providing the public with plenty of opportunities to become familiar with his name, starting with his 2008 debut album Learning to Bend.
Just this year alone, the 30-year-old cellist and composer released his score for the documentary Maidentrip, was one of the artists who participated in the tribute to Paul Simon at Carnegie Hall in New York City, supported fellow musician William Fitzsimmons on the road, spent some time touring in Europe, and even performed with the Charlotte Ballet. 
Needless to say, he's a busy man – and that's not even mentioning his duties as a loving husband and father.
"I really love creating, and I hate to miss an opportunity to create and perform," Sollee said over the phone just a couple of days after having finished a small tour out to Kansas, now back home in his home state of Kentucky. 
True to form, he's still working, having just gotten out of a meeting for a ballet production called Postcards in America that he's doing in Louisville. Soon, he'll be back out on the road for a short November tour, one that culminates with a Thursday, Nov. 20 performance at the Mary D'Angelo Performing Arts Center at Mercyhurst University right here in Erie.
The show – proudly sponsored by the Erie Reader, by the way – is part of the Mercyhurst Institute for Arts & Culture's Live Performance Series, which has already brought impressive artists such as Anais Mitchell and William Close to The Flagship City. The night will include a performance by the local jazz-tinged folkies The Heliotropes in the D'Angelo lobby as well as samples from Lavery Brewing Company, both of which start at 6:30 p.m. Then the talented Mr. Sollee will take the stage at 7:30 p.m., and the audience will be right there with him thanks to MIAC's special seating arrangement. You see, instead of being stretched out across the Performing Arts Center, this show invites the crowd to join him behind the stage curtains to witness Sollee's take on folk, bluegrass, R&B, and whatever styles the gifted musician decides to employ in his intricate arrangements.
"It's really nice, because you don't even have to work at breaking the fourth wall," Sollee said of the intimate seating arrangement. "It's a wonderful thing because you can really bring the audience into the fold and tell the stories and be a little bit more intricate with the arrangement of the songs, because the audience is right there with you. You don't have to communicate over 300 feet; you have to do it over 30 or 50 feet. That makes a big difference when you're talking about groove in a song."
Ever since he first picked up a cello at age 9 while growing up in what he called a "musically-rich family," Sollee has been a big proponent of a song's ability to create kinship between communities and make an impact in the world around you. It's part of the reason why he made his second album Dear Companion, a collaboration he did with fellow Kentucky musicians Daniel Martin Moore and My Morning Jacket's Jim James that focuses on the topic of mountaintop removal coal mining and the impacts it has on surrounding areas.
Sollee's not afraid to use his craft to speak out on what he considers important. In fact, just engaging other people through his music is a major point of emphasis for the extroverted musician, whether it's a crowd of 2,800 at Carnegie Hall or the 200 stage-dwellers at the D'Angelo.
"I feel in some idealistic way that [different creative outlets are] all pretty much the same thing; it's just connecting to other humans," Sollee said with conviction. "I see music as a social art form more than anything else. When you look at it from that perspective, you find yourself not really taking into account the scale [of the performance] or the venue as much as the people."
Given his desire to reach out to people through a variety of media, it's not too surprising that Sollee would want to connect with different communities off the stage as well as on one. What you might not guess is the tool he used to start reaching out to new areas: the Xtracycle.
The Xtracycle is a load-carrying bicycle that Sollee discovered after watching an advertisement on the now defunct channel Current TV. Like many nationally touring musicians, Sollee spent a lot of time moving about the country by van or plane, methods which provided fast travel but limited his chance to stop by many different areas that could be found between show locations. The lost opportunities to check out these potentially interesting environments nagged at him, but then he discovered the utility bike and an idea came to the creatively-minded Kentuckian.
"I just thought to myself 'Holy crap, I can put my cello on there,'" Sollee said. "I decided I was going to do my first tour down to Bonnaroo Music Festival, which is about 330 miles from my hometown of Lexington, Kentucky. I called up the company and told them what I wanted to do, and they shipped me a bike."
Thus the Ditch the Van Tours were born. Although touring by bicycle provided a more environmentally-friendly method of travel, Sollee's first ride to the Manchester, Tenn. grounds that are home to Bonnaroo provided quite a challenge.
"The tour was really hard," Sollee said, a touch of weariness in his voice when he recalled the first bike voyage. "South is not downhill, so I really struggled because I hadn't trained for it, but at the end of the tour, I really felt like I had gone through some type of metamorphosis and really discovered some type of pace that made more sense to me than van touring and plane touring."
Ever since that first "Ditch the Van Tour," Sollee has been on a mission to do about a third of his touring on bicycle, travelling about 5,000 miles without use of motorized vehicles since his first trip back in 2009, despite the fact that bike touring is actually less profitable, even without extra expenses such as gas and vehicle repairs given that the trips take roughly twice as long with half the amount of shows as a normal tour.
Soon he'll be back out on the road, hitting up stops in New England and the Midwest to put his warm compositions on display before reaching The Gem City for an intimate show that will allow Sollee to connect with the denizens of Northwest Pennsylvania. Some people may be dismayed due to the ongoing news stories involving greed, corruption, and terror, but Sollee looks into the light, knowing that we can make the world a better place if we put our minds to it.
"I believe in the inherent good of people," Sollee said. "You've got to be optimistic; I don't see how you can be any other way. The moment music stops exciting me enough to think that it can create connections and change communities, that's probably the time I should stop playing music."
Luckily for us, he likely isn't stopping any time soon. Sollee already admitted that he's got plans to work on another score for a documentary when he returns home after the Erie show, just another way for the creative musician to help spark a conversation through his craft.
Want to connect with Sollee when he comes to Erie? Head to miac.mercyhurst.edu to purchase tickets for an event that promises to be a wonderful and intimate performance by a critically-acclaimed performer.
Alex Bieler can be contacted at aBieler@ErieReader.com, and you can follow him on Twitter @Catch20Q.