A Summertime Festival Drought
As large group events are pushed aside this summer, fans and organizers alike are left questioning
Summer is a time when we all look forward to getting out of our houses to enjoy the fresh air and hot sun. One of our favorite things to do, especially among Erieites, is to enjoy the plentiful events and festivals held near and far. But due to the COVID-19 pandemic, this has all changed, though event organizers have been eager to adapt.
For any avid festival-goer, there's a list you keep — either mentally or literally — of the events you want to attend. As bars and music venues shuttered their doors in March, some people held out hope, clinging to the prospect that they might be able to get their fix in a few months.
Locally, this would not prove to be the case. As the stay-at-home order gave way to Pennsylvania's Yellow Phase of reopening, social distancing practices became the norm. Statewide regulations calling for a six-foot distance between people, combined with a 25-person limit for gatherings, have essentially canceled the festival season for the summer of 2020.
One by one, those events became checked off. Canceled. Postponed. Rescheduled indefinitely. Though wordings changed from event to event, the message was similar: We can't do it this year.
Though not everyone has made it official yet, hopes look dim that there will be literally any viable festival options, at least not like the ones we were used to.
John Vanco, who for over 28 years has helped oversee Erie's Blues and Jazz festival remarked that "it's no secret that we live in the same world as everybody else. We're not going to have thousands of people in Frontier Park this year." Erie's Blues and Jazz Festival have made no formal announcement at this time, as they, like many others, are deciding what to do next.
From early on, some could see it coming. "I sat down in February to look at what was going on and it's been consistent," Vanco noted, saying that the experts and the epidemiologists had generally hit the mark regarding what was to come. And there's nobody who has — with any scientific approach — predicted that this is going to be over anytime soon."
"There's no question that we're not going to have this," Vanco stated. "It's going to be an event-less summer in Erie in terms of people getting together in the same place."
"What we are working towards is what we do instead," he said. This seemed to be a common theme among event organizers. "What do we do now?"
One announcement of a major postponement came from the City of Erie itself. Celebrate Erie, a free multi-day event that temporarily takes over downtown, will not be happening in 2020.
Mayor Joe Schember noted that "the decision to postpone [Celebrate Erie] comes after six weeks of careful research and continued discussions with the Erie County Department of Health, city officials, and the Celebrate Erie planning team, and local event organizers. We want to ensure the safety of attendees, staff, and the community-at-large," Schember explained.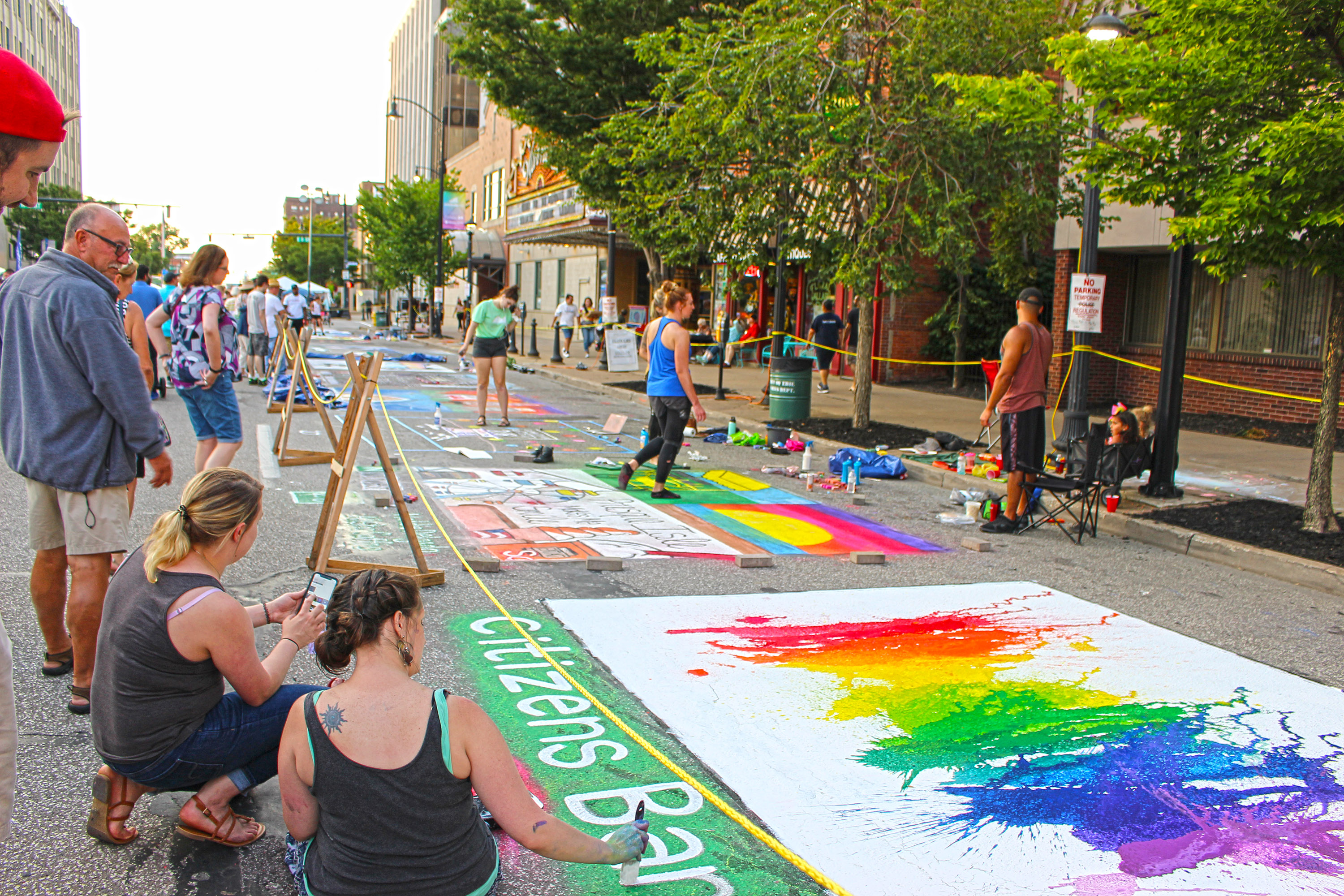 The Celebrate Erie ChalkWalk in 2019, which is slated to continue in a new format to be announced
"This was not an easy decision, but I believe it's the right decision," the mayor continued, echoing the statements that other festival followers have seen cropping up lately.
When their public announcement came on Thursday, May 14, they also included a tease of something small in place of the sprawling festival called 814 Day, occurring on Friday, Aug. 14 (08/14/2020).
Aaron Loncki, president of Celebrate Erie (and marketing strategist with Office of the Mayor) explained that "With the 814 Day concept, our goal is to explore some options that we can do either virtually, or get people out of their house and do activities that wouldn't congregate a group of people together, but that people can do at their own leisure." Though the full details of the event are yet to be determined, he hinted that it may involve Erieites "exploring different restaurants and making sure they can get takeout from different folks, and having a contest there or a reinvented ChalkWalk, in a way where it's throughout town instead of all in one area."
It's not just weekend-long celebrations affected, of course, as events like 8 Great Tuesdays and the Erie Food Truck Festival fall by the wayside as well. Kate Philips, chairperson of the Erie Food Truck Festival (and co-owner of the Erie consulting firm Parker Philips) shared that they would be adapting as well, as the Front Porch Festival on June 6. "We've booked six bands," Philips explained. "We're going to be streaming live and we think it's going to be a really cool day for people to gather on their front porch and listen to local Erie artists." The festival will also serve as a day to donate to local food truck operators, as "small business owners who own food trucks are among some of the hardest hit in the pandemic and we are worried that many of them are at risk of having to park their food trucks permanently." 
Brenda Sandberg, executive director of the Erie Port Authority, explained that "the county executive made an announcement [May 14] that they will not be issuing permits for large public gathering events. So 8 Great Tuesdays as we've known them and come to love them over the past 20 years will not exist this year in the traditional sense."
"We're still working through a laundry list of ideas that we have on how we could potentially have a musical celebration or celebrations on Tuesday evenings throughout the summer," Sandberg stated, hinting at a similar pivot on a safer scale. "Even though it may not be in person, individuals can participate in seeing their favorite bands — or whatever it may turn out to be — that they aren't able to see whether it be at a venue, or a bar or the Highmark Amphitheater or at Presque Isle."
Outside of Erie, The Great Blue Heron Music Festival is a local festival that takes place in Sherman, N.Y., consisting of three nights and a multitude of bands playing on three stages. In addition to the Heron Green Growers farm, featuring organic chicken, grass-fed beef, and a grove of shiitake mushrooms, the festival has a built-in permanent infrastructure including stages, sculptures, and water pumps. There's a cafe for all essential eats and drinks, and a lit-up night walk that's unforgettable for guests. Like innumerable others, this event has been postponed until July of next year due to COVID-19. "What we do here has made such a difference to our community, and our fans, and our Heron family," property co-owner Julie Rockcastle explained.
As she and fellow property owner David Tidquist deal with the emotional loss of not being able to hold the festival after 28 consecutive years, they are "reinventing themselves," she says. They have opened their grounds for camping, where you can find booking information on hipcamp.com as well as Airbnb. This will allow up to about 100 people to have the opportunity to set up camp or rent out a cabin within the cafe and enjoy light music, takeout burgers from Shiitake Steve, and of course walk the beautifully lit-up trails.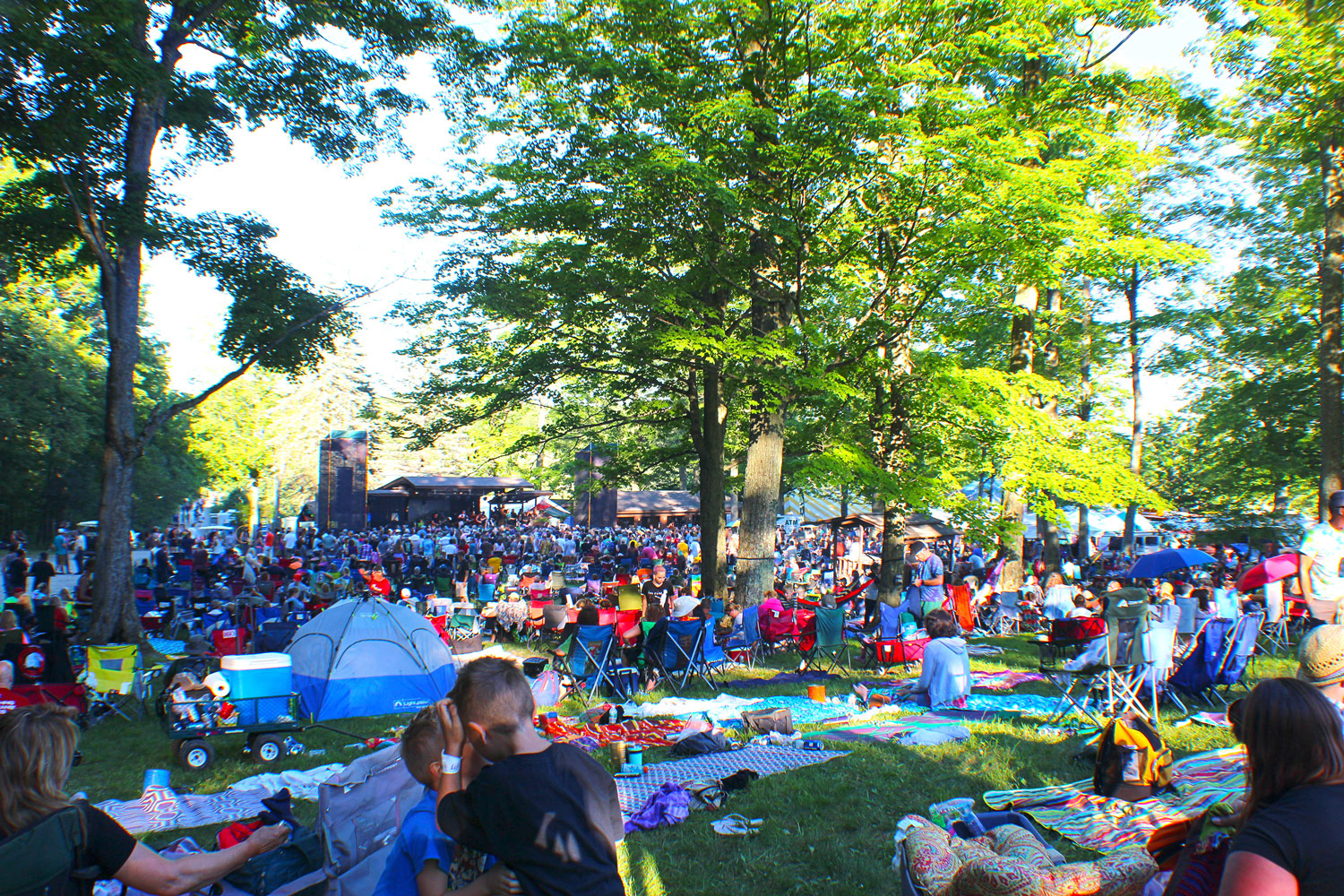 Heron crowds in 2018 in Sherman, N.Y.
Rockcastle and Tidquist have also been earning income from their farm store on-site that has recently sold out of all meat in stock. With their creative minds and the help of their friends, family, and volunteers they are keeping their hopes high, taking things one step at a time and are excited to see what this quiet yet exciting summer will hold for the Heron.
Though fans and attendees are a huge and necessary part of any festival, there's a densely-linked web of technicians, vendors, and volunteers that keep every event running. Loncki noted that "in any event, you look at the items that go into it and the average concert-goer is going to see. 'I showed up, I went to a show, bought food, I had a good time with my friends, we got some beers, and I went home.' What we have to deal with on the back end is: We need money from the sponsors who can make the show happen. We need to make sure all the resources and production are there, from the stage to the audio; we need to make sure that there are enough porta-potties; we need to make sure that the utilities are hooked up; we have to make sure that everybody's where they're supposed to be," he continued.
The Erie Food Truck Festival took one of these parts, and made it the primary focus of the event itself. "I think that food trucks have become part of the local personality of Erie County's festivals, " expressed Philips. At an 8 Great Tuesday-style event where they just become a permanent part of that scene to downtown events or at local wineries, you're seeing and getting to know these food truck operators, as again, like a part of the personality of the event."
One of those personalities affected by this is Kaitlyn Page, a local artist — and winner of 2019's Best of Erie award for Best Fine Artist. Page elaborated on how crushing it is for a vendor to miss out on being able to both sell her work as well as gain more attention and fans from it. Though a relative newcomer to the festival circuit, last year she had bookings at regular festival venues such as Dark Star Jubilee at Legend Valley in Thornville, Ohio, Pyro Music and Arts Festival at Nelson Ledges Quarry Park in Garrettsville, Ohio, The Great Blue Heron, and Resonance Festival at Cooper's Lake Event Venue and Campground in Slippery Rock, Pa.
As of this writing, all of these 2020 events have been either canceled or postponed.
"Vending is something I've been looking to do since I graduated high school, and here I am, waiting again until I can start my life," says Page. This time, too, has taken a toll on her emotionally, affecting her mental health in more ways than one. Like many, it has moved her backward, having lessened hope for the future. But to counteract this, she has been pushing online sales and marketing (find her at kaitlynpage.storenvy.com). After doing this, she noticed a dramatic increase in sales on her online storefront as well as obtaining new followers through the use of Facebook groups, including the pages of events she was scheduled to sell at. She has also been slowly releasing new material that she was going to sell at festivals, making it available for the general public. Even through the bad times, she keeps her chin high anticipating the return of local art shows, festivals, and waiting for the day we can "live life to the fullest with live music galore, days spent outdoors in beautiful places, and remaining active in the community growing my business."
Symoné Crockett can be reached at SymoneC@eriereader.com.
Nick Warren can be reached at nick@eriereader.com.