A Word From The Weyes
Local Rapper Trying to Make a Name for Erie Hip-Hop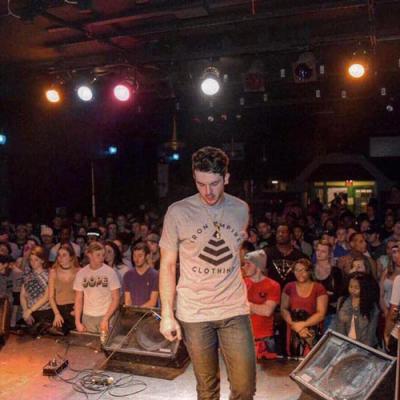 Hardship, struggle, despair, anger – this is Erie. Pride, resilience, grit, hope – this is Erie, too. Hip-hop is the study of inner-city dichotomy, the downward crush of circumstances and the upward surge to resist them. Erie possesses all the prerequisite ingredients for a hip-hop hotbed, yet it remains largely submerged, seething with potential but never bubbling to the surface. Marooned between the East Coast and West Coast, Erie's hip-hop scene is a landmass that has yet to form.
Unlike the city it fringes, Millcreek Township would not seem nearly as chaotic or complicated – a dead end here is more often a cul-de-sac than the unemployment line or a life of crime. It is surprising, then, that one of the region's emergent rappers is a Mohawk-wearing, 23 year-old graduate of McDowell High School. Kohler William Palkovic, who goes by the stage name Willie Weyes (pronounced "wise"), was born in Erie but moved to Millcreek at an early age. He remembers the moment he first heard his calling vividly.
It was late one summer evening when Weyes took the controls of his uncle's boat. The sun had sunk halfway beneath the Lake Erie horizon, looming in the distance like a red-orange portal to another realm. His sister switched the radio on and the youngster's ears were greeted with the rapid-fire verse of Eminem. "Who is this?" he asked.  As dusk fell, it dawned on him – this is what he wanted to do.
"It sounds super cliché – I mean, what white rapper doesn't like Eminem? But I had never heard anything like it before. It blew my f---ing mind."
Eminem (born Marshall Mathers) was firing on all cylinders when he was pulled from the rusted-out wreckage of the Motor City, with his first two albums (*The Slim Shady LP and *The Marshall Mathers LP) heralded by many as instant classics in the genre – dark, twisted works of lyrical genius. Meanwhile, parents and advocacy groups cringed, as Mathers seemed to invite controversy with his incendiary rhymes. Many grew to love his unrestrained, aggressive style; many others grew to despise it. However, no one could deny the originality and assertiveness of the voice that was definitively his, one that had successfully hollowed out a niche in a predominantly African-American domain.
Weyes is not nearly the rabble-rouser Eminem was in his heyday, but has sought to gain the respect of the hip-hop community via the same blueprint – hard work and remaining true to himself. A poet since childhood, Weyes began rapping as a seventh grader, recording with DJ equipment donated by his older brother Angelo Menuto. Weyes has never been involved with drugs any other illicit activities, so he doesn't write about them. Instead, he addresses the ups-and-downs of relationships, the doubters from without, and the doubts from within (he is a long-time sufferer of depression and anxiety). Sure, the streets represent a form of conflict faced by many, but *all of us have at some point waged similar battles within ourselves and/or against society's norms and expectations.
Real recognizes real, and Weyes' commitment and authenticity have helped garner some legitimate attention, most notably from Pittsburgh-area producer Big Jerm, who has also worked with Wiz Khalifa and Mac Miller, two of the most prolific rappers to come out of western Pennsylvania. Weyes' sound draws heavily from trap music, replete with bone-shaking bass drops, skittering hi-hats, and orchestral flourishes.  Recent releases such as "Randall" (featuring Houston's Riff Raff) hit hard, reflecting Weyes' growing self-assurance.
"I started it about a year ago, but I didn't have the confidence or swagger to match the song. It's a cocky kind of record, so I had to get a point where I was comfortable enough talking shit and could back it up with achievements."
Other releases, such as debut single "Genius" and last year's "Escape," feature a more introspective vibe, incorporating chilled ambient electronic textures reminiscent of A$AP Rocky, Travis Scott, and Anderson.Paak. To date, Weyes has released a total of twelve tracks and recorded bits and pieces of several others — certainly enough to fill an album.
"I want to put it out this year. But then again, I've been saying that for the past two or three years."
Big-time collaborations "She Go Down" (with D-Roc of the multi-platinum Ying Yang Twins) clearly indicate Weyes' ascent, but he remains humble and calculating with his approach. "I'm very anal about my music — it has to be perfect. I don't like to just throw shit out there."
First, he aims to conquer the local scene – but before that can happen, one has to exist. "There are talented people here, but they don't go about promoting themselves the way they should. No one's looking for local hip-hop music, and nothing happens for [the artists]. I don't know what we can do to fix that."
Weyes has been poorly compensated (if it all) for his Erie shows, which are usually sparsely attended (crowds of as few as 20). His solution, therefore, has been to put Erie on the map via Pittsburgh, with its more receptive audiences and more established resources for promoting talent. He produces most of his tracks at the Steel City's ID Labs, working alongside Big Jerm and others.  Despite his detractors' claims that he has abandoned his hometown, he believes his methods will pay off for both him *and Erie in the end. "My plan is to get their attention and bring that back home."
For now, Weyes is focused on honing his craft, dropping singles, and expanding his fan base at home (a new apparel line via good friend R.J. Messenger's Iron Empire Clothing) and abroad (music videos on YouTube and steaming audio on SoundCloud). The day may yet come when the Erie hip-hop scene has arrived. Either way, he would love to bring it up.
To watch Willie Weyes' music videos, visit www. youtube.com/williamweyes.
To listen to his original songs and remixes, visit www.soundcloud.com/williamweyes.