After a Nearly Two Decades-long Break, The New Dylans are Back
The New Dylans return with new album and a show at the Erie Art Museum.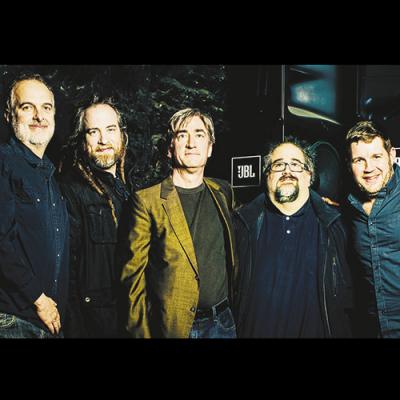 Don't call the reformation of The New Dylans a comeback. No, the band – led by Jim Reilley and Reese Campbell – is taking care of some unfinished business after an 18-year hiatus, which includes a show at the Erie Art Museum Saturday, May 16.
Reilley and Campbell originally grew close after each had a parent pass away while they were young. That bond brought them back together again after Campbell's father passed away recently, causing Reilley to reminisce about how Campbell's dad helped support the band in its infancy. Eventually, it just made sense to bring the band back together after almost 20 years of silence, except now Reilley and Campbell have even more experience, and a Grammy nomination for Reilley back in 2003 to boot.
"To honor the blood, sweat, and tears and hundreds of days a year of not making any money and the people even 18 years later asking about The New Dylans, we figured we should honor that legacy and put out another record we could be proud of," Reilley says in his current hometown of Nashville.
While The New Dylans didn't dominate the sales charts back in the '80s and '90s, the band certainly had quite a few fans, including R.E.M.'s Michael Stipe and notoriously picky critic Robert Christgau, and the new album Meta shows that Reilley and Campbell haven't lost any of that old magic.
The band's upcoming show at the Erie Art Museum is a homecoming for Reilley and Campbell, who are both originally from Warren. The concert will feature a documentary done by Nashville's The Tennessean about the band's return, followed by a show by the rejuvenated group, which now features former Wilco drummer Ken Coomer and Jo Dee Messina bassist Chris Autry.
"I'm sure there are people that don't understand why we're doing this at 53 years old, but the only reason I ever do anything – musically at least – is for myself," Reilley says. "It feels good and we feel like we have something to say."
You'll be able to hear The New Dylans message loud and clear when they return to Northwest Pennsylvania for a triumphant gig at the Erie Art Museum, a exhibition of a band that never truly quit and may be better than ever.  – Alex Bieler
7 p.m. Saturday, May 16 // 20 E. Fifth St. // erieartmuseum.org