An interview with Jim Daniels
Pittsburgh poet Jim Daniels opens the Penn State Behrend Creative Writers Reading Series Thursday, Sept. 22. Elliot Smith talks with the author about humor, inspiration, and much, much more in this interview.
September 22, 2011 at 12:15 PM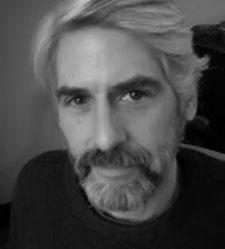 Pittsburgh poet Jim Daniels opens Penn State Behrend's Creative Writers Reading Series on Thursday, Sept. 22.  Daniels writes a very inviting poetry: cleanly constructed and easily read, lively and darkly funny, engaging popular culture and daily experience with formal and allusive subtlety.
His poems have been featured on Garrison Keillor?s ?Writer?s Almanac,? in Billy Collins? Poetry 180 anthologies, in Ted Kooser?s ?American Life in Poetry? series, and in the Pushcart Prize and Best American Poetry anthologies. One of his best-known poems, ?Factory Love,? is displayed on the roof of a race car.
Most recently, Daniels collaborated with two of his colleagues on the faculty at Carnegie Mellon University on the 2010 book ?From Milltown to Malltown,? a poetic and photographic exploration of the struggling Steel Valley towns of Homestead, West Homestead, and Munhall. His fourth collection of short stories, ?Trigger Man,? will be published this year.

Elliot Smith: Why is humor such an important tool for you?  Aren't poets supposed to be "serious"?

Jim Daniels: I think a real danger of any poet is to take himself or herself too seriously. While I don?t consciously try to be ?funny,? I?m always pleased when a little humor comes through. My sense of humor is a little dark, so I appreciate reading poems that make me hurt when I laugh, and I suppose that?s something I hope for in my own work.

ES: What artworks or artists inspire you?  What writers or writings inform your own?  How do you see yourself operating within the literary traditions of poetry?

JD: I?ve written two books of poems in response to the photographs of Charlee Brodsky, a photographer who teaches here at Carnegie Mellon, so I?ve definitely been inspired by her work. Her photos often reflect the urban landscape that I have always inhabited in one way or another. In terms of being influenced by writers, that?s always a tougher question?we don?t always know or recognize when another writer is informing our own writing?so I?m really not sure. Because I write fiction and screenplays, I can be influenced by novelists and filmmakers as much as by poets.

In terms of literary traditions, one thing I have always been interested in is expanding the literary traditions to include more writing about work. In a lot of books I read, it seems like no one ever goes to work. Work affects every other aspect of our lives in real, profound ways, and it should be more central to our literature?particularly jobs that are not seen as glamorous or sexy?factory work, service jobs, etc. There?s poetry in those jobs, in the lives of those who work those jobs.

ES: In your latest book, ?Having a Little Talk with Capital P Poetry,? what are some of the component "languages" making up the "Esperantos? poems (mutant odes to specific musicians)?

JD: My idea with the Esperanto poems is that 1) Esperanto was supposed to be the universal language (it obviously did not work out that way). Music is also called the universal language. What I?m trying to do in the poems is impossible?to try and convey what it is about music that transcends words?using words. I tend to write traditional narrative poems, so these poems freed me up to jump around and let the music take me wherever it wanted. I often chose very distinct musical voices and styles to riff on. I didn?t worry about whether readers knew the musicians or not?with Google, iTunes, YouTube, etc., it takes five seconds to hear someone?s music online.

ES: How do you set the other poems in the book as apart from these?could the "Esperanto" metaphor not be extended to them as well?

JD: The rest of the book is quite different, at least in my mind. In the Tenured Guy poems, I?m trying to spoof certain aspects of academic life through this sort of Everyman professor character. On a larger level, I?m hoping these poems can function as a cautionary tale for anyone in terms of how a work environment can warp someone?s personality.

The other sections reflect some of my usual haunts in poetry?Detroit, Pittsburgh, being a father, being a son.

Daniels will read from his work at 6 p.m. in Behrend?s Larry and Kathryn Smith Chapel. An author reception will take place at 5:30 p.m. Both events are free and open to the public. The series also will host environmental journalist Erik Reece on Thursday, Sept. 29; fiction writer Danielle Evans on Thursday, Oct. 6; and senior thesis readings by students on Thursdays, Nov. 10 and 17.