Anchor In Opens Tonight
Smoke-free, upscale club hopes to reinvigorate Erie?s Jazz scene
October 5, 2012 at 4:34 PM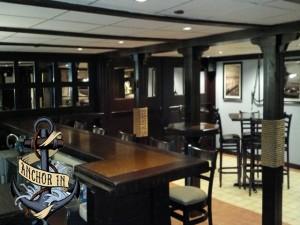 You probably know all about the Oasis Pub; tonight you'll get the chance to meet her more sophisticated younger sister, the Anchor In.
Located in the newly-renovated basement of the sprawling sports bar at 3122 West Lake Road, the Anchor In hopes to establish herself as a striking contrast to her popular, well-known older sister; by presenting patrons with a completely new menu, an extensive martini list, wines by the glass and bottle, and live no-cover Jazz shows – all in an intimate, smoke free environment – she's well positioned to do just that.
"It's going to be a totally different crowd," Owner Ryan Newara said. Erie Jazz notable Joe Dorris' involvement in booking the shows adds greatly to the credibility and legitimacy of the entertainment Ryan's seeking to provide. Tonight, Dorris will appear with local guitar legend Frank Singer as "JD Jazz." Over the rest of the month, you'll see well-known local heavies like sax man Phil Papotnik and Tony Grey join Singer on stage.
Newara said that the club would soon begin opening on Wednesdays, Thursdays, and Fridays, with the goal of eventually opening five nights a week once Erie's Jazz fans wise up.
So, here's your chance, Erie: check out the Anchor In and support this local businessman who's taken a brave step away from the sports-bar world he's already mastered to fill the tremendous need for live Jazz in Erie. And while you're there, say hi to Ralph for me.