Artis Simmons and the Endless Road
Erie's "Gem City Ace" dominated the martial arts circuit with an impeccable sense of cool
August 9, 2023 at 7:00 AM
The martial art of karate has an extensive and complex history. Within that history are various styles and schools and federations and backstories. Sometimes there are competing versions of origin stories surrounding a style or a founding figure. For many, their sole karate knowledge, likely generation-dependent, is the more mythological form from watching 1970s martial arts movies, the 1980s blockbuster The Karate Kid, or the more recent Cobra Kai series.
However one was exposed to it, the attraction to karate is often not merely the martial art itself, but what it represents: humbleness and humility, focus and self-control, discipline and perseverance, restraint and integrity. Gichin Funakoshi, the Okinawan "father of modern karate" who founded Shotokan karate-do, wrote in 1938 that karate wasn't purely about fighting or self-defense. Karate was, he believed, an "endless road" in the pursuit of becoming a better person. "The objective of karate-do is to polish and nurture both the mind and body," he stressed. "[T]his should continue outside the dojo, in our daily routine."
In Erie, one of the young men who decided to pursue this endless road was Artis Simmons. Born in Laurel, Mississippi in the 1930s, he moved with family to Erie in 1943. After graduating high school, he enlisted in the military and was stationed in South Korea. It was while on leave that he traveled to Japan and was exposed to karate for the first time.
After leaving the military, Simmons returned to Erie. He secured a job at Erie City Iron Works and in 1959 married Ethel M. Pierce, who lived down the block on East 19th Street. The following year, Simmons began his formal karate training under Sandy Scotch, a World War II veteran and one of only two karate instructors in Erie at the time. Fellow students (each of which have their own fascinating stories) included Bob Servidio, Arthur "Sonny" Sykes, Jerry Durant, Richard Lopez, Ray Cunningham, and Tom Handest.
When Scotch left the following year for California, his students continued the school and renamed it Goshin Jutsu Kyo Jujo. Before long, they reached out to Willem "Bill" Reeders, a legendary martial arts master of Chinese and Dutch descent who at the time was teaching in nearby Jamestown, New York. The Indonesian-raised Reeders might have appeared to be a quiet and unimposing man at first glance, but he was a brilliant and ferocious martial artist and teacher. Reeders began traveling to Erie on weekends and soon was head of their school.
Servidio explained in later years that Reeders was unlike anyone else in martial arts at the time. He wasn't at all interested in structure, rankings, or even a specific karate curriculum, instead teaching his "real warrior art" that emphasized honor, respect, and practicality. In Indo-Malay Martial Traditions Vol. 2, Michael A. DeMarco wrote that his particular hybrid kuntao-silat style, sometimes referred to as the Liu Seong system, was "a stunning contrast" to what was popular then. "[His teachings] had one objective, which was to devastate an opponent or opponents as quickly and severely as possible," DeMarco describes. The idea was if it were a real confrontation, to end the fight as quickly as possible — evade and incapacitate.
By late 1963, there were some regional karate tournaments being held in Erie. At the Erie Open Karate Tournament held at St. Joseph Community Center, Artis Simmons (competing as a first degree black belt) made it to the finals. Meanwhile though, tensions were growing at the school. According to former Reeders student Gary Galvin, conflict arose between Reeders and student Jerry Durant, allegedly erupting into a physical confrontation.
Reeders resigned and returned to New York. The remaining Erie students splintered off, some forming their own schools. Durant kept the Goshin Jutsu Kyo Jujo name. Bob Servidio opened up Meadville Karate Club (later renamed Meadville School of Kung Fu). Lopez started a school behind Cunningham's home. Handest opened his operation in Warren. As for Simmons, he joined Art Sykes in establishing the Modern School of Self Defense located at 1616 Parade St.
Training continued. In October 1964, Simmons placed third in the All-Canadian Tournament. In December, he placed second in the Pittsburgh Karate Tournament, defeating the very well-respected fourth degree black belt Zenpo Shimabukuro — one of the first Okinawans to teach karate in the United States.
Simmons returned to the All-Canadian Tournament the following year. This earned him his first mention in Black Belt Magazine for his second place performance, in which he defeated the previous year's winner, Shane Higashi of Toronto (today, a very well-respected martial artist in Ontario). Simmons was complimented for his "overall martial art attitude and sportsmanship" along with his "beautiful counter-punches that had the former champ reeling."
By January 1966, Simmons (now a second degree black belt) and Sykes (third degree) were training with 10 others at their school. The 12 traveled to Cincinnati to compete in the first All-American International Open Karate Championships. Simmons placed first while also earning a second place trophy for best technique.
Around this time, Simmons founded the Shuto Karate Club at Penn State Behrend. "To protect yourself from such an unpleasant gift [as a punch]," the editors of the student newspaper wrote, "invest in track shoes or take up the art of karate, as many Behrend students are doing."
Simmons was making a name for himself nationally as a member of the United States Karate Association (USKA) while also balancing a growing family and his day job. He was also busy organizing a national tournament for Erie. On March 19, 1966, that became a reality when Erie's first national tournament was held at the Behrend campus gymnasium. Simmons was tournament director. High-profile competitors included Thomas LaPuppet of New York, Joe Pennywell of Pittsburgh, and Willie Adams of Detroit. Reeders returned as a referee. The tournament was a success.
Now a third degree black belt, Simmons competed the following month in the All-American International Karate Championship. He won the crown and then took another first place title at the All Dojo Karate tournament in Erie involving competitors from the tri-state area.
He also expanded his classes in Erie to both the Downtown YMCA and the Booker T. Washington Center. One of his students, a teenager named Willie Carr (another who could be the subject of his own story), attained his first degree black belt and the two traveled to Toronto's All-Canadian Tournament in 1967, the same event Simmons had placed second in the previous year. It was Carr's first competition at that level — and it should be noted that this period of tournament karate is described as the "blood and guts" era due to the fierceness of the fighting.
Simmons and Carr worked their way towards the finals. Simmons, described as a "great favorite of Canadian fans," met Thomas LaPuppet in the semi-finals. LaPuppet, known for his "flashy hit-and-run style," was a Brooklyn-raised U.S. Marine and New York City firefighter. He'd previously won the All-American Championship at Madison Square Garden (he's been described as New York City's greatest fighter and would later train Ralph Macchio for The Karate Kid). Simmons landed a solid front kick during their match, but it was returned with a counterkick and a roundhouse kick to his midsection. LaPuppet took the match.
Meanwhile, Carr had won his semifinal match, leading to a dramatic showdown with LaPuppet,  who had just defeated his teacher. Indeed, LaPuppet's experience proved to be too much, but Black Belt Magazine described the young and impressive Carr as the "top choreographer" of their "dance routine," noting a comedic moment during the match when he "stole the spotlight" by nonchalantly placing his hands on his hips to "survey" LaPuppet.
The second annual Erie Karate Championship was that spring. Simmons opened the competition to women. Many, such as Kathy Caylor and Bonnie Grossman, were already training under him. "They are good," Simmons warned doubters, "darn good." LaPuppet returned as did many other prominent fighters while Reeders again refereed and conducted a solo karate demonstration.
Around this period, USKA promoted Simmons as a Pennsylvania state representative for karate. He also began instructing under the name Erie Karate Club while continuing to win tournaments throughout that summer. The Erie Daily Times gave him the nickname "Gem City Ace," while Black Belt Magazine monikered him "Slammin' Artis Simmons."
It was clear by 1968 that Simmons and the other Reeders-trained students had helped build a vibrant karate infrastructure throughout the Erie region. His Erie tournament continued to grow with over 200 competitors for the third year. Big names like Victor Moore of Cincinnati were present, the women's field grew, and demonstrations in judo, jiu jitsu, and karate were expanded.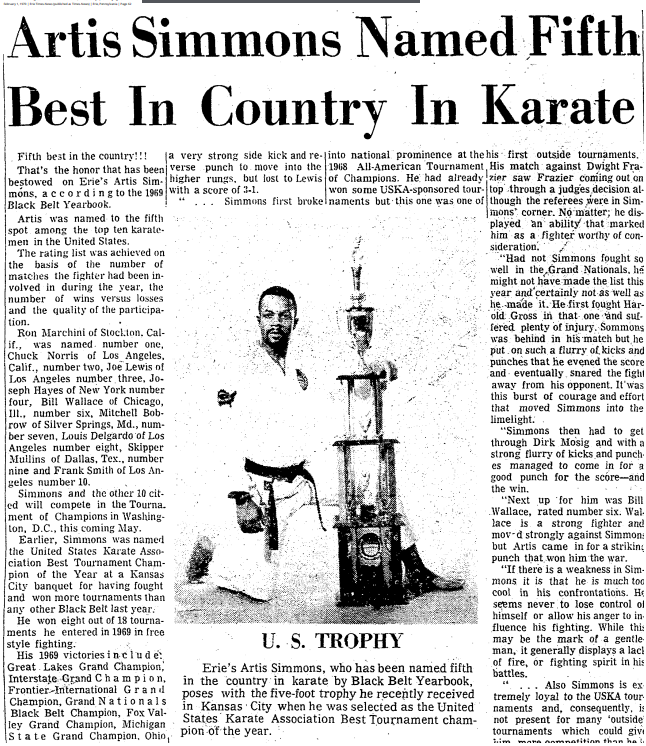 Simmons kept collecting trophies too. Throughout 1968, he won first place at tournaments in Buffalo, Niagara Falls, and Lakewood. In a Seattle tournament that fall, he worked his way explosively through the field, winning a semifinal match with a dramatic kick that pitted him in the finals against Joe Lewis. Lewis, the "Bad Boy of Karate" as he was called, was no ordinary fighter. Today considered one of the greatest karate fighters of all-time, Lewis was already an acclaimed and intimidating martial artist with a powerful, lightning-quick side kick and unique skills having cross-trained with Bruce Lee and Sugar Ray Robinson. He graced the cover of martial arts magazines and his previous fights with Chuck Norris were as dramatic as they were legendary (Norris won their first three meetings while Lewis took the fourth).
The match commenced with a "flurry of exchanges," Simmons on the offensive. Then a charge towards Lewis was met with a "brutal" back kick that knocked Artis to the floor. His face was cut, his nose bleeding, but he was cleared and the fight continued. Lewis, one point ahead, milked the clock. "Simmons started to press the attack again, but Lewis bicycled away from him, dancing away from the Simmons' windmill throws sufficiently for time to run out," described Black Belt Magazine. While Lewis won Grand Champion, Simmons, as runner-up, demonstrated to the world that he was the real deal. Among the USKA fighters, he earned their top ranking.
"Erie karate expert Artis Simmons is going to have to build an extra room on his house so he'll have a place to keep all those trophies he's been winning," wrote Erie sports columnist Dick Stone.
The 1969 Erie Karate Tournament doubled its size with 400 competitors. Simmons, now a fourth degree black belt, continued his winning streak too. Black Belt Magazine noted his "huge leap in proficiency" and that he'd become a "top notch combatant" and a "reverse punch artist." He swept a tournament in Texas, won first place at the Canadian Internationals, and was the Grand Champion at the Great Lakes Karate Championship. Of the 18 tournaments that he entered that year, he won eight and earned 20 total trophies. Stone now joked in the newspaper that Simmons needed to buy the 47-acre Strong Mansion property for all of his trophies.
At the Grand National Karate Championship in Kansas City, Simmons fought through the bracket. It was described as "ferocious competition." During one impressive comeback, he released a dramatic "flurry of kicks and punches … [winning after] a burst of courage and effort." In another match, Simmons was immediately dazed and bloodied by a fast, straight punch to the face. He pushed through it. "Simmons then showed that his No. 1 USKA position was well deserved," reported Black Belt Magazine. "He began to offer punch after punch, reverse punches and shutos [i.e. knife-hand blocks] until he subdued [his opponent's] attack and finally beat him."
Simmons met the up-and-coming Bill Wallace in the semifinals. Wallace took the first point with a clean sidekick. Simmons, unfazed, landed a punch and evened the score. In dramatic fashion, Wallace landed a sidekick to Simmons' head just as Simmons landed a back hand strike. The crowd erupted in cheers as Simmons was granted the point and match (although it was noted that Wallace "could never again be dismissed," which, as his later career proved — he wasn't).
The Grand Championship proved to be an even more dramatic fight: a rematch between Simmons and Joe Lewis. An angry Lewis was coming off a heated and borderline out-of-control fight against Victor Moore. The final was a series of three two-minute matches. Both performed well defensively in the first round and no points were awarded. In the second, during a burst of aggression, Lewis scored three consecutive points. In the final round, Simmons snagged a point with a forward punch. "After that Lewis backed away, refusing to give up the 3-1 lead," explained Black Belt Magazine. Time expired and Lewis won the rematch.
It was quite a year for Artis Simmons though. The USKA named him the overall Best Tournament Champion of 1969. When the Black Belt Yearbook was released in January 1970, they ranked him fifth in the entire country, stating that he had "earned his rightful place." Ahead of him were only Ron Marchini, Chuck Norris, Joe Lewis, and Joseph Hayes.
Many had observed how calm Simmons always appeared in competition, even facing someone with Lewis' ferocity. Some interpreted this as a weakness. "[H]e is much too cool in his confrontations," stated Black Belt Magazine, and while gentlemanly, they argued, his coolness during fights displayed a lack of fire. "He seems never to lose control of himself or allow his anger to influence his fighting." This demeanor was certainly intrinsic to Simmons, but also in line with his training from Reeders.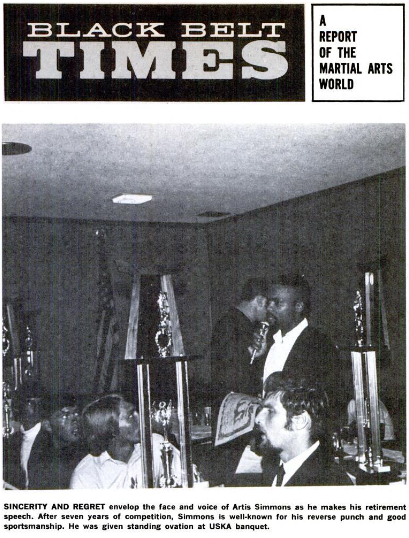 Artis Simmons, on the cover of Black Belt magazine, upon the announcement of his retirement in 1970, was met with a standing ovation from a crowd of 500. He would "unretire" just a few months later.
In February, he continued with the fifth Erie Karate Championship, again hosting 400 competitors. He then placed first at the Michigan Invitation Championships and dominated at the Illinois State Championships before, seemingly out of nowhere, Simmons stunned the karate world: after nearly eight years, he was retiring. "I've been competing for a long time," he told the Erie Daily Times. He wanted to focus on family, teaching, and organizing events.
"Artis, who is 32 years old, says he is finally going to retire from active participation in the grueling sport," penned Dick Stone. "No, there's not too many lads around anywhere in the country who can beat the Erie man." Indeed, Simmons had competed in over 100 tournaments, winning 36 of them. That year alone he'd already won five titles.
At the annual USKA awards banquet in Anderson, Indiana, he was named Best Tournament Champion again. Simmons spoke with teary eyes of his love of karate and how thankful he was for his competitors. The crowd of 500 gave him a standing ovation. "[Karate competition] shall truly feel the loss of this devoted karateka," Black Belt Magazine mourned.
The Gem City Ace wasn't away for long though. In November 1970, Simmons abruptly and unceremoniously unretired and entered a championship tournament in Cleveland alongside 350 others. He won. He placed first in the lightweight black belt freestyle and then defeated the heavyweight champion for Grand honors. "Quite a triumph for the local lad," the Erie Daily Times said. "We knew he couldn't stay retired [and] temporary retirement didn't hurt his ability one bit."
Simmons was still ranked in the top 10 nationally, but his lack of competing over the previous months dropped his ranking to eight. Throughout 1971, he continued hosting tournaments and expanding his karate classes throughout Erie, offering a grant-funded three month program completely free to city residents. He entered the Cleveland Karate Grand Championship that March, which was televised by NBC, and he prevailed as Grand Champion among 400 competitors.
As the next few years passed, he continued to compete and teach. In 1974, now a fifth degree black belt, he opened the Simmons Karate Academy at 206 W. 11th St. He began offering self-defense classes for women and volunteered at community events where he put on demonstrations. Local high school football players trained with him during their offseasons.
In an event at Penn State Behrend, where he still held lessons once a week, Simmons told students that while karate was about self-defense, it was also about self-confidence. It was about "coordinating the mind and the muscles." This assurance in oneself, Simmons said, is why so many karate students can walk away from real-world fights. They don't feel the need to prove themselves to anyone.
Although still performing well at tournaments, Simmons retired from competition for good the following year to focus on family, teaching, refereeing, and his job at Zurn Energy Division. With his over 200 total trophies, he was soon inducted in the USKA's Hall of Fame and then the National Karate Hall of Fame in 1985. His plaque contained the karate creed: "I come to you with only karate, empty hands. I have no weapons, but should I be forced to defend myself, my principles, or my honor, should it be a matter of life or death, of right or wrong, then here are my weapons, karate, my empty hands."
In 1990, columnist Dave Richards wrote that, for a region the size of Erie, we had a reputation as a "martial arts hotbed." Simmons undoubtedly played a role in that. The man who the USKA referred to as "Karate's finest gentleman" and "one of the most respected both in and out of the ring" also had the respect of his peers. LaPuppet, for instance, called him a "fantastic man." Former students have showered him with praise. And while his calmness and lack of anger in the face of adversity was once implied to be a weakness, for Simmons, those traits were clearly of extreme importance to him and his personal karate philosophy.
"To a person who firmly believes that attitude plays an important part in martial training, he could find no better example than Artis," praised the USKA. They added that Artis Simmons was one of the few karate competitors at his level who truly believed in "humbleness and humility."
Humbleness and humility. Focus and self-control. Discipline and perseverance. Restraint and integrity. Artis Simmons continued — and continues — down the endless road.
Jonathan Burdick runs the public history project, Rust & Dirt. He can be reached at jburdick@eriereader.com