Artist Spotlight: Woodworker Bryan Geary
Japanese technique meets modern theory in Geary's imaginative designs
April 20, 2022 at 10:45 AM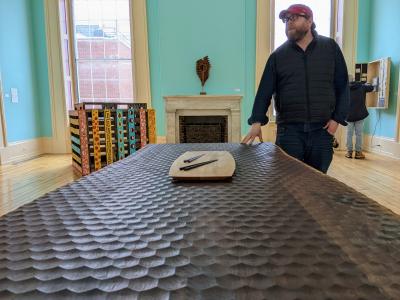 Bryan Geary is a lifelong resident of Erie, and after earning his MFA at the University of Massachusetts Dartmouth and traveling to Japan to apprentice for Master Woodworker Tak Yoshino, he has been working and honing his techniques and his artistic message at his local studio and woodshop since 2018. 
Geary's work was recently featured at the Erie Art Museum, with his conceptual art and furniture pieces displayed alongside other local woodworkers, including his former professor, Karen Ernst, who initially encouraged him to study woodworking. Geary's pieces range from the gorgeously utilitarian (cutting boards, serving boards, chopsticks), to stylistic furniture (like his stunning showpiece, "Kikko," a hexagon covered, live-edge walnut dining table that is somehow perfectly level while simultaneously being covered in texture), to fine art pieces (like "Broken," a solid beam of Tiger Maple, with hand-carved dovetails seaming the fissures in the wood). His stylistic table, "Obsidian," created from ebonized ash, powder-coated steel, and smoked glass, was recently accepted into the Erie Art Museum's 2022 Spring Show which opens April 8 and runs through the beginning of August. 
The breadth and craftsmanship in Geary's work is stunning; the pieces are of such high quality and care. Every element of design is carefully considered, given the way wood changes and absorbs moisture, to ensure the pieces remain functional for a lifetime. 
In Geary's fine art pieces, he tries to convey a human message through his woodwork: "The traumas that happen in a tree's life, essentially, make it beautiful, give it character. And that happens in humans, too." By drawing the focus to the imperfections in the pieces of wood Geary uses, he is able to make those "flaws" a focal point and render them beautiful. 
The techniques he uses to create the texture in his pieces, in particular, his "Kikko" table, which is modeled after Japanese Kikko armor and constructed from interlocking hexagon pieces, are very time consuming and technical; it took him seven years of trial and error to perfect this technique (which, he would argue, is still not perfect). Each panel of the table took over eight hours to complete, and it is this commitment to getting everything just right, and taking the time to learn from mistakes, that sets Geary's work apart. 
Most of Geary's artwork is available to purchase, and those pieces range from handmade cutting and serving boards made from fine woods to large-scale, handcrafted furniture that double as fine art pieces. Geary also happily takes on commissions for custom-made furniture and would love to discuss a design that works for your space and needs. He also offers classes and private lessons. 
Brian Geary can be reached via Instagram or Facebook at @lakeeffectwoodworks or via email at lakeeffectwoodworks@gmail.com
Erin Phillips runs the Old Erie On Foot, an in-depth look at local architecture "by foot, stroller, papoose, bike, and occasionally minivan."