Arts and Drafts Masterfully Mixes Mediums
Sights, sounds, tastes come together at Brewerie
August 30, 2017 at 2:00 PM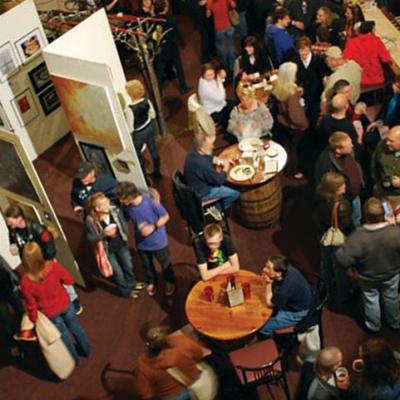 Thursday, Sept. 7
Now and then an event comes along in Erie which serves as kind of nexus for some of the most distinctive communities in the area. Surely the Arts and Drafts Festival, hosted at the Brewerie at Union Station and catering to the art, music and beer-loving sects (as well as the many Erieites who adore all three), is among the most popular and most representative.
September's Arts and Drafts fest is the second of the year — the previous event was held in the early days of March — and while it may come last, it is most certainly not least. Starting on Thursday at noon, guests can wend their way through the art exhibits, with a pint of their favorite IPA, stout, or pilsner in hand. David Goodough kicks off the music in the pub area at 5:00 p.m., perfect for an after-work-happy-hour-escape, and the local acts keep on jamming until 11 p.m. with Seann P. Clark and Brenna Bone.
Come Friday and Saturday, while the art stays put, the bands and artists split venues within the Brewerie, so guests can listen in the pub or out in the trackside beer garden with its unique environment; but really, it might come down to wherever they can find a seat during this well-attended weekend.
While it is common for the arts, in all its forms, to meet with the drafts in all their many forms throughout the Erie area, this particular festival is significant for the sheer number of artists and live musical acts — 60 artists and 16 bands — all organized and gathered in one location. That location itself also lends to the grandness of the three-day celebration, as the historical building has been in use, one way or another, for almost 90 years. — Cara Suppa
Exhibits noon to midnight; live music 7-9 // 123 West 14th Street // www.facebook.com/BREWERIE // Free Thurs., $3 donation Fri. and Sat. after 9 p.m. // for the full line up, view this article online at eriereader.com