Back-to-back Debates For Erie's Top Offices
Mayoral and County Executive candidates talk it out at Jefferson Educational Society 
October 11, 2017 at 12:00 PM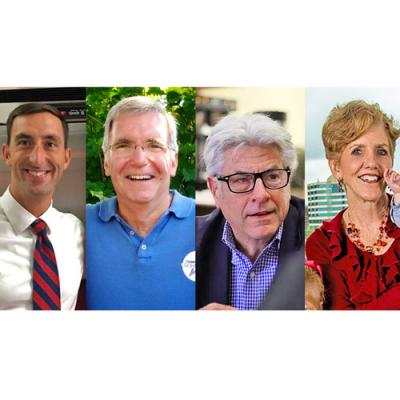 Tuesday, Oct. 17
Concerned voters will get a chance to hear from four different local political candidates over the span of two days. The Jefferson Educational Society, in conjunction with WQLN Public Broadcasting, and the Erie Reader are bringing you two back-to-back debates, to be held at the think tank's State Street location. 
Democratic candidate Joe Schember will face off against Republican John Persinger during the first night, covering the ballot for Mayor of the City of Erie. Interest in this race has been running high for some time now, with a field of nine primary candidates being whittled down to just two. Schember, 66, is a former Erie City Councilman and Vice President with PNC Bank. In May, he won a crowded primary race with 30.43% of the vote, besting six other candidates including Bob Merski and Jay Breneman. John Persinger, 35, is a lawyer for MacDonald, Illig, Jones & Britton, and a Harvard graduate. Persinger won his race by a margin of 39.51% over his opponent, John Whaley. 
On Wednesday, audiences will get a chance to hear from the candidates for Erie County Executive. The incumbent, Democrat Kathy Dahlkemper, 59, has served as county executive since she defeated Barry Grossman in the 2013 primary. The former U.S. Congresswoman won her primary with 67.66% of the vote. Republican Art Oligeri, 64, is a Mercyhurst alum and the owner and managing partner of Meeker Marshall Shoe Fly. Oligeri won his party's nomination this year by a margin of 214 votes over challenger Brenton Davis. 
Both events will be moderated by Ben Speggen, program director at the Jefferson Educational Society and an Erie Reader contributing editor. The community is encouraged to submit questions prior to the event by emailing contact@eriereader.com with the subject "debate question." Attendees on-site will also be able to write in questions before the debate commences. A recording and live stream of both events will be provided courtesy of WQLN.
An informed voter is a powerful voter, and in local elections like this, every vote counts. Erie's electorate will decide, in no uncertain terms, the future of our community. Before you head to the polls on November 7th election, make sure you know where the candidates stand on the issues that matter to you. — Nick Warren
Oct. 17 and 18 // 7:00 - 8:30 p.m. // Jefferson Educational Society, 3207 State St. // free // register online jeserie.org